How to make raspberry gin
What are you going to be drinking this summer? There are loads of options out there, but of all of them, raspberry flavoured gin has got to be up there as one of the best. This raspberry gin recipe is criminally simple to make and it's just the gift that keeps on giving.
Raspberries are one of the best summer fruits. Yes, strawberries are good, but is there anything quite so refreshing as raspberries? This gin takes that taste to a whole new level – and then further when you use it to make other drinks – and only needs some raspberries, gin and sugar to get it going.
The hardest part about this recipe is that you need to let it sit for two weeks to infuse properly. It'll be a struggle not to try it early, but totally worth the wait.
Raspberries are one of my favourite fruits – and living in Scotland raspberries are utterly abundant for a couple of months every summer with a mouth-watering freshness. When I was a kid we had them in the garden and my love for them has never faded. I used to love picking handfuls of them and sneakily eating them thinking no one would ever know (I suspect my face was probably covered in the juices, making it more than a little obvious…).
These days whilst eating raspberries is great – although whether I manage to eat anything without making a mess is still sometimes questionable – they are also great in drinks. Alongside this raspberry gin recipe, you should also try making a raspberry gin smash (a cocktail to serve by the pitcher) or even muddle them into a raspberry cooler (a booze-free alternative for sunny days).
Raspberry also goes really well with a little mint, blueberries or strawberries – or a combination of all three. Whether you're making it as a fruit salad, putting it in a cake or whizzing into a smoothie, it's the fruit of the summer. There's also zero judgment here if you just want to sit and eat a punnet whilst reading a good book.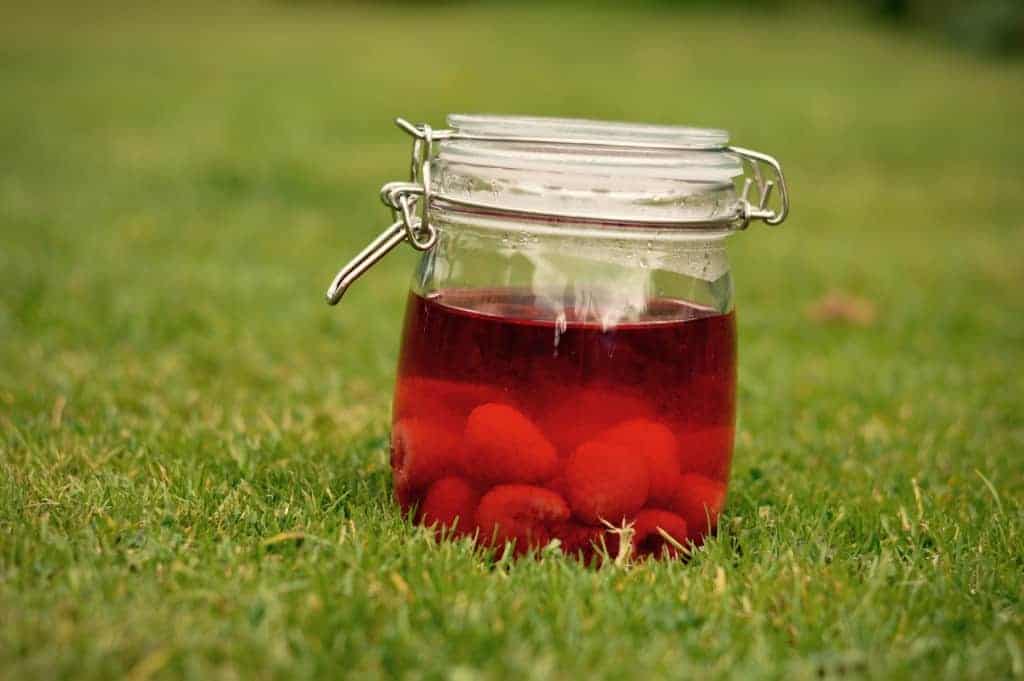 This is a recipe you can make over and over again (believe me, I have). Change the sugar to your own tastes and use frozen raspberries if they aren't in season when you want some (although fresh, plump, juicy raspberries will always be best). You can also use this recipe for seasonal versions like mulled gin or one with apples and brambles – it is really up to you to start exploring.
If what I've found is anything to go by, this raspberry gin recipe is the only one you will ever need. It's a crowd pleaser, a great present, or simply the perfect way to relax and enjoy whilst catching up with friends. Give it a go and let me know how you enjoy yours.
How to drink it
Together the raspberry and gin flavours make the perfect combination for a long summer drink. A little tart, like all the best raspberries are, this gin is so good you may suddenly find the bottle is considerably less full than you imagine, but also that you and your friends can't help but lick your lips.
There are loads of ways to serve up your raspberry gin, but these are a few of my favourites:
The gin and tonic: The most obvious choice sometimes is just sometimes the winner. Get a good tonic and plenty of ice. Garnish with fresh raspberries and a little mint.
On the rocks: This is the champion way to drink your raspberry gin. Get a small rocks glass, a large ice ball, and pour in a healthy portion of gin; sip gently.
In a cocktail: This is a great gin for making cocktails. It brings a whole lot of flavour into whatever you're making. I like it in a martini or a raspberry gin smash.
Tips for making raspberry gin
To make sure your raspberry gin is absolutely incredible, there are a few things you need to consider:
How tart or sweet do you want it? This is a personal taste question. If you like your drinks on the sweeter side, you might like to add a little more sugar. If, like me, you don't feel this way then leave the recipe as-is.
The gin you use is also important. It might be tempting to use a really nice gin, but realistically you are going to lose a lot of a flavour subtleties that make the gin delicious in the first place. At the opposite end of the spectrum, a really cheap gin is always going to taste like paint stripper. In this case, it'll just be raspberry flavoured paint stripper…
I tend to use the sort of big-brand gin that's on offer in the supermarket. Usually something like Gordon's. It's not something I'd drink on its own, but in a home-flavoured gin it works well.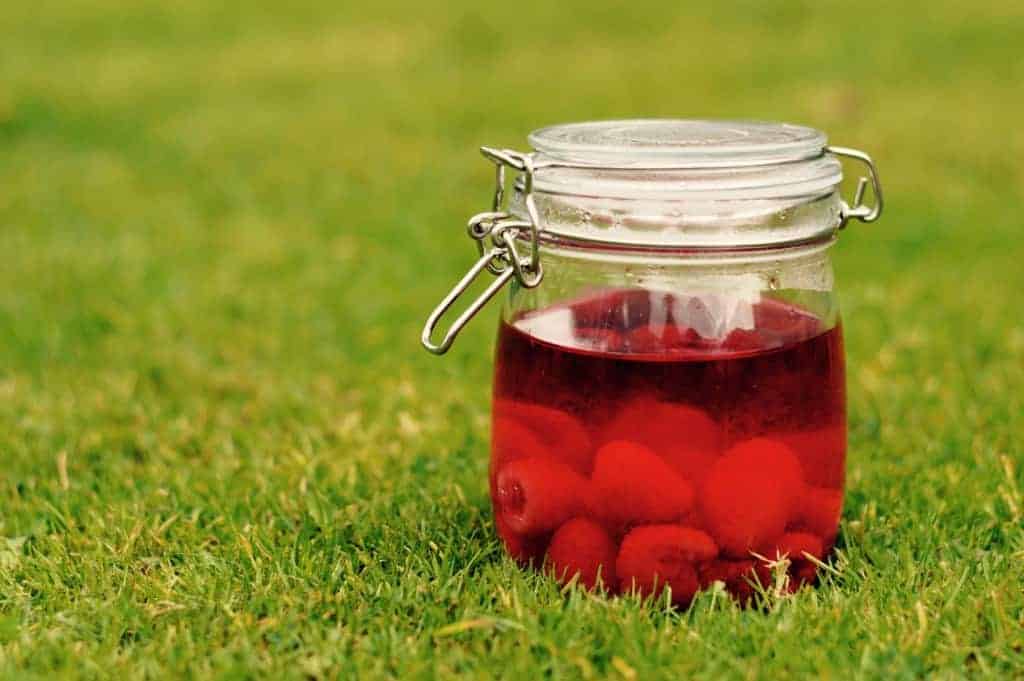 Similar recipes
Print
How to make Raspberry Gin
---
Author:

Prep Time:

10 minutes + 2 weeks

Total Time:

10 minutes

Yield:

700

ml

1

x
Description
This is an adaptation on my Lime and Chilli Gin. I used Gordon's gin as my base; the subtleties of a better gin might well be lost to the fruit. At the other end of the scale, one that tastes of paint stripper to begin with will just taste like raspberry paint stripper at the end. I tend to make mine in a 1 litre jar, so there's room to shake it. It takes two weeks to make and produces 750ml of raspberry gin.
---
Scale
Ingredients
250

g raspberries

45

g caster sugar

700

ml gin
---
Instructions
Put the raspberries, sugar and gin in a large preserving jar (or similar, I used a 1 litre jar), seal and shake well to dissolve the sugar and break up the raspberries a little
Place in a cool dark place and leave for two weeks, giving it a shake as you pass every couple of days.
When it has turned a deep pinky-red colour take it out and strain to remove and bits. Pour into a sterilised bottle.
Enjoy (ahem…) responsibly with friends; serve over ice with tonic and raspberries to garnish.
---
In this recipe, I used:
Pin this raspberry gin recipe
This post contains affiliate links, you can find out more in my privacy policy.