I don't know if you've noticed, but it's well and truly summer. This can only mean one thing: it's Pimm's o'clock! Time to get up off that picnic rug, dodge your mate doing whatever that is to the burgers on the BBQ and go make sure there's plenty of Pimm's for everyone! But how do you get the ratio of mint to strawberry right? Should you include this fruit or that? Yes, the struggles of modern man are plain to behold, so to save your summer from being ruined, here is my guide for how to make the perfect glass of Pimm's.
Pimm's has become as synonymous with a British summer as Wimbledon, strawberries and wasps on a picnic, but whilst I will always maintain you can enjoy it any way you like – I've made it as a syrup with strawberries for my simple Eton mess and into a drizzle cake – sometimes you need a pitcher of the joyful stuff and a recipe you know is going to be a crowd pleaser.
So here's the low down:
You're going to need lots of ice; two ice cubes in a glass is not going to cut it.
Mint is definitely a part of it; don't let the haters tell you otherwise.
In all honesty, most people won't notice if you've bought a cheaper alternative, just do your research first as some are way better than others.
Always remember that it's a drink, not a work of art, so why on earth are you stressing about getting it right? Seriously, by the time *that* member of your family has had a few glasses they're not going to care. Trust me.
For my Pimm's I stray a little from the 'official' path. I put a bit of gin in mine (Pimm's is based on gin, after all) and I also love the extra freshness that comes from a few slices of peach or a handful of frozen raspberries.
Before I set you loose to go make your pitchers of perfect Pimm's though, I'll leave you with the wisdom of a friend's mum. She shouted it down the garden as a throwaway comment when we were about 18, but it has stuck with me ever since and it's words to live by when making Pimm's:
"Remember, it's a jug of Pimm's, not a bloody fruit salad!"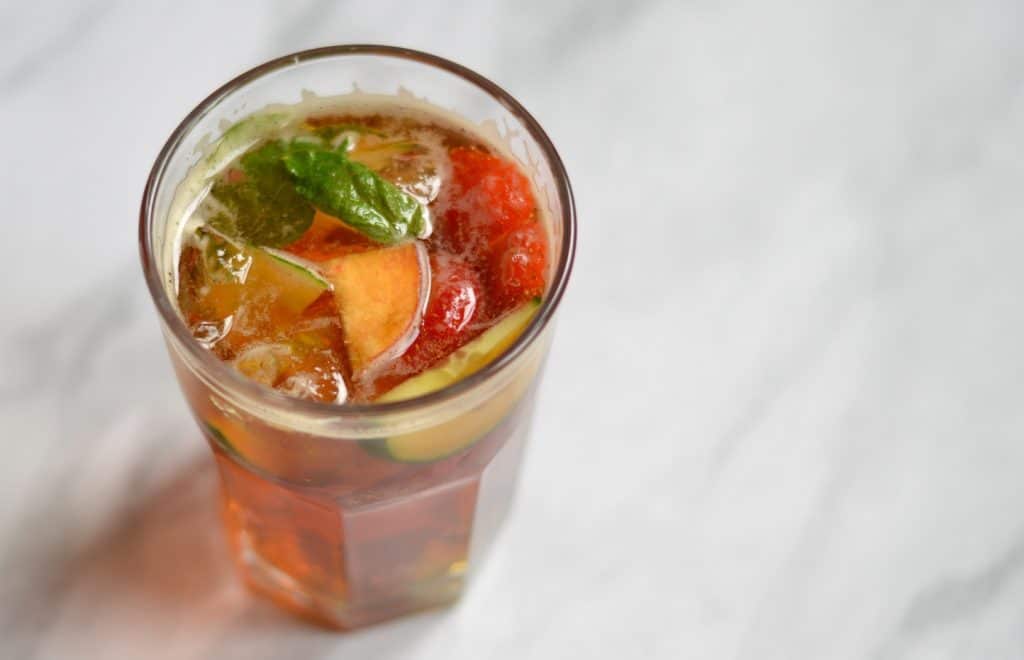 How to make the perfect glass of Pimm's
As a rule of thumb, I use a 1:3 Pimms to lemonade ratio, with approximately 15ml of gin per glass. 
Your fruit should be at room temperature; the lemonade as cold as possible.
A couple of hours before you are going to serve, slice up your fruit, muddle some mint leaves in your hands (basically rub them between your hands a few times to break them a little and release some of the oils) and pop them in a pitcher. Pour some of your Pimm's in (enough to almost cover) and mix it up a bit with a spatula. Let it sit – out of direct sunlight – until you're ready to finish making it.
Fill your glasses up with ice – lots of ice. Add in a couple of slices of fruit.
Pour the remaining Pimm's into your pitcher. Pour in the gin (if using). Add in a few handfuls of ice. Stir.
Gently – to avoid a foam explosion – pour your lemonade, stirring slowly as you go.
Let it sit for a minute. Pour into the glasses. Top with a mint sprig and serve.
Used in this recipe:

This post contains affiliate links, you can find out more in my privacy policy.