Hi, I'm Craig. I like to eat.
Over the past few years I've noticed that I have less and less time in my day to create good food. Working, commuting, working some more, trying to have some semblance of a social life, occasionally sleeping and breathing. Sound familiar?
That list didn't include food. It made me sad and when I realised it was a pretty common problem for many of us I realised I could do something about it.
The Usual Saucepans is about eating good food every day, whether you have twenty minutes or three hours make it. It's about saying goodbye to some bad habits (and the dreaded ready meal) and saying hello to getting into the kitchen and making something that works for you. No one should be afraid of being in their kitchen.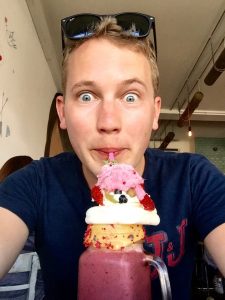 I was brought up in a food-loving family where we like eating seasonal food and cake. I was almost swayed by the 'slimy yet satisfying' lifestyle in The Lion King, but decided it wasn't a sensible life choice, so went back to the idea of seasonal cooking with baking on the side. I also entirely subscribe to the philosophy that if my grandmother wouldn't recognise it as food, then it shouldn't be in my dinner (hello additives, derivatives, things in shiny packaging).
Today I'm all about helping both you and me to use what's in season, and exciting ideas I've found wandering around the world, to eat well.
Other things I like:
My training has come from years in the kitchen, an ever-expanding cookbook collection, and a love of food blogs. For me it's about keeping up with the latest ways of cooking, but with an eye to the tried and tested classics. I'm not professionally trained, but when did we ever let that stop us?
Most of the recipes on the blog are designed to be shared. Whether that's with your fridge for tomorrow night or ten people round the dinner table. You don't need to be a chef to follow the recipes, I try avoid jargon wherever I can, because we should all be able to eat and cook well.
My hope is that on this blog you will get inspiration on what to cook for dinner and maybe learn a thing or two along the way as well.
If you've any thoughts about the site – or any other comments, for that matter – I would love to hear from you. Carrier pigeons/owls are quite messy so these ways are a lot simpler all round:
Email: craig@theusualsaucepans.com
Instagram: The Usual Saucepans
Pinterest: Usual Saucepans
Facebook: TheUsualSaucepans
Popular posts to get started with:
[foogallery id="5491″]