In this world there are two sorts of people – those who like pancakes and those that don't. I don't think I'm actually friends with anyone that falls into the second category.
Pancakes are the stuff of weekend brunch legend. They're thick, fluffy and delicious. Made better by blueberries, by bacon, by maple syrup. But recently that changed. I was meeting one of my brothers for brunch last weekend whilst I helped him with a few things, so I decided that instead of us going out somewhere and clogging up a table in a busy cafe I would make us these wholemeal strawberry pancakes.
For some reason that day before I got the idea of wholemeal pancakes in my head, and whilst out shopping I spotted the first local strawberries of the year – clearly they were going to be involved somewhere. Wholemeal and strawberry pancakes sounds like I'm on some sort of attempted health kick or trying to change the sacred art of brunch – I am most definitely not, in both cases – but more that the idea just came to me and I thought I'd try it out. And I'm pretty happy with the results.
I strongly suspect that these strawberries (which were from Clackmannanshire, if you're interested, and if you're not, no I didn't make that place up, much as though it sounds like I might have) have been brought on in the polytunnels – apart from a few choice days the weather here does not strike me as bringing strawberries out in great masses. But regardless, they are the first local strawberries of the summer which is hugely exciting, I'm a big fan of the soft fruits we get up here.
These pancakes / granny's pancakes / drop scones / whatever-weird-name-you-have-for-them are great as a brunch option, but be careful when cooking with them as the water content of the strawberries can make then harder to cook and easier to burn. They are delicious though, and whilst the lack of bacon might not work for those trying to recover from a previous evening's excesses, they do work well for a lazy morning. And a cheeky little drizzle of maple syrup doesn't hurt them either.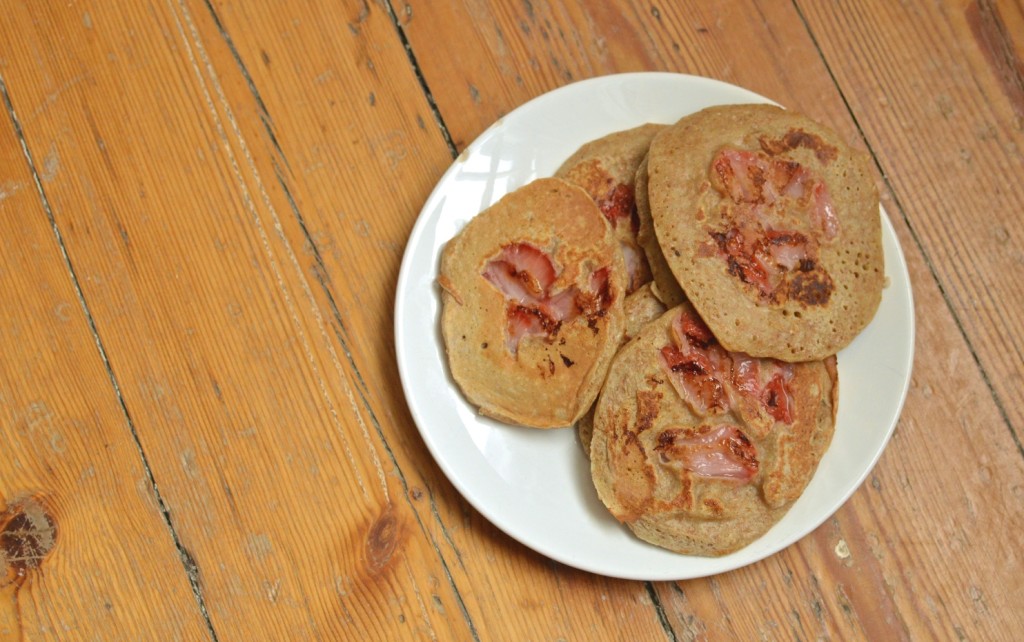 Wholemeal strawberry pancakes
This recipe is a combination of a few, honed over the years through eating an almost excessive amount of brunch, so it's an original to The Usual Saucepans. It makes enough for a light brunch for two – if you're really hungry/greedy/hungover I would double it .
Ingredients
1 egg
100g wholemeal flour
1 pinch baking powder
25g caster sugar
50ml milk
6-8 strawberries
1 small pinch of salt
Directions
Start by whisking your eggs and then adding to that your milk. Slice your strawberries thinly – dicing them also works – and leave them sitting on the side of the chopping board.
Put all the dry ingredients into a medium sized bowl and to it add the egg/milk mixture. Get a wooden spoon and mix it all together so it forms a thick batter (too liquidy and you will end up with crepes that won't fluff up!). Sit aside for at least 15 minutes.
Take your pan and grease it with a thin layer of butter – I have a great non-stick crepe pan, so it needs no butter, but if yours does, apply it with a piece of kitchen roll for the best spread – and then put over a medium heat. When the pan is hot put a tablespoon of the mixture in to test (pancake 1 of a batch is rarely perfect, don't worry). After about a minute or so it will start bubbling over the top – this is the time to flip it! Cook for 1 minute on the other side and then it will be done.
For pancake 2 onwards, use 1½ – 2 tbsp of your batter, and once in the pan add a few slices of strawberry on top of side 1. Once there are bubbles all round the strawberries, flip them over and cook side two.
If you've increased the quantity of pancake batter, you won't be able to make it all before the first ones are cold. Either serve immediately or put a tin plate in the oven on a low heat and keep them there.
Serve with more strawberries on the side and some syrup if you want it.