Where do you stand on the whole 'growing up' thing? I – as regular readers will know – am firmly against it, apart from situations where it's strictly necessary.
I find how children see the world fascinating. There's all the excitement, the inquisitiveness that prompts sticking your fingers in plug sockets, the seemingly-sourceless, unending giggling. But less about my weekend; what I'm trying to say is that we need to be less adult. Let's get adventurous and break away from the norm. Let's make these rum Easter nests, just because we can. They're like you made at school, but better. Because rum.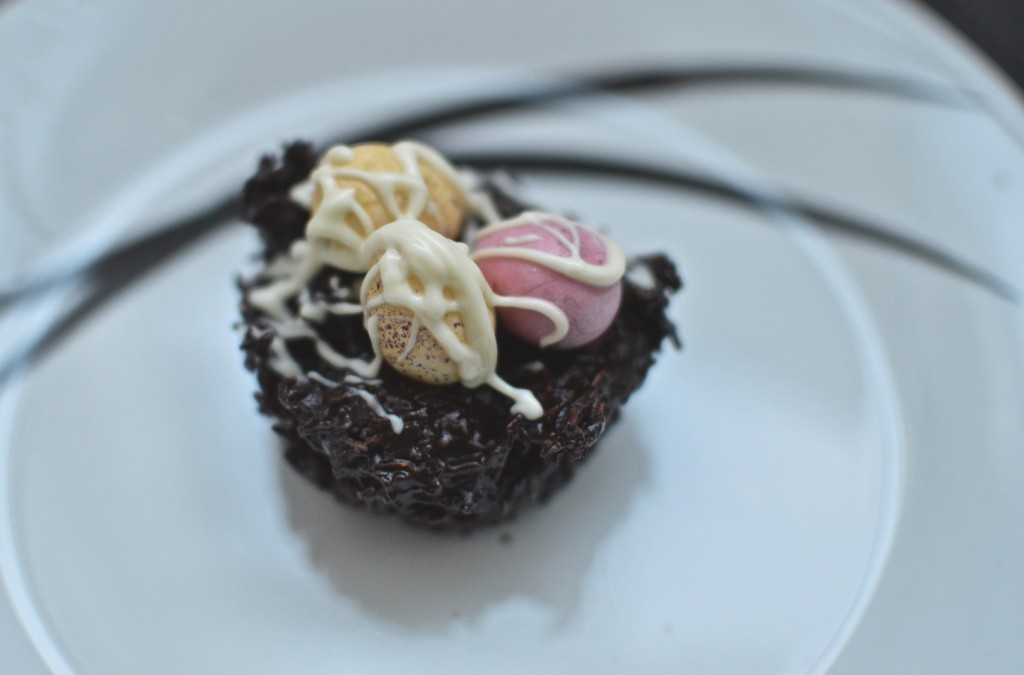 Let's talk Easter, chocolate, mini eggs and alcohol.
I recently had a conversation with a group of people and was aghast that they seemed to almost unanimously agree that chocolate Easter nests were pretty much just the domain of children. In short, they seemed to think that it was a bit childish, not something that grownups would want to eat. I think we can all agree that this is not true – let me introduce you to my dark chocolate, ginger and rum Easter nests.
Now, who said pretending to be a kid again didn't give them a buzz? Clearly they've never tried to stick their fingers in a plug socket before…
Print
Rum Easter nests
---
Author:

Prep Time:

15 minutes

Total Time:

15 minutes

Yield:

Makes

12

1

x
Description
This recipe is pretty much your standard recipe for Easter nests that you will find across the internet, except I've changed more than half of the ingredients and had to think of a way to help them set with a little excess liquid (a.k.a. rum) in them. They are absolutely dead easy to make, and you'll get about 12 of them. Probably not the best version of Easter nests to make with kids, I've also never claimed that they're healthy, despite all the fibre in that Shredded Wheat…
---
Scale
Ingredients
4

Shredded Wheat (this is not the BBC – I've never come across an alternative)

200

g dark chocolate

50

g milk chocolate

50

ml rum (white or dark, but dark's better)

3

cm fresh ginger

75

g marshmallows

1

Milkybar (or similar)

1 tbsp

milk

24

or

36

Mini Eggs to decorate
---
Instructions
Get a small pan of water on the hob on a fairly high heat, place a large heatproof bowl on top. Into those break your dark and milk chocolate (or if you're like me, use chocolate drops because it avoids a lot of the messing about) into the bowl and pour half of your marshmallows on top. Leave to melt, stirring occasionally.
Whilst the chocolate is melting, crush the Shredded Wheat into tiny little pieces. It's strangely satisfying.  And lay out 12 bun cases (the little silicon ones are amazing).
Once the chocolate and marshmallows are almost melted add in your milk (it will help make everything glossy) and your run. Remove the bowl from the heat, turn the pan off and drop the Milkybar into the pan so it will melt in its wrapper. Carefully mix this through the chocolate mixture, then fold in the remaining marshmallows. Those marshmallows that melt will help the nests set, those that don't will give you an extra hidden surprise when you bit into the nests.
Once the chocolate mix is fully combined, pour in your Shredded Wheat and stir furiously, until not a bit of fibrous cereal is left uncoated. Then stir a little more to be sure. Using two teaspoons, dived the mixture evenly between your bun cases, ensuring that there is a little hollow in the centre of each.
Now you have 12 nests, decorate each with two or three mini eggs. Carefully remove your Milkybar from the pan and snip off a corner. Use the wrapper like a mini piping bag and haphazardly add the finishing touches to your Easter treats.
---