Winter is coming – as they say. Or rather, I think we can agree that winter is here. We are most of the way through November, so my thoughts have moved to soups and wooly jumpers (in fact I'm wearing one right now). Conveiently (and not entirely unexpectedly) the vegetables that are in season make some of the best soups, with the likes of pumpkins, squashed, carrots and turnips being fantastic soup vegetables.
But today is nothing to do with any of those (well, almost); today we're talking about parsnips. Growing up I think I thought parsnips were just some sort of weird albino carrots – we had albino gerbils, presumably why I knew what an albino was, but thankfully I've now discovered the error of my ways and love the sweetness they can bring to a dish – especially a soup. Apparently they get even sweeter after the first frost, but we're not quite at that stage yet.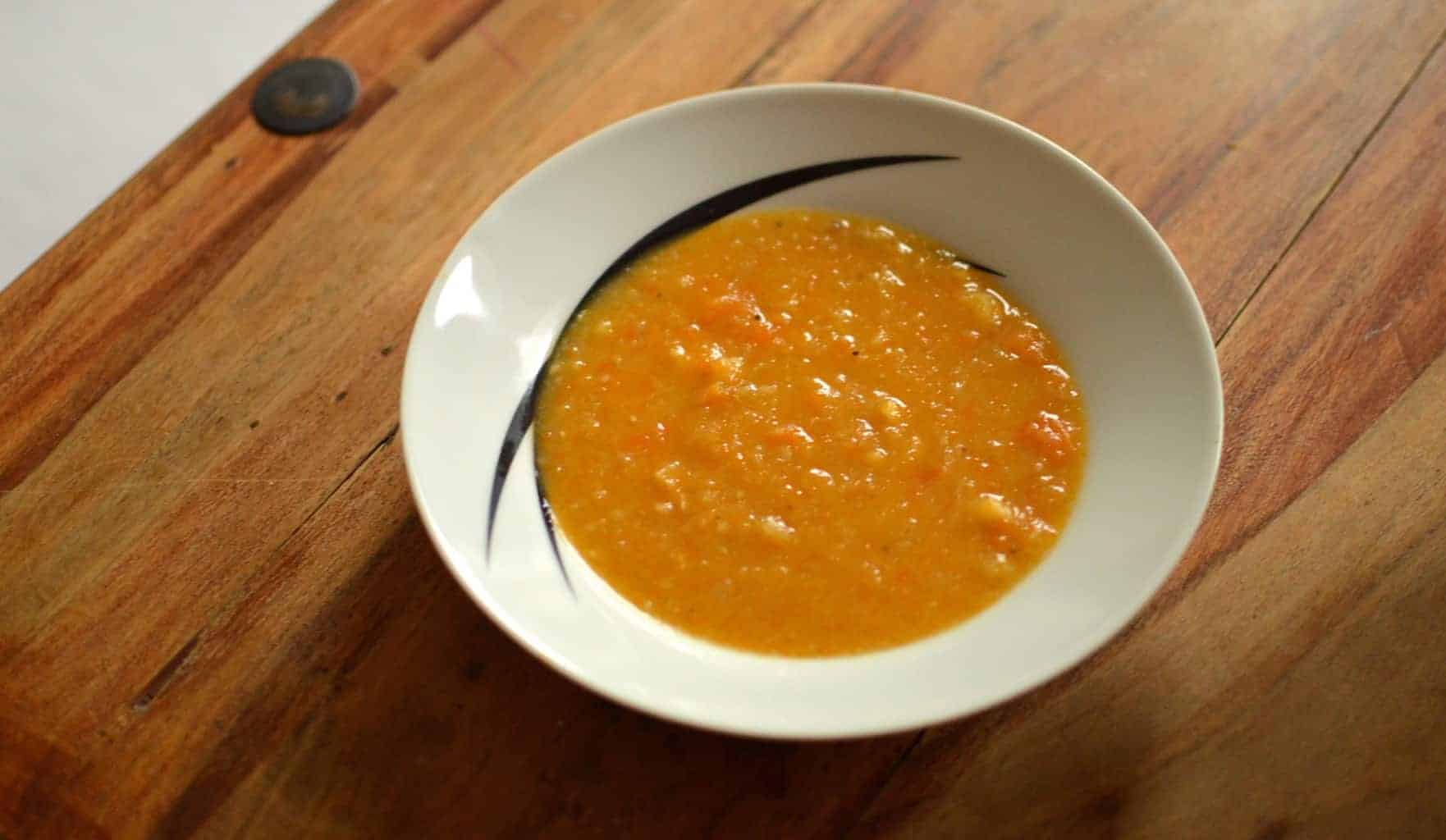 Soup was always going to happen this week, but the flavour was open to interpretation. On a little scouting mission to my new local supermarket, I discovered they had loads of parsnips, so grabbed a handful and decided that they were going to be the primary ingredient.
Parsnip soup would be a little one dimensional, I feel, so in the finest tradition of soup making I looked at what else I had in the kitchen. Thankfully my favourite go-to warmer was present and so it was decided: parsnip soup, laced with ginger for warmth. And then it got a last minute hit of cayenne pepper, because why not?
What's great about this soup is that it's pretty versatile – it's great for a weeknight warmer, but would not be out of place as a starter on Christmas Day (although perhaps puree it a little better that I did if you're to serve it in fancy bowls…). Th flavours are distinctly winter-ish and since the flavours mature nicely it's a great dish to make well ahead of time and simply reheat when you're ready.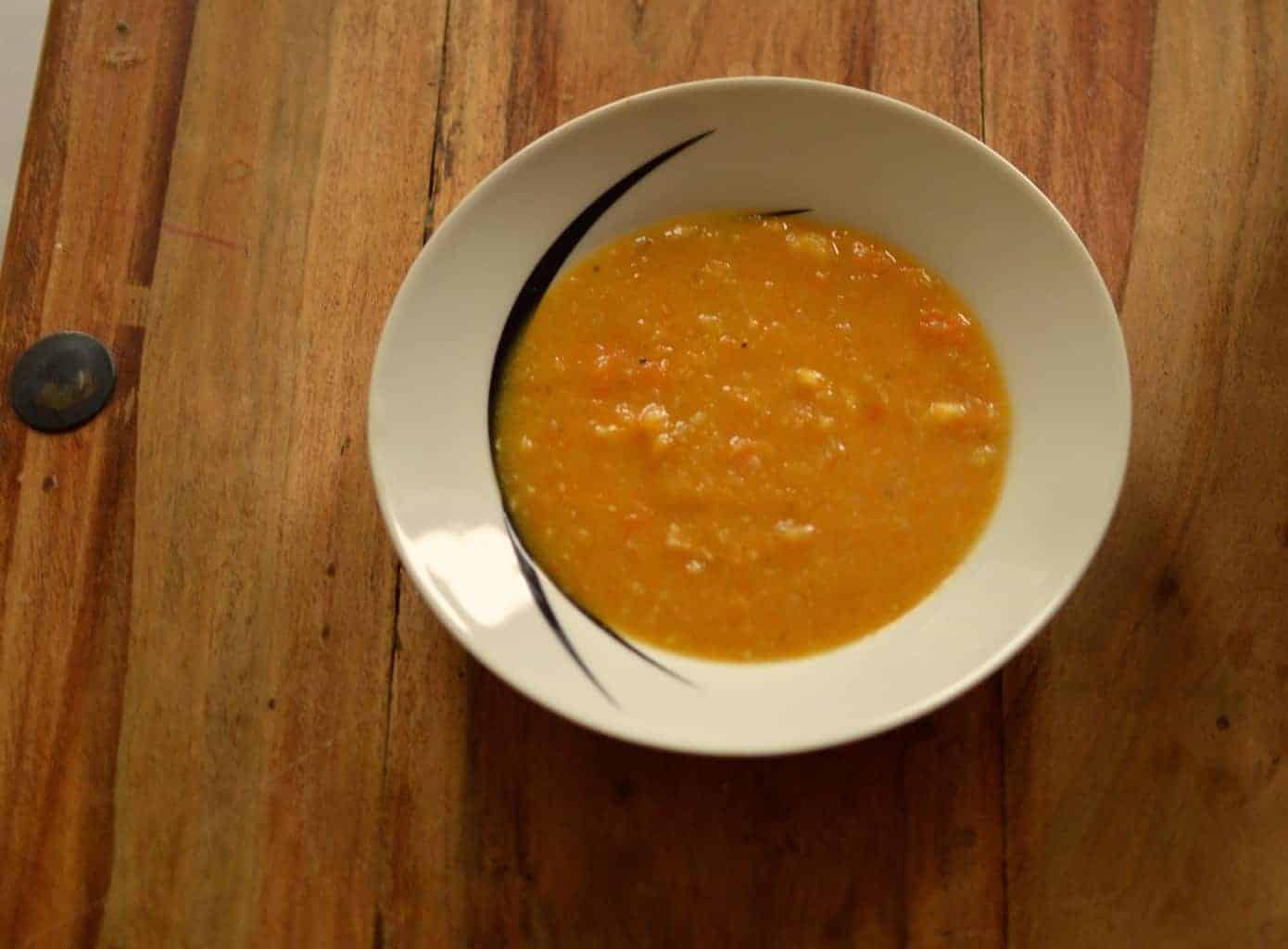 Spiced Parsnip & Ginger Soup
This recipe is an original for The Usual Saucepans, using seasonal ingredients picked up on a whim whilst out shopping. You can find all TUS soup recipes here. It serves 4 for lunch.
Ingredients
6 large parsnips
1 large onion
2 cloves of garlic
1 large carrot (optional)
1 knob of butter
1 litre of vegetable stock
4cm ginger
1/2 tsp cayenne pepper
Salt & pepper to taste
Directions
Dice your onion and crush the garlic, then put the butter in a large pan on the hob at a medium heat and wait until it melts. Add in your onion and garlic (it should sizzle straight away). Put the lid on and let the onion soften – it should not start to colour. Whilst the onions are softening, finely dice your carrot and add it to the softened onion, do this before the parsnips as it will take slightly longer to cook (it's also optional – I just had one on hand to use). Add a splash or two of water if it is getting dry.
Half your parsnips then cut them into batons before chopping into pretty small chunks (it will cook faster). Add these into the pan and allow them to cook for a minute or so. Add this point grate in your ginger and stir it in thoroughly. Add in the stock and once it reaches a simmer turn the pan down.
Once gently simmering, add the cayenne pepper. If you use proper stock add a little salt in as well, but if it's from a cube don't add more (since most stock cubes contain a fair bit of salt). After about 15-20 minutes the vegetables will be cooked and you can take it off the heat.
Blend the soup until smooth, then taste it. Add salt, pepper (or even a little more cayenne) to taste.
The flavours will increase over time, so if possible leave a good few hours (or over night) before serving.