I've been thinking about sugar a lot of late. You know that refined white stuff that makes things all sweet and delicious? Well apparently sugar is suddenly not good for us. Or that's what you'd think if you're looking at all the media coverage it's getting. But obviously we all know that it's not that simple.
What's really been getting me is the 'hidden' sugar in foods. OK, so legally it's not hidden – it's right there on the label – but in so many foods it's been added in when you wouldn't expect to look for it. Having read a really interesting post about giving up sugar for a week by Karen on Lavender and Lovage (and got thoroughly distracted by the rock buns) I keep looking at these 'hidden sugars' and finding them in places I wouldn't expect. Why is there lots of sugar in bread? What's it doing in tomato soup? Of course we all know (or certainly should by now) that fizzy drinks contain insane amounts of sugar, but my can of Heinz tomato soup that's my go-to when I'm feeling like crap? That's a bit more of an issue.
It's all about preserving and probably a fair bit to do with getting us 'hooked' on a particular flavour/brand, but despite understanding the science behind it I'm still a little saddened that its there.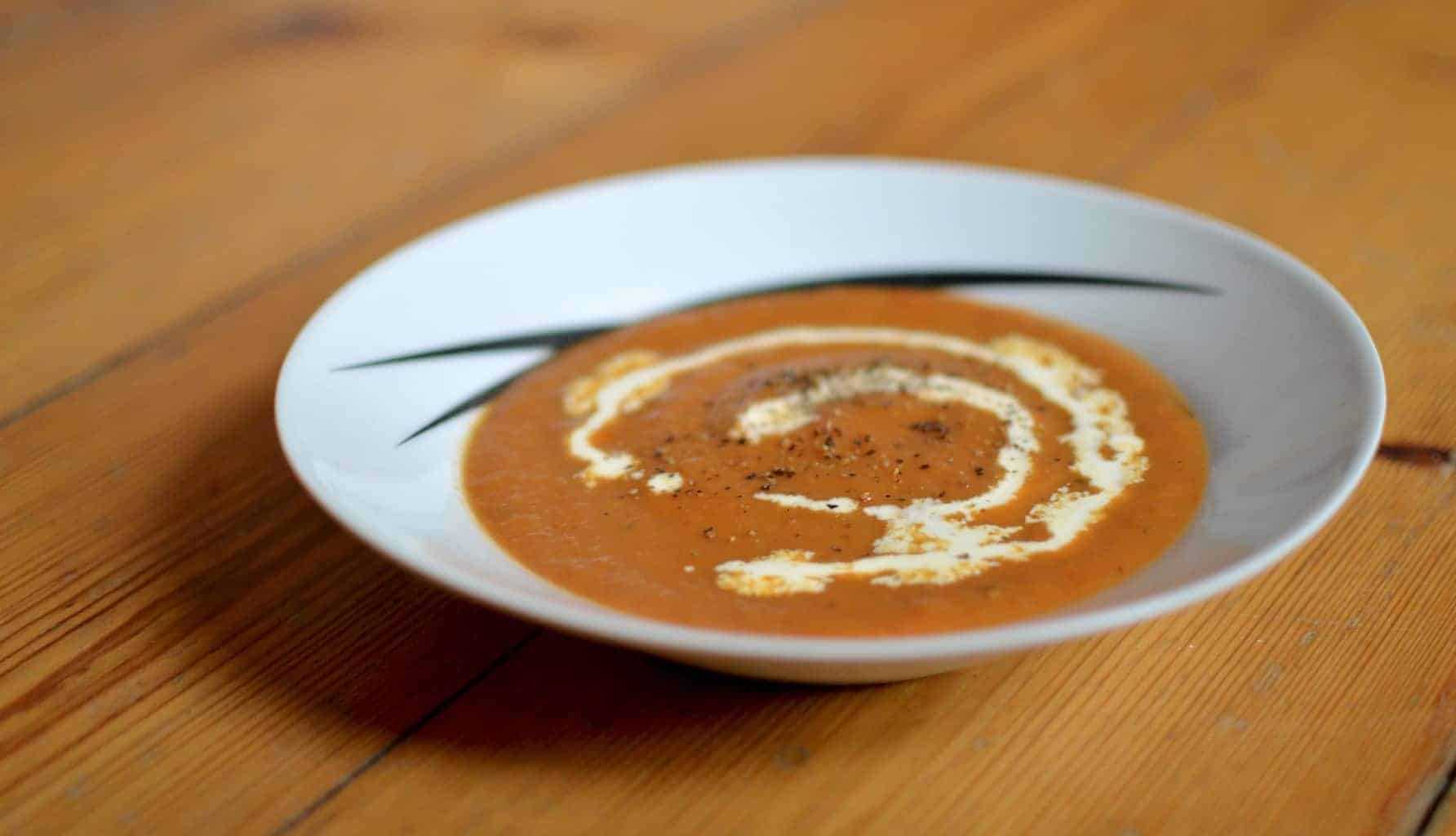 OK, so in real terms this doesn't impact my life all that much. I cook most of my meals from scratch, you won't find ready-made meals or pasta sauces in my kitchen. I pay attention to labels, but it's quite scary to see how much added sugar you can consume without realising it. Naturally there's lots of people jumping on this bandwagon with books about how to stop eating sugar and the like, but as someone who makes his living in marketing let me tell you that you don't have to revolutionise your lifestyle and spend loads of money on books and cooking courses – it's all there to make money. What you do need to do is think about what you are eating and pay attention to those labels.

After my little revelation about the aforementioned brand of tomato soup (well, if I'm being honest, I always knew there was sugar in it, I had just never looked at how much) I thought I would show you an alternative option that has absolutely no added sugar, sweeteners or other artificial nonsense. It's simply easy, healthy, deliciousness in a bowl. Sure it takes longer to make than opening a can and chucking it in the microwave, but like in most things in life that extra effort makes the end result much, much better.
Oh, and if you're thinking I'm a total hypocrite for talking all about sugar like this when I'm a massive baker, you may have a point. But at least I don't sneak the stuff in or replace sugar with maple syrup and pretend that's the answer because it's 'natural'.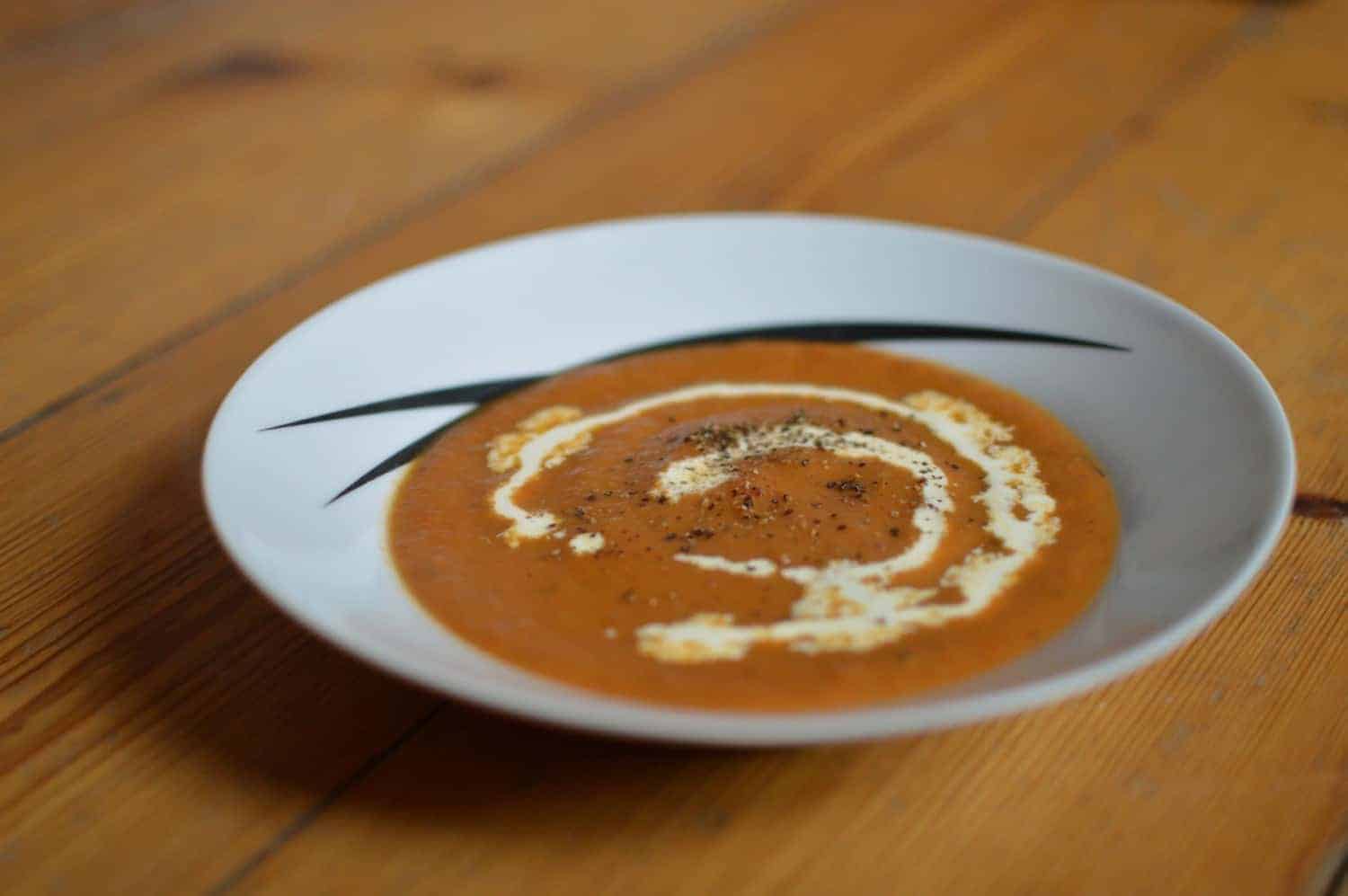 Print
Roast Tomato and Garlic Soup
---
Author:

Prep Time:

15 minutes

Cook Time:

1 hour 15 minutes

Total Time:

90 minutes

Yield:

Serves

2

1

x
Description
This roast tomato soup is adapted from one Donal Skehan wrote for Kitchen Hero (I still think of kitchen utensils in capes every time I see this book), adapted mainly because I didn't have several of the ingredients. For those who look at the original, I substituted the tomato puree for red wine, I have no shame. It's a great soup for warming you up or having as a sumptuous lunch. It would also be delicious chilled in the summer. Top with a swirl of cream and some cracked black pepper, if you're feeling fancy. Oh – and of course there's no sugar in it to compensate for other flavours.
---
Scale
Ingredients
800

g tomatos

1

carrot

1

onion

2

sticks of celery

2 tbsp

rapeseed/olive oil

3

cloves of garlic

1 tbsp

balsamic vinegar

3

sprigs of thyme

1

glass of red wine

1

litre of vegetable stock
salt and pepper
Cream to garnish
Squeeze of lemon juice
---
Instructions
Turn your oven on to 200ºC and line a tray with tinfoil. Slice your tomatoes in half and lay them, cut side up, on the tray. Peel your garlic and scatter the cloves amongst the tomato halves (any ridiculously large cloves, slice them root-to-tip). Drizzle half of your oil over the tomatoes, then drizzle over the balsamic vinegar. Season with salt, pepper and the leaves from your thyme sprigs. Place in the centre of the oven and roast for 40-50 minutes, or until they are delightfully disintegrating, and lightly caramelised.
Whilst the tomatoes are roasting, slice your onion into fine strips – root to tip, not side to side – and dice your celery and carrot as finely as you can. In a large heavy-based saucepan put the second half of the oil and apply the heat. Put the onion, carrots and celery in the pan together on a high heat, cover and let it cook for a minute; turn the heat to medium and cook for a further 6 minutes.
Once the initial cooking has happened, remove the lid and pour in the red wine. Stand back and let the steam dissipate. Let it gently simmer to burn off the alcohol. Once the wine has reduced by half pour in your stock, bring to a gentle simmer if your tomatoes are ready, turn off the heat if not.
Take your cooked garlic and crush it into the soup (I do this between two tablespoons stacked on each other, but a garlic press will also work). Using one of these spoons, squish the tomatoes down – this is immensely satisfying – and then add them into the pan along with the juices. Bring to a simmer and let it bubble away until the chunks of carrots are fully cooked (depending how small they are this will take 15-25 minutes).
Once fully cooked remove from the heat and use a stick blender (or food processor) to blitz it smooth. Add in a little squeeze of lemon juice, then season to taste. Serve immediately with a swirl of cream and some cracked black pepper on top. It will go really well with soda bread.
---
Used in this recipe: