There are many dishes from around the world that we incorporate into our diet today, but when it comes to soups there is one that really stands out for me: caldo verde.
Originally from northern Portugal, the only really essential ingredients in the caldo verde – which appetisingly translates as 'green broth', by the way – are the greens, onion and olive oil. Today's version of the soup tends to also include chorizo – or rather chouriço, since it's Portuguese – garlic and potato (because what isn't improved by the addition of chorizo and garlic?).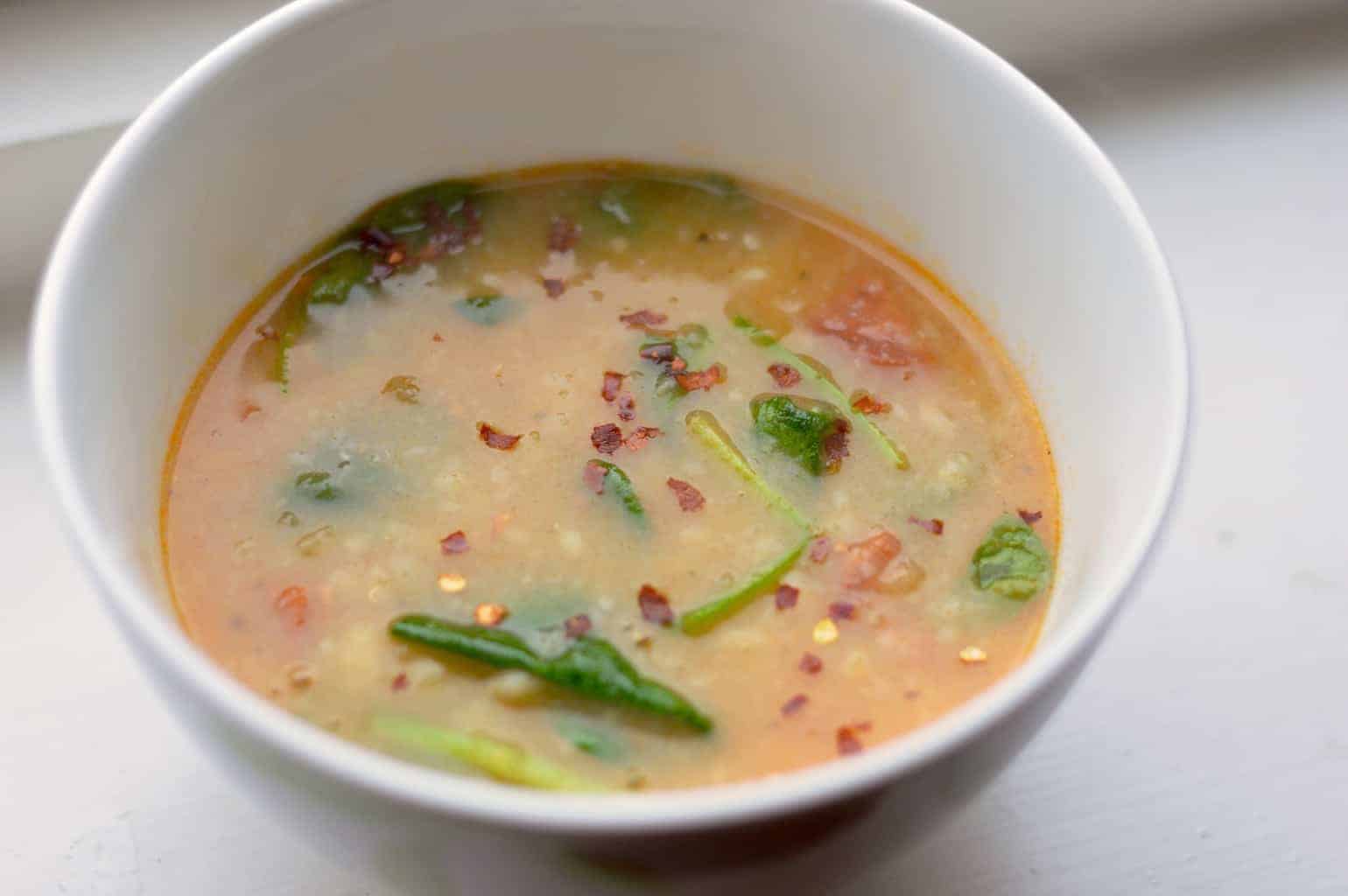 Poor old soup isn't exactly at the glamorous end of the food scale – although if you look back through The Usual Saucepans you'll find soup featuring quite often. It's plain, ordinary and made by the potful or costs pennies from a can. But to me soup is something to love. Whether it's a hug-in-a-mug when you're not feeling your best, a winter warmer or simply something more exciting than a boring sandwich at lunchtime, there are soups for all occasions.
But if we were to make a glamorous soup scale (and why the hell wouldn't we?) I think we'd all agree that caldo verde would be pretty near the top. It's colourful, vibrant and adds something a little spicy to any occasion. This occasion just happened to be a Sunday lunchtime.
On the day in question, I was getting to the point where my fridge was looking close to a post-apocalyptic wasteland. Amongst the remaining casualties were some leftover chorizo and some spinach I'd bought a couple of days before to add into my lunch in an ill-fated attempt to make me look healthier in the office. In the cupboard there were a few potatoes left after I made gnocchi the weekend before. Not exactly a great selection.
It's not the most ordinary of combinations, but I knew what was going to happen. I've been cooking from Rick Stein's Long Weekends a fair bit recently – including a new gnocchi and pesto favourite – so I knew what I needed in my life. It was time to rekindle my love of caldo verde.
I've no idea where this love comes from – I have been to Portugal before, but only Lisbon and I don't remember having any there – but there's something about its colour, vibrancy and spice that I just love. I made mine with a little extra heat this time by adding smoked paprika; it's entirely optional, but comes highly recommend. By switching to spinach and adding extra bits and pieces, caldo verde traditionalists are not going to be a fan of this, but frankly I don't care because I think it's brilliant, and hopefully you will too.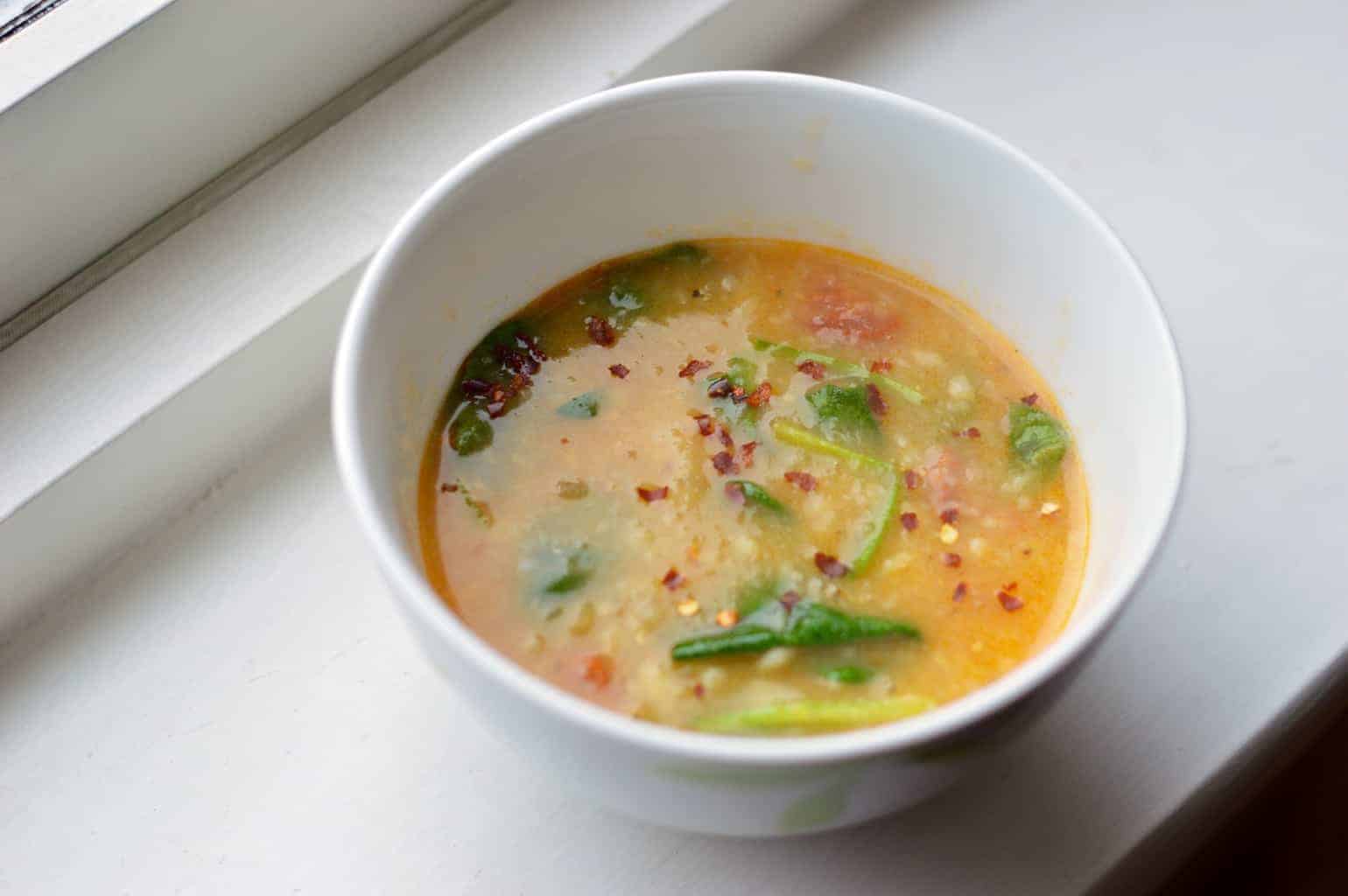 Print
Caldo verde
---
Author:

Prep Time:

5 minutes

Cook Time:

20 minutes

Total Time:

25 minutes

Yield:

Serves

2

1

x
Description
This recipe is a variation on the recipe I've made many times before and the one from Rick Stein's Long Weekends. Instead of kale I went for spinach, as it was what I had available. You should use a floury variety of potato for the best effect. If you don't want your soup to be spicy, don't include the smoked paprika or chilli flakes. Makes enough for two and is great for lunches.
---
Scale
Ingredients
1

onion

2

cloves of garlic

150

g of chorizo

200

g potatoes

2 tbsp

olive oil

900

ml vegetable stock

1/2 tsp

smoked paprika
small pinch of chilli flakes

180

g spinach
---
Instructions
Finely chop your onion and crush your garlic, then add to a large pan on a medium heat. Soften for a minute whilst you chop the chorizo (I did mine into quarter circles, you can keep yours full slices, if you want). Cook for about 6-7 minutes until the onion and garlic are soft.
Peel and cut your potatoes into cubes (no bigger than about 3cm³). Add these into the softened onion mix and fry for a minute or so to get the potatoes fully coated in the juices and then add in your stock (preferably just off the boil) and then boil until the potatoes are cooked, which should be about 8-10 minutes. Remove from the heat.
Using a potato masher, break the potato up into the soup (it should be pretty easy to pulverise as they're floury and cooked). Bring the pot back to the boil and then add the spinach. Cook until it's wilted (literally a minute or so) and then serve immediately.
---
Used in this post: