With Christmas approaching a truly terrifying rate of knots, it's high time that The Usual Saucepans started having some festive cheer. Over the next three days I'll take a look at three of my favourite Christmas culinary treats: Stuffing, Cranberry Sauce and Decorating the Christmas Cake.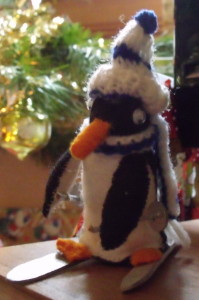 To start off this little list I'm going to talk about stuffing. The dry, cardboard-y nonsense you get in the middle of your turkey with your Christmas dinner. We all have bad memories of disgusting stuffing, and despite Paxo's efforts to make the instructions as idiot-proof as possible, somehow people still don't quite get it. In fact, I had a pre-cut circle of what was supposed to be stuffing with my Christmas dinner on the office night out last week; and it was even more disgusting than usual.
However, all this is about to change. For the last couple of years I've simply said Sod off! to crap stuffing and have gone down the 'make it from scratch' route. And like most things it is dead simple when you know how.
Mixing some of the most Christmas-y of flavours – cranberry, chestnut and sage – makes for a mouth-watering accompaniment with which to stuff your bird. I also like to keep some aside to make little pieces to put on the side, but I've since been told that apparently it's 'weird'. I'll let you be the judge.
Chestnut, Bacon & Cranberry Stuffing
This recipe is adapted from BBC Good Food and makes enough for about 6 people (plus a little leftover for Boxing Day).
Ingredients
100g dried cranberries
2 rashers of unsmoked bacon
50g butter
2 cloves of garlic
450g sausage meat
140g breadcrumbs
2 tsp chopped parsley
1/2 tsp chopped thyme
140g chestnut purée
1 egg
50-100ml ruby port
Directions
Soak the cranberries in the port overnight (you can use anywhere between the 50 and 100ml of port, depending on your tastes).
Chop the onion finely and slice the bacon. Lightly fry them in the butter until the onion softens. Then add the garlic and continue to fry for a minute.
Allow the mixture to cool slightly before adding into a bowl containing the sausage meat, cranberries, breadcrumbs, herbs and port.
Lightly beat an egg and then add it in to the bowl bit-by-bit, whilst continuously mixing, until everything binds. It is easier – and more fun – to do the mixing by hand, even if it does get a bit messy.
The stuffing can either be done in the turkey, or on its own. If you do it by itself then put balls of it (around a tablespoon's worth) on a lined bake in the oven at 180°C  (170 fan) for 30-40 minutes.