What, a bad pun about feta? Bet you didn't see that one coming. As though that pun wasn't bad enough, my ridiculous brain has been singing 'I like to boogie' all week long – except, of course, my (thankfully internal) rendition of 'I Like Tabbouleh'  is not just a treat reserved for a Saturday night.
Lately I've been having a bit of a battle with myself over the boring, tired sandwiches I sometimes eat for lunch. I try to ensure I have more exciting munchies for my munchings in the middle of the day, but sometimes I am not organised enough to have something amazing prepared to take to work. And recently – to my shame – had a lump of tasteless bread with an equally drab filling from a supermarket. But since it's summer I've been having a lot of fun with different kinds of tabbouleh recently. having gone through a few iterations in my experiments, but I think this feta tabbouleh is my favourite. Or at least my favourite so far.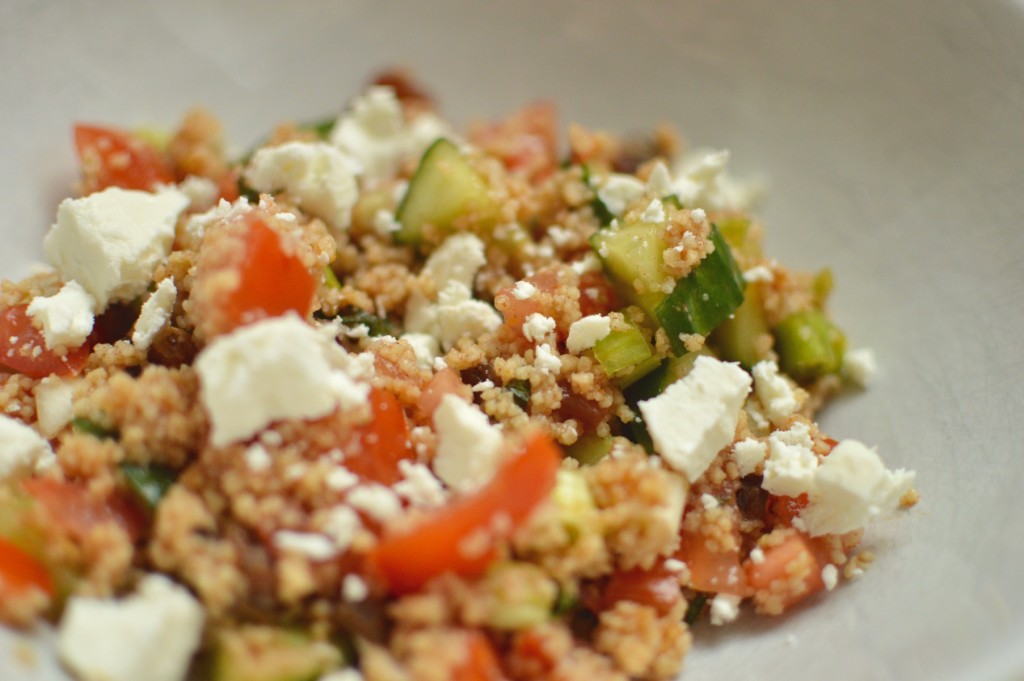 In addition to having a part of my brain permanently dedicated to bad pun discovery, I also love knowing more about where food comes from, who makes it and who eats it. Maybe it's nosiness, perhaps it is part of the same curiosity that did bad things to the cat; whatever drives this intrigue it's an interesting journey and always leaves me wanting to know more. So as well as being that annoying person at farmers markets who asks lots of questions I recently bought a copy of the wonderful The Oxford Companion to Food, since I was bored of constantly looking up sections of it online. I highly recommend it if you are inquisitive about food, although it's a massive tome of a thing, so you'll need some space on your cookbook shelf.
Tabbouleh then, comes to us through the centuries but is usually described as a 'Levantine dish' – and if, like me, that means very little to you on first reading, it means that it comes from the Levant, a historical region of the world that covers both the eastern fringes of the Mediterranean Sea and the near east (so usually Greece, Cyprus, Egypt, Turkey; and almost always Israel, Jordan, Syria and other countries in that part of the world). It's sometimes considered a salad, but is more traditionally served as part of a Mezze (which is officially described as a selection of dishes served with alcoholic drinks, or as a started).
Like all traditional dishes, its contents various from place to place, family to family, but whilst no one agrees on the correct recipe, it usually contains mint, tomatoes and spices such as cinnamon. It's also usually made with bulgar wheat, but as it's couscous that you normally find in my kitchen I've made it from that instead.
This is a great dish for experimenting with, using a variety of ingredients. It's also easy to make in advance or even the night before and left in the fridge for the juices to soak into the couscous cold.
Print
Feta tabbouleh
---
Author:

Prep Time:

5 Minutes + Overnight

Total Time:

5 Minutes + Overnight

Yield:

Serves

2

1

x
Description
There is no real source for my feta tabbouleh recipe, it's something that I've just made so many times that I know what I like in mine and what I have in the fridge – experiment a little bit yourself and see what suits your tastebuds and the season. Serves 2 for lunch.
---
Scale
Ingredients
125

g couscous

3

ripe vine tomatoes

1/2

a cucumber

30

g raisins

50

g feta cheese

1/2 tsp

cumin seeds

1/2 tsp

cayenne pepper

1/2 tsp

cinnamon
salt and pepper

60

ml cold water

1

spring onion

4

–

5

mint leaves
---
Instructions
inely dice your tomatoes – you're looking to get them into pieces of no more than 1cm squared – and then do similarly to the cucumber (trying not to lose the juice of either). Slice the spring onion thinly and rub the mint leaves between your hands to bruise them and start releasing the oils.
In a medium sized bowl, measure out your couscous and then add to it a couple of pinches of both salt and pepper, followed by the cayenne, cumin seeds and cinnamon. Shake the bowl from side to side to distribute the spices then add the raisins, tomato and cucumber, with as much of the juices from the chopping board as you can. Stir through and add the water.
Cover and leave in the fridge for as long as you can – over night is best (use hot water if you want to eat it within 20 minutes and don't refrigerate).
Crumble the feta over just before serving and enjoy.
---