It's summer – finally – so it's high time we talked about Pimm's and strawberries. Strawberries are, as I think we can all agree, amazing. Pimm's is also rather tasty, so today I think it's high time we talked about making the two into an irresistible dessert – strawberry and Pimm's granita.
I don't know if you've noticed, but this time of year is when Britain goes nuts for tennis for a couple of weeks, coinciding beautifully with the high season for strawberries and the Pimm's drinking weather. What does this all mean? Well, it's an excellent excuse to shout about the tennis whilst drinking Pimm's and feeling as though you're being roughly healthy because you've just eaten an entire punnet of strawberries (if we ignore all that cream you poured on them…)
But what if you want something more than just plain strawberries? And what if it's so hot that you're drinking Pimm's so quickly to avoid it evaporating that you're at risk of toppling over? You need something different. You need strawberry and Pimm's granita.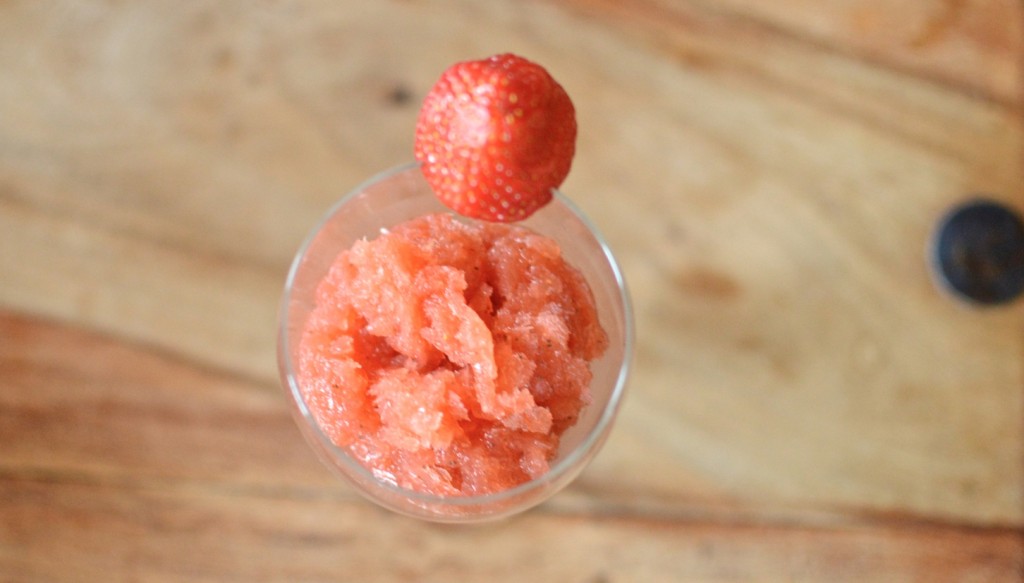 Gra-what? It's not a bad question, so by way of an explanation you can absorb between serves, this is granita:
It's a semi-frozen dessert, related to both ice cream and sorbet (leaning more towards the latter) that, as its name might indicate, originates from Italy. To be more specific, it's from Sicily and is a combination of sugar, water and whatever flavourings you choose. Unlike its other frozen Italian friends, there seems to be no set way to define what the texture should be, but it is chunkier than sorbet, basing its texture on chunky crystals, instead of a smooth/creamy texture of ice cream. So, whilst similar in many respects, it's a unique and very refreshing dessert that you can eat whenever you like.
So we're all on board with granita now? Great. Just one more thing – don't be fooled by the pictures in an elegant glass. Once I'd taken the photos I tipped mine into a bowl, then spooned another portion in and sat down on the sofa to scoff it whilst watching the tennis. This is a great treat, and much more refreshing than ice cream. And it's not just reserved to Wimbledon's fortnight, this is a treat to have all summer long! And whilst obviously you could do a version without the Pimm's, I'd suggest the light boozing of this dessert/snack is really what makes it.
Strawberry and Pimm's Granita
This recipe for strawberry and Pimm's granita is adapted from the beautifully designed What Katie Ate. It makes roughly enough for four people, although obviously you can just up the quantities. Make it in a deep baking tray so it can freeze quickly.
Ingredients
½ punnet of strawberries
10 mint leaves
300ml lemonade
1 lime
100ml Pimm's
50g caster sugar
Directions
Start by lining your deep baking tray (at least 2 cm, although you can use some tupperware if you prefer, it will just take longer to freeze) with clingfilm.
Hull all your strawberries and quarter them, then pour into a food processor. Juice the lime and add this, along with the lemonade and sugar. Muddle the mint leaves in your hand and drop those in. Add the Pimm's and then blitz for 20-30 seconds until the mixture is totally broken down.
Put a sieve over a large bowl and pour the mixture from your mixer in. Some of the juices will naturally filter through, but use the back of a tablespoon to really squeeze all the juice out of the pulp.
Pour the liquid into your prepared tray and lay flat in the freezer for at least four hours (six is better). Use a fork to fluffy up the crystals and then serve in a glass with another strawberry to garnish.
Since this recipe is pretty much summer in a glass, I'm going to enter it into Tea Time Treats from Karen at Lavender and Lovage and Janie at The Hedgecomer – this month's theme is BBQs and I think this would make for a great dessert.