Don't you just love those balmy summer evenings when even the longest of Wednesdays can end like a lazy Sunday? The sort of evening that you need to have a quick dinner so you can go out again and enjoy the sun or that you've been enjoying yourself so much you realise it's getting very late and you still haven't eaten. When you're in need of a quick dinner that still tastes fantastic I would point you to this weeknight wonder, a roasted tomato and spinach pasta.
For this particular dish you will need only six ingredients, all of which you may already have in your house or you could pick up all summer long almost anywhere. In my case, this was the local mini-supermarket on the way home.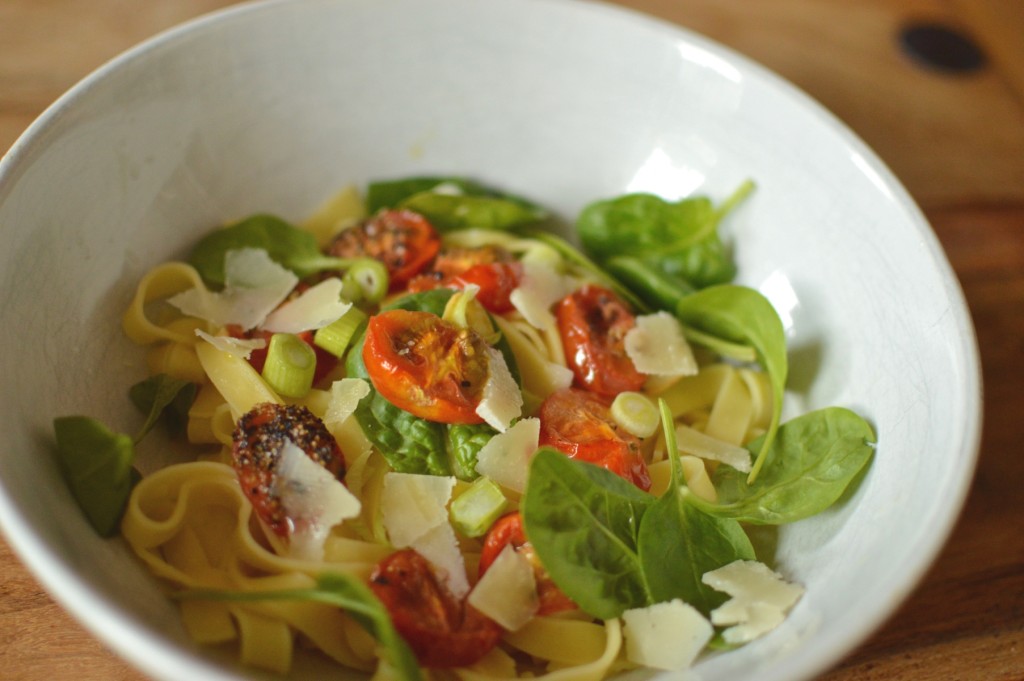 I knew I was going to have very little time at home the other evening between getting home from work and needing to leave again. Something really speedy was needed. I popped into the shop on my way back and picked up some fresh tomatoes, a bag of spinach and some spring onions. 40 minutes later was sitting down with this delicious bowlful having both cooked and showered, ready to get straight back out to meet friends.
Sometimes there is a beauty in simplicity, and so I think is here. Using a handful of fresh and tasty ingredients you can make a meal in no time that is not sacrificing deliciousness for its haste. Give it a go and let me know how you get on.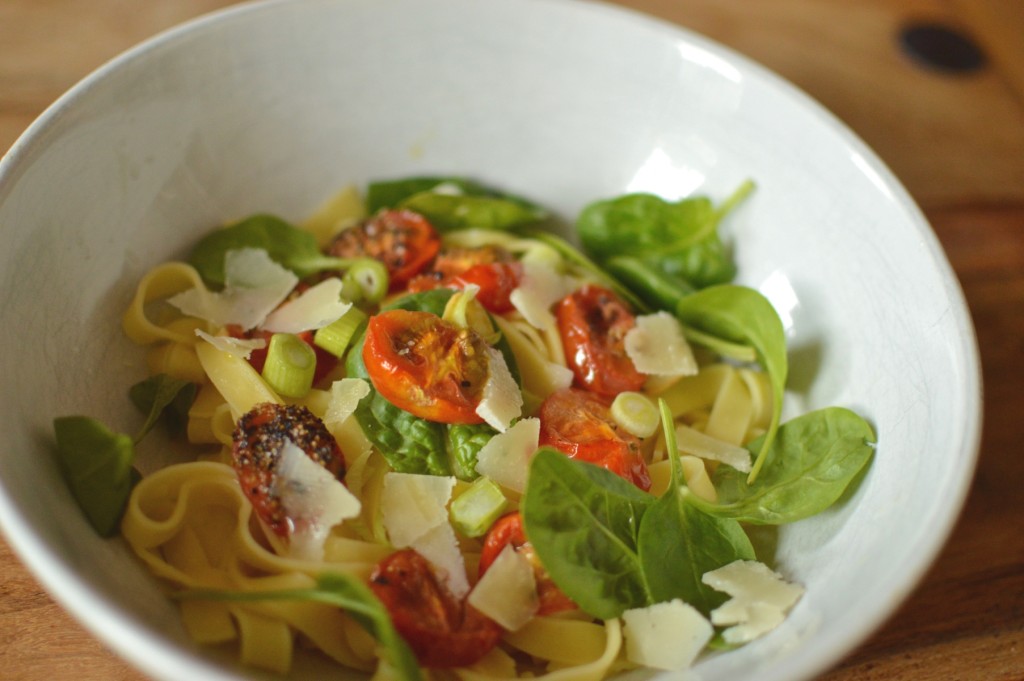 Roasted tomato and spinach pasta
---
Author:

Prep Time:

10 minutes

Cook Time:

10 minutes

Total Time:

20 minutes

Yield:

Serves

2

1

x
Description
This recipe was made up from the things that needed using up in my fridge it is, therefore, an original to The Usual Saucepans. It's one of those handy recipes for using bits and pieces up without ending up with a mish-mash dinner. It serves 2 and takes about 10 minutes to make plus half an hour in the oven.
---
Scale
Ingredients
Tagliatelle for

2

12

–

14

cherry tomatoes

2

handfuls of bayleaf spinach

3

spring onions

30

g parmesan

1.5 tbsp

rapeseed (or olive) oil
salt and pepper
---
Instructions
Start by slicing all the tomatoes in half and then lining them up on a baking tray (I covered mine to make it easier to clean). Drizzle in the oil and then season liberally with salt and pepper; roll the tomato halves around to ensure they are fully covered then stick in the oven at 170º for about half an hour (you want them cooked, and somewhat flatter, but not entirely roasted). If you want extra flavour roast some slices of garlic in with them or drizzle in balsamic vinegar (neither were in my kitchen at the time).
Once roasted and you've got on with whatever you were doing in the mean time, boil your pasta using the instructions on the packet, there should still be a slight bite to the pasta – cook it al dente. Slice the spring onions thinly.
Drain the pasta and return to the pan. Add in the remaining half tablespoon of oil (you may need less) and swirl it all around the pan to coat all the tagliatelle strands. Decamp into a large bowl and cover with the spinach and spring onions. Layer your tomatoes on top (bringing some of the juices with them), then add the parmesan on top and season in any other way you desire.
A sort-of healthy dinner in a very short space of time that won't leave you hungry in half an hour's time.
---