Can you think of something we have at this time of year that has people quite so divided as sprouts? I hated them for years. My brothers still do. But since you've got this far I'm going to assume you quite enjoy them. It's easy to have plain old sprouts, or add in chestnuts or pancetta, but if you are looking for something a little different then take a look at my roast brussel sprouts with chorizo and parmesan come in.
These sprouts are a slight departure from the common pairing with pancetta and a frying pan, instead using chorizo, parmesan and a roasting tray. To me this changes so much about them and in such an appealing way, that you will want to have them all throughout winter, and not just for Christmas.
Cultivated as far back as the Romans (a little light research suggests it was the Romans that spread their cultivation around Europe), these little cabbage-like vegetables are actually in season most of the autumn and winter. With varying varieties throughout the winter months, these roast brussel sprouts are a dish you can have whenever you feel the need.
Need more reasons to love this dish?
They're actually pretty good for you, the old sprouts
It tastes heavenly – chorizo and sprout is a delicious combination
Parmesan adds a salty, cheesy tang to the dish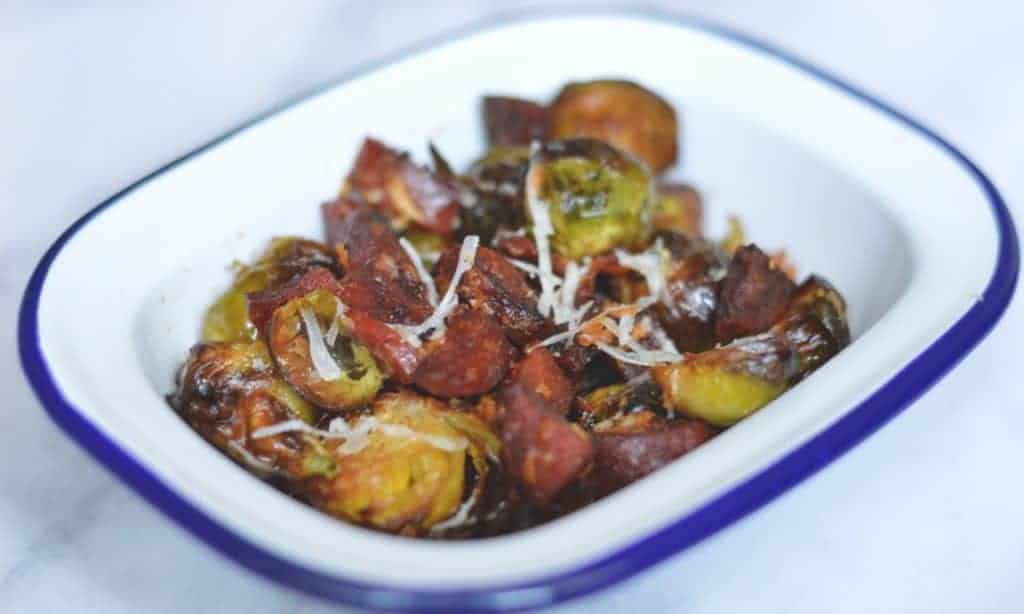 Print
Roast brussel sprouts with chorizo and parmesan
---
Author:

Prep Time:

5 minutes

Cook Time:

30 to 40 minutes

Total Time:

45 minutes

Yield:

Serves 2
Description
This recipe is great if you're using fresh sprouts, but also works with leftovers – just cook it for less time. Keep an eye on them in the oven as they can catch quite easily.
---
Instructions
450g brussel sprouts
50g chorizo
50g parmesan
1 tbsp olive oil
1/2 tsp salt
1/2 tsp smoked paprika
---
Notes
Preheat the oven to 200 degrees.
Chop the stem of each sprout off and take off any bashed leaves. Half each sprout and put in to a medium-sized bowl. Slice your chorizo in to pieces (I did mine as slices about the thickness of pound coin, then quartered those) and add into the bowl.
Grate most of the parmesan (leaving a little to grate over the top before you serve it) into the bowl, then add the salt, paprika and oil. Put in a couple of turns of black pepper then toss until coats and transfer to a roasting tray.
Roast in the oven for 30 to 40 minutes, until the sprouts go golden. Let them sit for a couple of minutes, then serve with more parmesan grated over the top.
Used in this recipe: