Ding Dong Merrily oh my, the oven the bells are ringing. Ding Dong Verily your pie(hole), the mincemeat is cinnamon-y!
OK, so I'm not going to be winning a Grammy any time soon, but what I certainly can turn my talents to is a bowl of ingredients and an oven. Yes, my love affair with cinnamon buns and enduring passion for all things Christmas have collided in the wonderfully festive mincemeat cinnamon buns. They are delicious – or at least so say the people I've fed them to.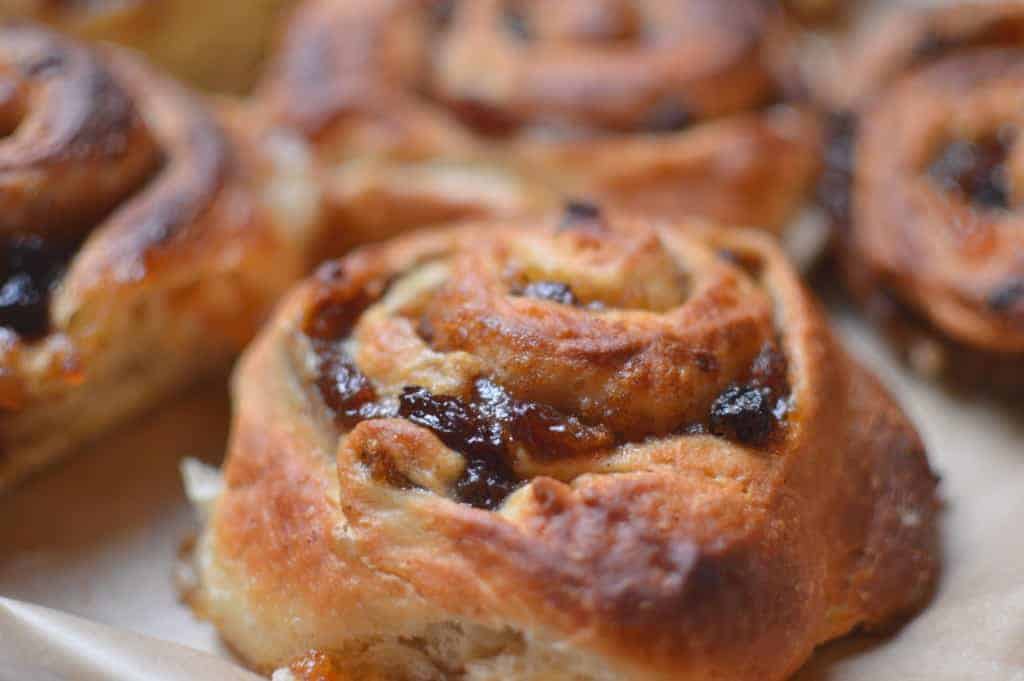 Much as I love mince pies in 'moderation', I'm not very good at moderation at this time of year. I feel since eating 8 mince pies in two and a half days after making some recently (with very more-ish cinnamon and nutmeg pastry) I am somewhat pie-d out. I needed something new to fill my love of Christmas baking, and I needed something I could easily eat at any time of the day.
So enter onto the scene the idea for stuffing cinnamon buns with mincemeat! It isn't nearly as intense as a mince pie, there's doughy goodness, they are dead easy to make (and even easier to eat), and can be eaten whenever in the day you like.
Whether you're looking for something a little different to leave out for Santa this year, a scrumptious treat for Christmas Day breakfast, or an irresistible treat for any other day over the Festive Season, then I would heartily recommend Mincemeat Cinnamon Buns – just keep them away from me, because I can't stop eating them!
Print
Mincemeat Cinnamon Buns
---
Author:

Prep Time:

1 hour

Cook Time:

20 minutes

Total Time:

1 hour 20 minutes

Yield:

12

1

x
Description
This recipe screams Christmas – it's packed full of mincemeat goodness and lots and lots of delicious cinnamon. I used my normal cinnamon bun recipe (last seen with Blueberry and cinnamon-less), it will make about a dozen. It's totally OK to cheat and use mincemeat from a jar to speed up the process (it's what I did), but remember home made will taste better.
---
Scale
Ingredients
for the dough:
400

g strong white flour

100

g caster sugar

250

ml full fat milk

7

g yeast

4 tbsp

butter (about 60g)

2

large egg

1

large pinch of salt
for the filling:
4 tbsp

butter

6 tbsp

caster sugar

420

g mincemeat (1 jar)

4 tsp

ground cinnamon
---
Instructions
Putting the butter, milk and sugar into a medium sized saucepan and put over a medium heat. Stir gently until all the butter and sugar melt. Take off the heat, and set aside to cool until just warm. Pour into a large bowl (the flour will be going into this) and add the yeast – the optimum temperature is 37º as this is where the yeast will work best. Add the yeast and leave for 10 minutes, bubbles should appear on top.
Add the flour, eggs and salt (leaving about 3 tablespoons of flour out) and use a wooden spoon/dough hooks on a hand mixer to just bring the ingredients together. Add a couple more spoons of flour to form a ball of dough. Cover and let it sit for 20 minutes in a warm place.
Once rested, lightly dust your work surface and then roll out the dough on it. Your dough rectangle should be 55-60 cm in length, and 25-30 cm wide (that's 22-24 x 10-12 inches).
Melt the filling butter and then spread all over the dough liberally. Empty the mincemeat from the jar into a bowl (if using) and stir it on its own for minute or two to loosen it; then spread it across the entire dough. It may not seem overly generous, but it will be plenty when rolled and having too much will lead to needing to clean the oven! Put the cinnamon and caster sugar into a mug together a shake lightly together (it stops the cinnamon powder clumping, if it's mixed with sugar) and then scatter liberally over  the mincemeat.
Roll up into a tight roll along the long side (i.e. the 60cm side) – if it doesn't want to roll, fold over one edge about 2-3cm and it will roll from there. Cut into 12 equal pieces (to save measuring, I do it in the middle, then the middle of each of these halves – from there it's simpler). Put them on a large, lightly floured baking sheet, about 3-4cm apart.
Cover and set aside for at least half an hour (if you're having for breakfast do the night before and leave in the fridge on the baking sheet).
Preheat the oven to 190ºC. Place the tray in the centre of the oven and bake for 17-20 minutes, or until golden brown on top. Let them cool a little, then tear apart (they should join in the tray whilst proving/cooking).
They are best enjoyed warm with coffee.
---
In this recipe I used:
This post contains affiliate links – if you want to know more, please see my privacy policy.