How to make mulled gin
Ahhhh, White Christmas is playing on the radio. I'm back home with my family and the house is full of Christmas aromas. Christmas Eve is traditionally a day spent in the kitchen in my family, but I will take a short break to deliver a little Christmas treat. Let's get some mulled gin in our lives.
Outwardly – so I am reliably informed – gin is not in the least bit festive. I quite like gin (as regular readers may have noticed), so am prone to thinking it goes with virtually any occasion. But it would appear that there are those who unfortunately disagree. And perhaps on the 'outwardly' part, they're right.
So, 'outwardly' a bottle of gin isn't as festive as a mug of mulled wine (although if you got a big enough bottle, I'm sure we could disguise it as a Christmas tree). But if you can make vodka festive (Christmas Pudding flavoured, naturally) and cider can be mulled, then why, I ask you, can gin not join the party too?
Well it can. You just need to mull it.
I came across my original mulled gin recipe in a dark and distant corner of the internet one December whilst working extremely hard on university essays. Unfortunately in a number of knocked over cups of coffee, house moves and hurried tidy ups this magical recipe vanished to the great recipe book in the sky. A true tragedy, I think we can all agree. Thankfully though, using a combination of recipes found online, then lots of trial and error, I now have a mulled gin recipe. This Christmas tipple is a favourite and I've made a bottle to take home to my family this Christmas.
There are notes of cinnamon, of cloves and of orange, which combined with the regular botanical notes these flavours mingle together beautifully. They produce a sum that is much more than the individual elements, something that just screams Christmas.
All of this is making me thirsty, I think I'll go have a glass just now.
Merry Christmas to all and to all a good night!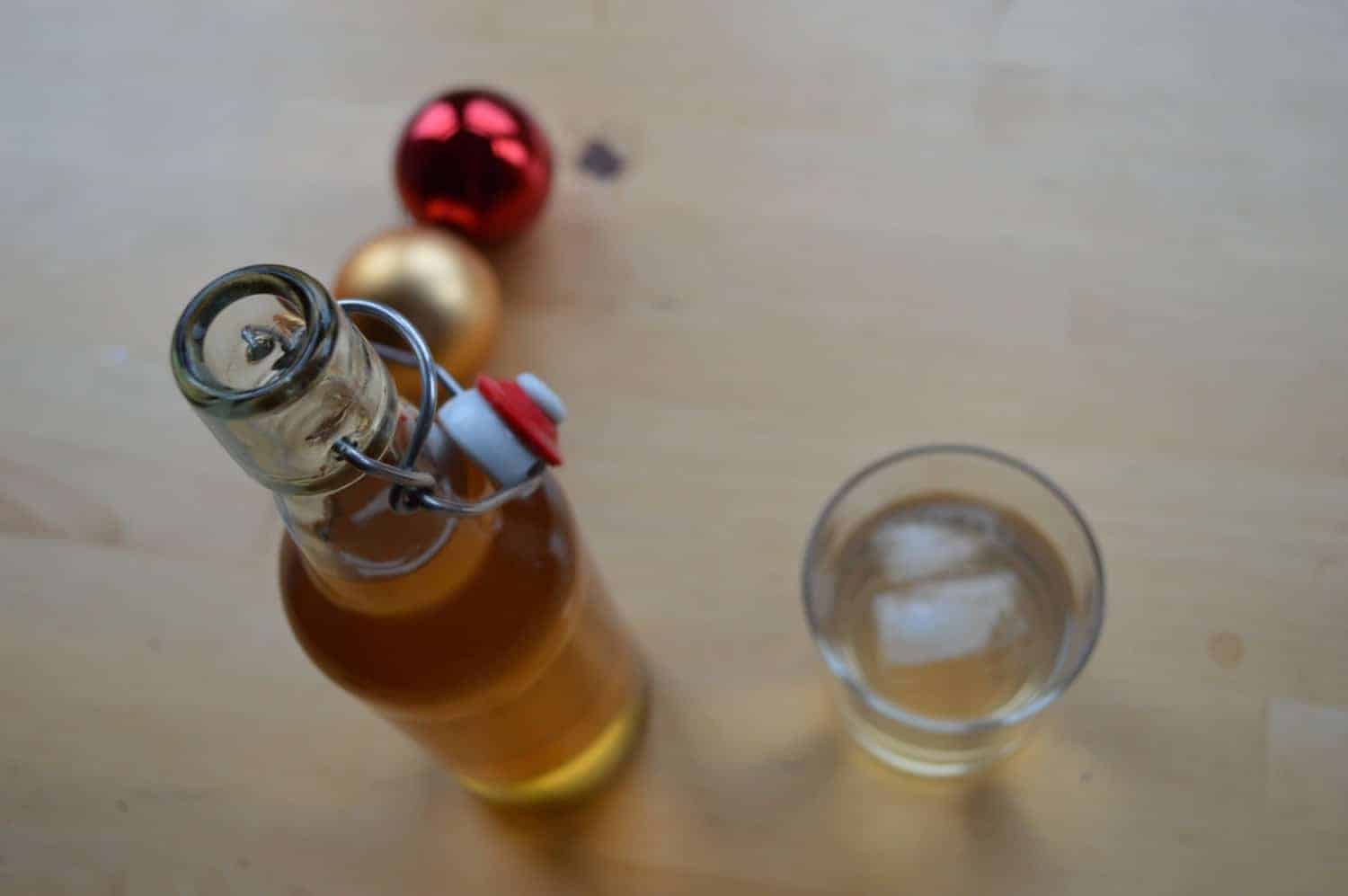 Print
Mulled Gin
---
Author:

Prep Time:

10 minutes + 2 weeks

Total Time:

10 minutes + 2 weeks

Yield:

750

ml

1

x
Description
This is an original The Usual Saucepans recipe, concocted from a number of things found online and a little bit of gin loving know-how. It makes about 800ml. I use Gordon's as my base gin, but of course you can use whatever you like – but bear in mind that using one that tastes like paint stripper before you use will end up as mulled paint stripper.
---
Scale
Ingredients
70

cl bottle of gin

100

g caster sugar

6

cloves

1

cinnamon stick

1 tsp

ground all spice
Rind of

1/2

orange

1 tsp

orange juice
---
Instructions
Take a large preserving jar (I have a 1 litre clip-top one) and to it add the sugar, spices – I snap my cinnamon stick into a couple of pieces at this point – and orange rind and juice. Crack open the bottle of gin and pour it in, taking time to appreciate that wonderful glugging noise as you go.
Stir it all up – I use chop sticks, for no good reason – and then close the jar, then shake and swirl until the sugar dissolves. Put the jar in a cupboard and leave it there for ten days to a week, remembering to swirl it every day. It should turn a wonderful bronze colour.
When you're ready to bottle, sterilise the glass bottle in the oven and drain the contents of your jar through a piece of muslin (or kitchen roll in a sieve!) and then pour it into the bottle, and a little into a glass, because it's Christmas and you deserve a treat.
Serve with ice, tonic and good company.
---
In this recipe, I used:
Pin this mulled gin recipe
This post contains affiliate links – if you want to know more, please see my privacy policy.