October coffee break
So how did October go? Well, it was the month I got back in the kitchen and cooked up a storm on the blog. Jokes. I worked a million hours and ate a lot of takeaway pizza. Anyway, as it's the end of the month it's time for our little update I like to call the October coffee break.
One quick thing before we get started, I'm off to Budapest in just a few days time – still very much open to recommendations. Please DM me on Instagram or drop me an email and let me know where I should be eating or drinking and what I should be seeing if you have been before.
New cookbooks
Since there's been very little in the way of new content on the blog, let's start with the exciting new cookbooks I bought that I should have probably just waited until Christmas for.
Ottolenghi Simple – I can't actually remember if this was the end of September or start of October, but either way I've been reading my way through and earmarking recipes to try whenever I get a moment. So far I've marked at least half the book…
Super easy one pound meals – I'm not normally a massively frugal person (not a brag, I've just little self control when it comes to buying food…), but I follow Miguel Barclay on Instagram and really wanted to try the beans and sausages recipe he posted there. I got his book and boy does it not disappoint! Everything is also super easy (as you might expect from the title…), which means it's perfect for weeknight cooking. The recipes are also easy to adapt – above is my slowcooker version (recipe to come!)
Favourite thing I've done
Oh, this one was good. I went to a wine fair. Because I like to think I'm classy. I tried almost 40 wines, sherries and ports in an afternoon with a few friends. Then we drank some more wine that evening whilst watching fireworks. Take a guess how slow the next day was. It also once again proved that I am neither classy nor a connoisseur, but always happy to learn, especially when drinking is involved…
Favourite recipe
So we know it was a light month on the blog, but I promise I've been working away on a few things (and a couple that have the 'C' word involved). My favourite was the apple crumble gin, but that post is not quite ready yet.
What was published though is my new favourite brunch – Moroccan eggs! It's stupidly easy to make and I must have made it about once a week for the last month and a half.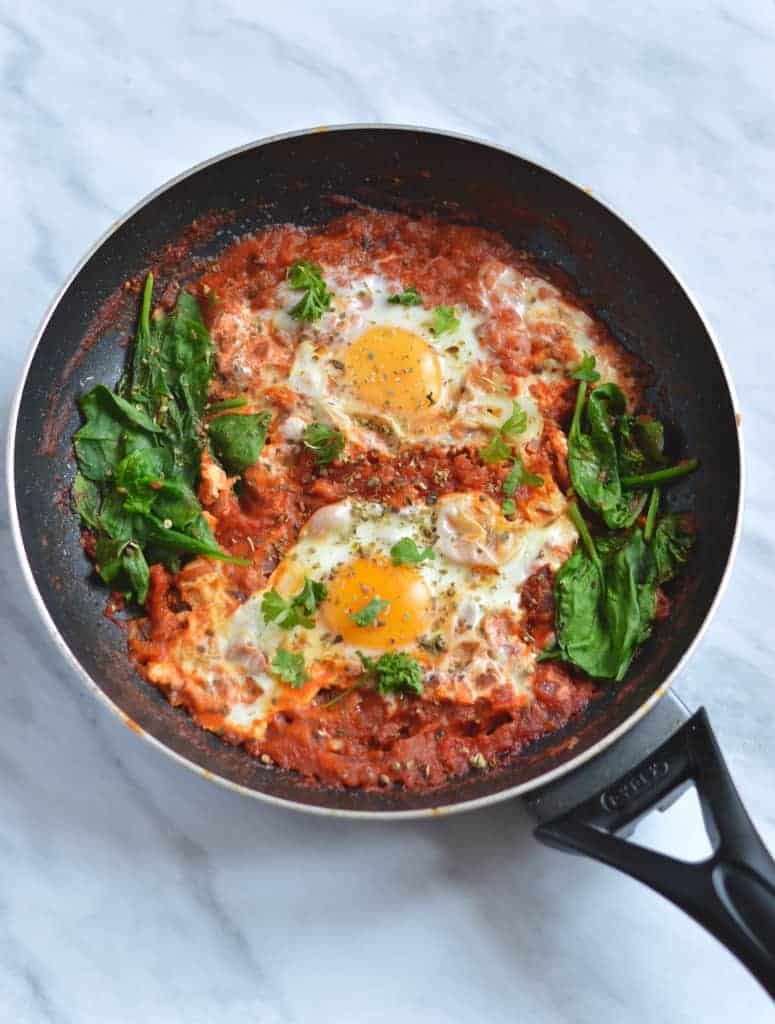 Another new recipe from this month is another savoury crumble. This time it was a cauliflower crumble with broccoli and goat's cheese!
Currently at TUS HQ
The 'C' word
We're also heading straight along to Christmas now, so expect lots of festive recipes coming your way! I've also updated the Christmas recipes page on the blog (hello shiny new image galleries!) and it's now live. Over the next couple of weeks look out for recipes, a gin guide and some gift inspiration for the food lovers in your life.
If anything's piqued your interest whilst you've been reading this, reach out and say hello! I'd love to hear from you – either DM me on Instagram or drop me an email. Let me know what Christmas recipe you'd most like to see on the blog this year.
Until next month, adios!
This post contains affiliate links – you can find out more about this in my privacy policy.