As someone that works in an office I'm regularly faced with the dilemma of what to have for lunch. It's not the hardest problem in the world, I grant you, but the fact that I work in a city centre packed full of sandwich shops, multiple patisserie and other 'lunchable' options makes it both easier and harder (I know, hard to be me, right?) And also hits the back pocket – and not like someone in an Asda advert.
I try quite hard to bring my lunch in with me most of the time, but this regularly ends up as soup or a sandwich as dull and unoriginal as ditch-water. That's why this summer I've decided to make a big effort to really push what I do with my lunchtimes and bring some spice, some variety and a bit of colour to the middle of my day. We'll see in time how successful this is, but hopefully I can drive a little bit of change – making it a little easier to go back to my desk if it's sunny. Welcome to a whole new category of food for The Usual Saucepans to explore: the Packed Lunch.
It's started already. I saw an article in the back of a magazine as a time-saver dinner and a few tweaks later it ended up in a tupperware tub in my bag on the way to work. Simplicity is the key here; limit the ingredients – 5 in this case – and leave the flavours to fare for themselves.
Bringing in a combination of sweet potato, beetroot, rocket and cheese, it's enough to keep you going until dinner time, but also neither dull nor likely to end in a food coma at half past two. It's got a little bit of an edge, and can also be easily built on or adapted – it's a sweet potato and beetroot salad.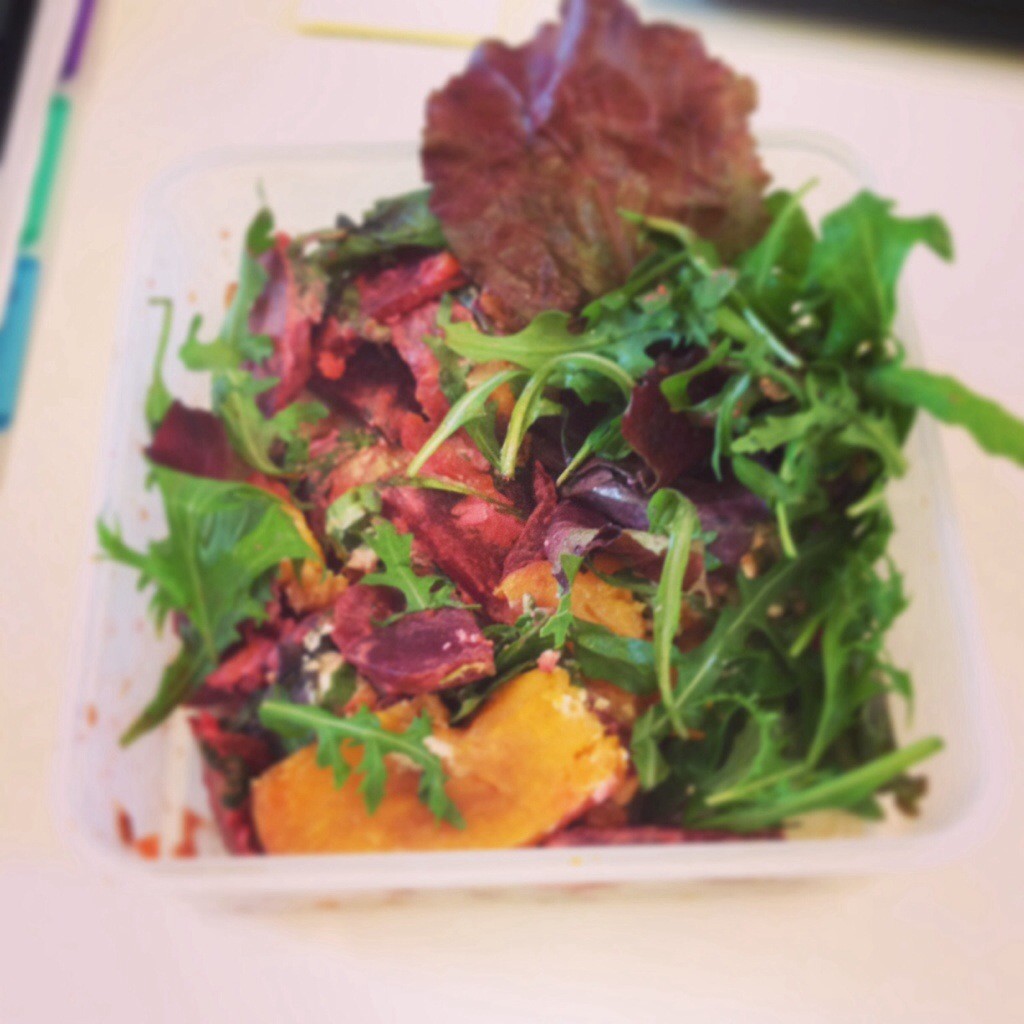 Sweet Potato and Beetroot Salad with Goats Cheese
This recipe is loosely adapted from a recipe in the January issue of Delicious. magazine. It's since been adapted based on what I had in the kitchen. The recipe below makes enough for two people's lunches – or alternatively two days. For a little extra crunch, try adding some pine nuts or crushed walnuts.
Ingredients
1 sweet potato
1 bag of ready-to-eat rocket
1/2 a roll of goats cheese (about 50 grams)
2 pre-cooked beetroot
Balsamic vinegar to drizzle
Directions
Peel the sweet potato and cut it into thin slices (about 0.5 cm or so, to help it cook quickly) and put them into a pan of boiling water, let them boil away until they are cooked through and soft.
Whilst the potato is cooking, slice the beetroot up – I halved mine then sliced, but it is up to your preference for how small you want it. If you need to wash your rocket, now is the time to do it.
Once the potato is cooked, drain the pan and use your fingers (or a fork, if you had more temperature-sensitive hands) to break the potato into roughly bite-sized chunks. return to the pan and put the beetroot in on top. Crumble the goats cheese in and put the pan on a low heat for a minute or two, stir it together a bit and all the cheese to melt a little. Pour in the rocket and mix it though. Transfer to your lunch box and allow to cool before putting in the fridge.