Well, I think we can all agree that's a bit of a mouthful. But a delicious one. I love May. I love May because it's usually the first sign that summer has not forgotten about us, exciting fruit and vegetables are coming in to season (I heard the first rumours of strawberries from Tayside this week), and there's a renewed vigour in the air. I also love May, let's be honest, because there are loads of holidays. This year it's become even more ridiculous because I've taken a few extra days which means that I only have one five day working week between the 27th April and the 5th of June. Winning or what?
Before this just sounds like me bragging, I'll get to the point. It was one of these many Monday holidays that today's recipe came from. Having woken up ridiculously early (I count being able to pump up bike tires and go for a 16 mile cycle before Skyping a friend at 10am early for a day off), I was absentmindedly flicking through a recipe book before going out for coffee when I came across a chickpea and couscous salad. It's in What Katie Ate, which is possibly the best designed cookbook I own – if not in existence. And although it was covered in sliced up boiled eggs (ew. gross. etc.) the vibrancy and the idea of slow-roasted tomatoes was too good to pass over. Dinner for the evening was, until that point, unplanned, and so I made for the shops (after said coffee stop) to buy the necessary.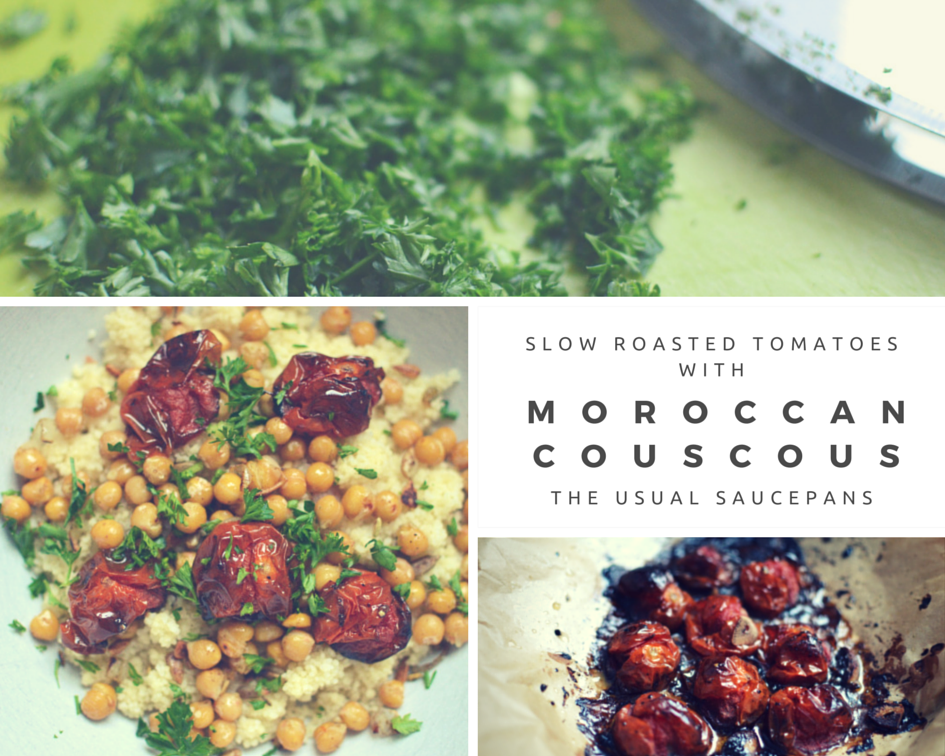 Well, what do you know – having taken inspiration from such an amazing book I then totally ignored the recipe and decided to make it up as I went along. The resulting slow roasted tomatoes and Moroccan couscous though is a triumph.
If I'm being honest, I'm quite lucky this didn't go horribly, horribly wrong. I made the spicing up as I went, started adding ingredients as they came to mind and generally it was a car crash of a meal waiting to happen. Thankfully though the journey to the bowlful of joy on my lap was without turbulence. Slow roasted tomatoes are something I adore – so I added some balsamic vinegar and chopped garlic to the mix to make it even better (the aroma wafting around our flat was pretty amazing, even if I do say so myself).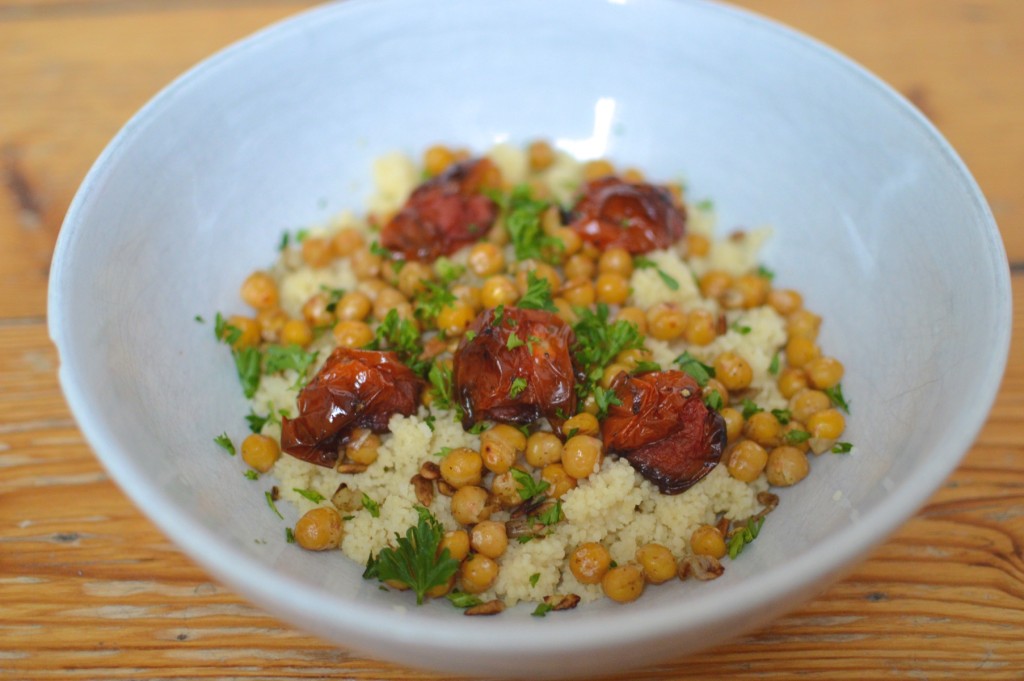 I don't think I'd ever toasted chickpeas and pumpkin seeds before, but now that I have I doubt there'll be any stopping me. It's an excellent way to impart lots of flavour into them and I've also now tried them with salad and just picked at them as a snack.
Delicious as this dish is it probably should come with a warning. It sounds like it should be quick to make; but of course slow roasted tomatoes are – by their very nature – not. And I was indeed late for joining my friends in the pub round the corner for their weekly quiz. It is however absolutely delicious and if you're on holiday then surely the timings are not so important, right? Definitely a dish to try out many times over the summer.
Oh, and talking of the pub quiz, did you know that an octothorpe is another name for the hash – # – symbol? No, nor did we, but we all do now and I'm sure our lives are all the richer for it.
Print
Slow roasted tomatoes with Moroccan couscous
---
Author:

Prep Time:

10 minutes

Cook Time:

1.5 hours

Total Time:

85 minutes

Yield:

Serves

2

1

x
Description
This recipe was originally found in the brilliant What Katie Ate but it has been adapted somewhat since then based on available ingredients and me picking up sunflower seeds instead of pumpkin seeds because I'm an idiot. It will feed two hungry people, or three for a lighter lunch. 
---
Scale
Ingredients
10

cherry tomatoes

2 tbsp

rapeseed (/olive) oil

1

knob of butter

175

g couscous

1

clove of garlic

1

400g tin of chickpeas

1.5 tsp

cumin seeds

1

handful of sunflower seeds

1 tsp

smoked paprika

1/2 tsp

fennel seeds

1

small handful of parsley

1 tbsp

balsamic vinegar
salt and pepper to season
---
Instructions
Preheat your oven to 150ºC and line a baking tray with baking paper. On to this place your tomatoes, slide the garlic roughly and add it in on top. Then drizzle liberally with half the rapeseed oil and balsamic vinegar, then sprinkle with salt and pepper. Shake around the tray until the tomatoes are fully coated, then place in the centre of the oven for 1 hour 15 – 1hour 30, until roasted beautifully and slightly charred (if you have 2 spare hours do it even slower at about 100ºC).
Once the tomatoes are almost ready, do the couscous. Put the couscous in a  bowl with the butter and a pinch of salt, pour in boiling water to just cover, then put clingfilm over the top and leave it to do its thing. In five minutes it will be cooked, then you can fluff up with a fork.
Warm 1 teaspoon of rapeseed oil in a large, deep frying pan. Once the oil is hot, drain the chickpeas and add them in. Let them cook for a minute, then add in the sunflower seeds, cumin, fennel and paprika. Toss everything about in the pan to coat it all and then continue to fry for about 8-10 minutes on a medium heat. Toss regularly.
Whilst the chickpeas et al. are cooking, finely chop your parsley. Fluff up the couscous and put in the base of a large bowl. Remove you tomatoes from the oven and let them sit for a second or two.
Plate up, couscous on the bottom, then chickpeas, then tomatoes. Scatter the parsley liberally over the top. If you want more protein, either add in some cooked chicken or a sliced egg!
---
Recipe adapted from:
Pin this Moroccan couscous recipe