Two things have happened lately that resulted in this recipe. One is that I found a mandoline slicing attachment at the back of a drawer (with my eyes, thankfully, not my fingers, and yes – jus the slicing part, not its stand), the other is that I had some leeks and a sweet potato that were purchased for some lofty purpose that got lost somewhere between Thursday lunchtime and Sunday evening.
What do you do with vegetables that are starting to turn? Well, in my world you seemingly laugh in the face of healthiness and purchase some cheese, bacon and double cream.
OK, so basically I'm a small child and upon discovering a new kitchen toy I basically just wanted to make something that I could do lot of fun and exciting slicing with. I have absolutely zero shame in admitting it.
What it all results in is me realising that I hadn't had any sort of gratin in a very long time, and that this could be easily rectified with lots of dairy goodness. As luck would have it, leek, bacon and sweet potato make for a pretty amazing flavour combination (and one that can be made even better with thyme), making this an absolutely perfect dish for the end of a long day when comfort food is on the cards. So comfortable in fact that I ended up singing along far too loudly to an amazingly awful Britpop playlist on Spotify as I chopped, sliced, grated and fried. Let's just say it was a good job that I was alone in the flat.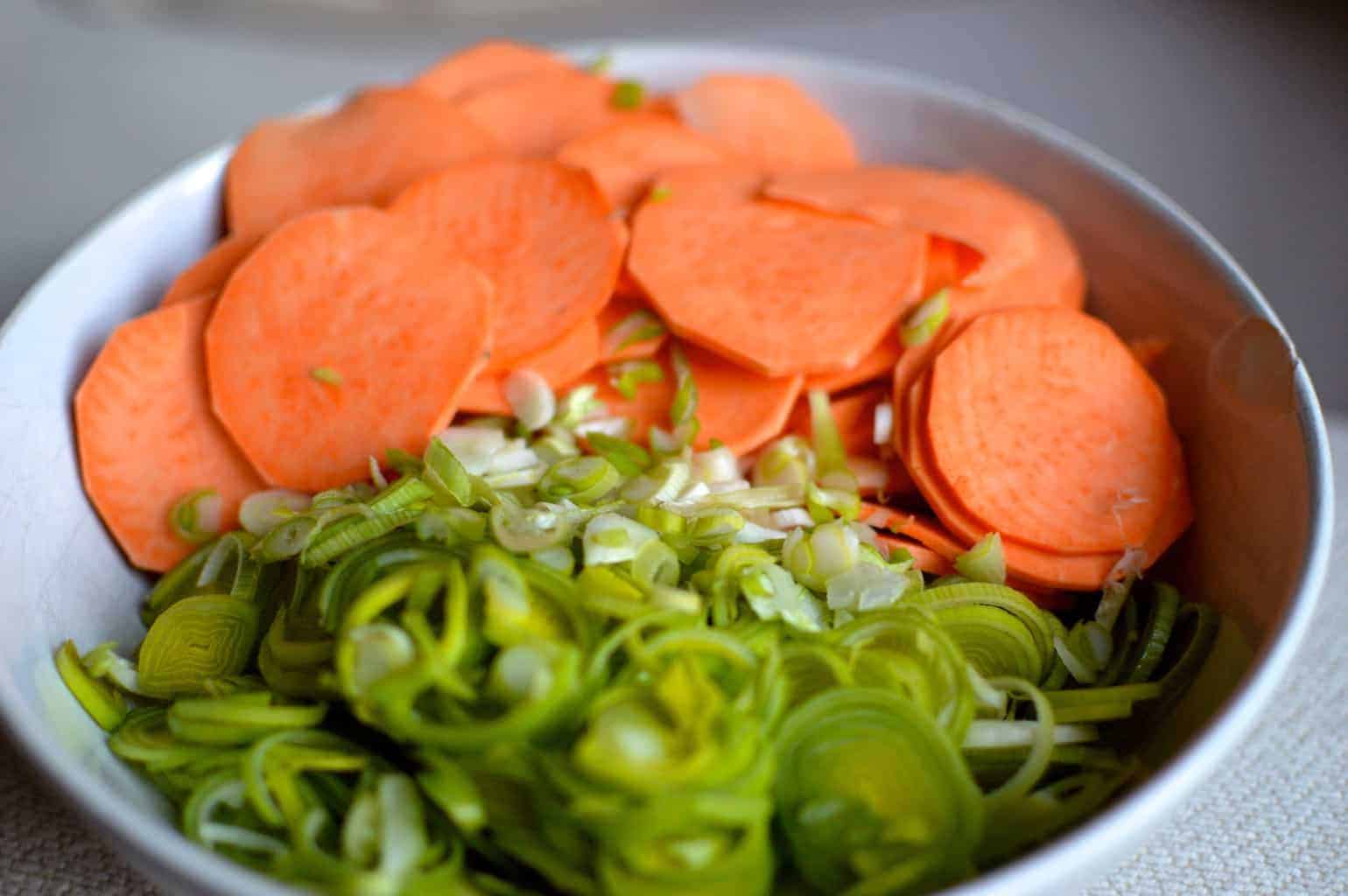 Now, there are different types of gratins. There are those that adorn menus on Masterchef and Michelin Star menus, and then there are those that I make. I like to think of them as 'rustic', and by that I mainly mean that I don't spend hours and hours meticulously layering them up. They are a little rough and ready, but since it's meant to be comfort food that's what you need, right?
A brilliant herby and creamy sauce makes this a pretty filling dinner, so I opted for a peppery side salad to balance it out a little, but if you are capable of controlling your desire to guzzle too much to quickly then it's a hugely delicious way to use up some sweet potatoes.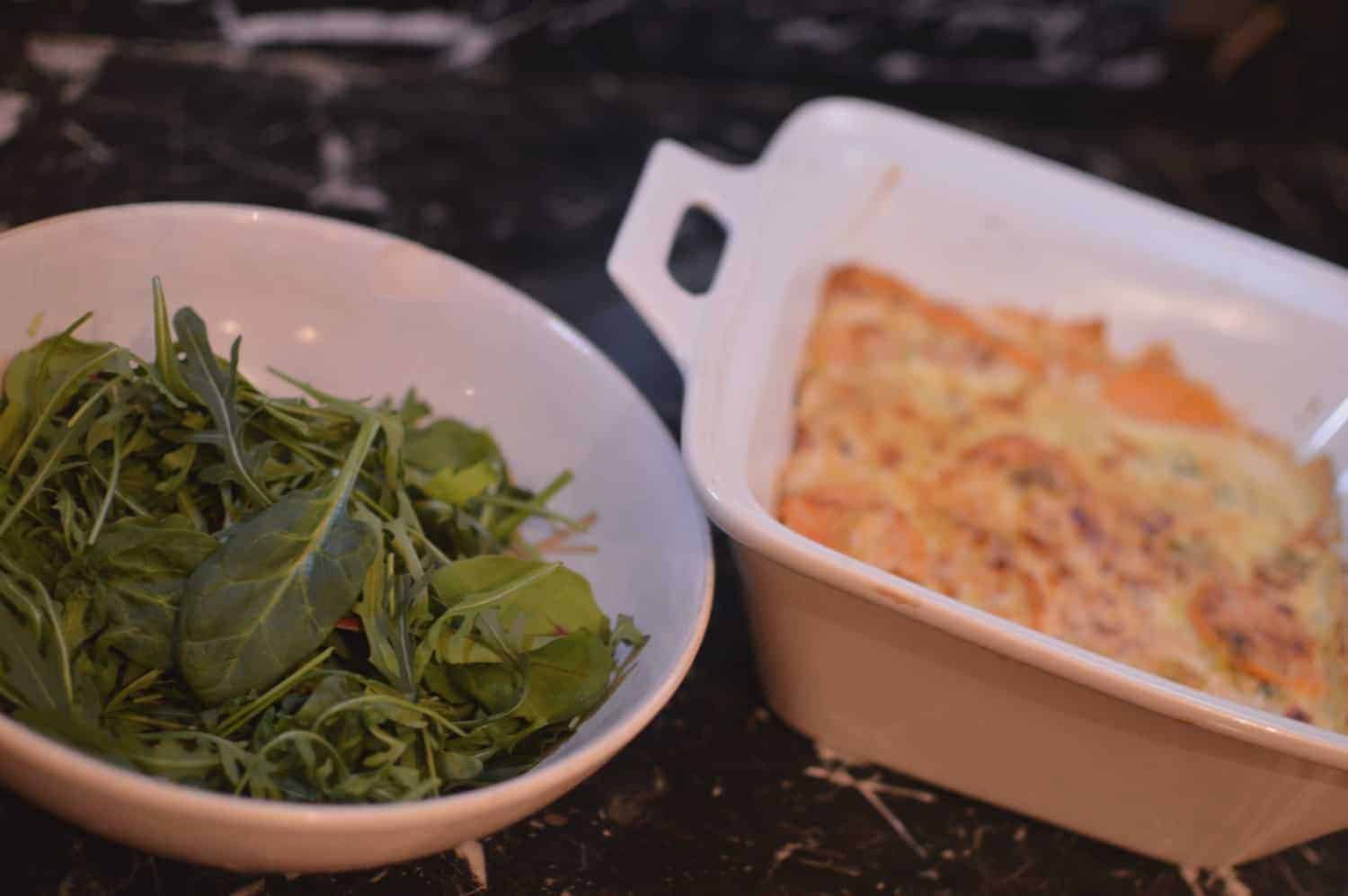 Sweet Potato & Leek Gratin
This recipe was made up as I went along, based on the traditional ingredients of a gratin (with a few others added along the way). It might not seem hugely much when you make it, but it is very filling, so moderation is advised. If you're on a diet or aren't good with dairy though I would give it a wide berth. Feeds four with side salad.
Ingredients
1 large sweet potato
2 medium leeks
6 slices of bacon
2 spring onions (optional)
1 tbsp rapeseed/olive oil
100ml milk
100ml double cream
60g strong cheddar cheese
1 clove of garlic
3 sprigs of thyme
1 bay leaf
Salt & Pepper
Directions
Start by making the sauce, so it has time to absorb the flours. Pour the milk and cream into a jug, along with the leaves from the thyme, the bay leaf and some salt and pepper, whisk together with a fork. Add in half your cheese, grated. Leave to one side to let the flavours settle. Put the oven on to 175ºC.
Half your sweet potato and peel it, then using a mandoline CAREFULLY slice the sweet potato into lots and lot really thin slices. Repeat the slicing with the leeks and spring onions. Cut your bacon into little pieces (or use some lardons, if you prefer) and crush the garlic.
Use a large, non-stick frying pan on a medium heat to heat up the oil, then add in the leeks and onions, cooking them for 3-4 minutes to get them softened. Take them out of the pan and put in the bacon. Allow it to cook for about 2 minutes – if it looks like it's going to stick to the pan or burn, turn the heat down and add in a couple of tablespoons of water (then stand back, it will spit for a few seconds). Once the bacon is partially cooked put the leeks back in and then add the sweet potato slices. Put your gratin dish – if you own such a thing, or if you're like me just use an oven-proof dish – into the oven to warm up.
Cook this mixture for about 6 or 7 minutes, until the sweet potato is becoming slightly transparent. Take the dish from the oven and transfer the potato-leek-bacon mix in. Sit to one side, return the pan to the heat and pour in the liquid part into it. Heat this mixture up so that it is almost simmering – not boiling – then add it on to the sweet potato part; this will make sure the sweet potato mixture doesn't fluctuate between hot and cold (same reason as the dish is heated first), as it will all cook quicker, it will also make the sauce thicker.
Mix the whole thing together a little (don't be too thorough – it's meant to be quite rustic) and scatter the remaining cheese over the top. Put the dish into the centre of the oven and let it bake for about 15 minutes, or until it forms a golden-brown crust layer on the top. Remove from the oven and serve immediately.