Some nights you need dinner pretty quickly. There's no room for faffing around, because it's 9 o'clock already, you've been pretending to do exercise for a couple of hours (just holding a tennis racket makes you 'sporty', right?). You ate your lunch at half eleven because you were hungry and now regretting that decision somewhat. This is the time to look at what scraps the fridge gods will provide (and possibly reassess some life choices). With any luck you'll have what you need for this spinach and feta frittata.
Welcome to a melodramatic retelling of one evening of my life – I get a bit worked up when I've not eaten in a while. Does it show? You're too kind.
There are some evenings in your life where you need dinner to be quick and easy – I like to call these sorts of dinners weeknight wonders. They're the sort that are done in 20 minutes from start to finish. The sort of thing that you can rustle up at a moment's notice to stop you heading for a takeaway. They also have to be delicious, otherwise what's the point?
For my dinner that night I ended up making a spinach and feta frittata. It's just so much better than scrambled eggs on toast (not that there's anything wrong with scrambled eggs), and is make from things you already have in the kitchen.
On this occasion, the offerings from my fridge were spring onions, spinach, mature cheddar and feta (this is an unusually high calibre of offerings, I should point out – the time before it had been a very dead cucumber and some milk…). A quick rummage in the cupboards added some eggs and seasonings to this collection. And with it starting to feel very much like an episode of Ready, Steady, Cook I realised it was frittata time.
Cooked in the pan on the hob, and finished off under the grill to ensure a healthy glow on the top, frittata is one of those quick and easy dishes that can be adapted in so many ways (i.e. whatever you've got handy). Pretty much the only prerequisites are eggs and cheese. Because cheese is always mandatory in my life.
This particular frittata was made extra luxurious with the addition of a few splashes of double cream that were left over from a recent adventure making a salted caramel sauce (I forget what for, although I'm not entirely ruling out 'so I could just eat it with a spoon'), but this can totally just be made up with additional milk, if you don't have cream lying about in your fridge.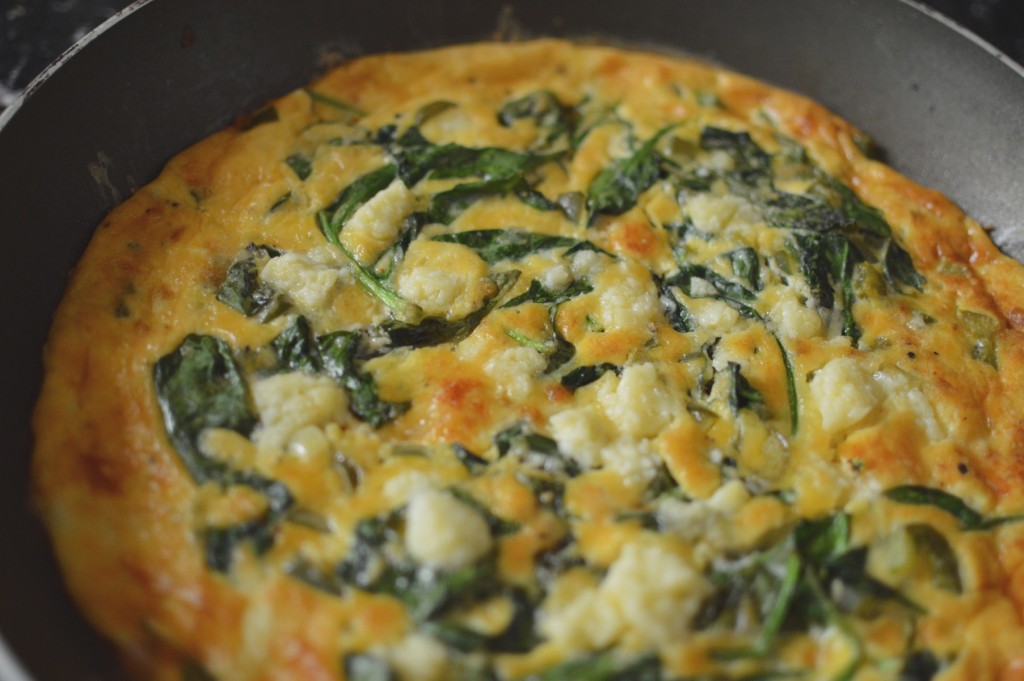 Print
Spinach and feta frittata
---
Author:

Prep Time:

2 minutes

Cook Time:

10 minutes

Total Time:

12 minutes

Yield:

Serves

2

1

x
Description
This is a simple recipe for a spinach and feta frittata, but in this case was inspired by the leftovers sitting in my fridge and so it is an original for The Usual Saucepans. It makes enough for two, and should be served with a side salad.
---
Scale
Ingredients
3

eggs

1

clove of garlic

75

g spinach

3 tbsp

double cream

40

ml milk

20

g feta

40

g cheddar

2

spring onions (optional)
---
Instructions
Crack your eggs into a jug and to it add the salt, pepper and herbs/spices; whisk until the yolks and whites are combined. Add the cream and milk into the jug and whisk in. Grate your cheddar and add it to the jug.
Place a knob of butter in the bottom of a large, deep frying pan and turn on to a medium heat. Wilt your spinach and the spring onion in the pan and when it's two-thirds of the way there pour the egg mix in. Turn the grill on to max to heat up.
Let it sit and cook whilst you chop the feta into cubes and scatter over the top. Using a silicon spatula or wooden spoon slightly loosen the edges, so they don't cook too quickly.
Once the mixture starts bubbling across most of the top turn off the heat and transfer your pan to under the grill; leave it here for 5-8 minutes until it is golden brown on top and all the cheese has melted. Transfer to plates and eat with some salad.
---