Simplicity is one of the best and beautiful things on this planet. When all the unnecessary elements of something are removed, leaving just the prerequisite or that which is a necessity. Whilst this is undoubtedly true for some foods – dark chocolate, a fresh loaf of bread, unadulterated coffee – others require a little helping hand. A little something that takes them from the plain, the ordinary or the hum-drum and lifts them to an all out sensory delight. In today's case, those are herbs and a little goats cheese.
I'm a big fan of simplicity. Whilst pomp and circumstance can be delicious, pretentious should be avoided at all cost – has anyone really ever had their lives enhanced by a 'parmesan foam'? That's why I've posted several recipes that can be made on the fly – dinner in a hurry; but also why I was excited when I got a copy of Nigel Slater's new book, Eat, at Christmas time. Since then I've spent ten minutes here and there flicking through the mouth-watering treats it suggests, mentally plotting out a meal plan that could last well into next year. There are so many recipes to be tried.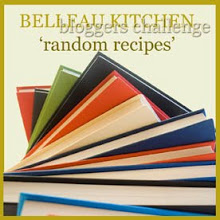 The first one though was chosen at random. It's a new book, thus a randomly chosen recipe aligns perfectly with this month's Random Recipe challenge – the theme of which is 'New Year, New Book'. There's something really satisfying about a frittata, and whilst I wasn't actually in any hurry when I made this on Sunday, it seemed like the perfect opportunity to try something new.
Who can argue with a combination of thyme, rosemary and goats cheese? OK, there are some fairly obvious answers to that question, but those aside I suggest that you try it out – the herbs and goats cheese are a match made for the senses, and our flat smelt delicious afterwards.
Goats Cheese Frittata
This recipe is adapted from Nigel Slater's Eat. In the original you'll find basil (I forgot to buy it) and some extra steps around buttering the pan (which seemed a little unnecessary). It makes enough for one reasonably hungry person, or two with salad and a hunk of fresh bread.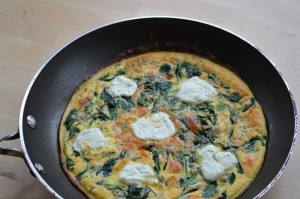 Ingredients
3 large eggs
60g goats cheese
20ml milk
100g spinach
1 sprig of rosemary
2 sprigs of thyme
10g (roughly) of butter
Directions
Holding the tip of the thyme sprig, pull your fingers along the stem, taking off the leaves, then drop them into a jug. Crack the eggs in on top, then whisk. Once they're whisked, stir in the milk and a little black pepper. Thinly chop the rosemary – so it is just a couple of millilitres long, and slice the goats cheese into circles.
Turn the grill on to heat up, and put a medium-sized frying pan on the hob on a medium heat. Put the butter into the pan and allow it to melt, then add the spinach in on top. Let the spinach wilt – stirring gently – for about a minute, then tip it into the egg mixture (it won't be that hot, so don't worry about scrambling). Return the pan to the heat and let it warm up for about 20 seconds (depending on your pan, thicker ones may need longer) and then pour the egg and spinach mixture in. Cook on a medium heat for three to four minutes – about two minutes in sprinkle over the chopped rosemary and place on the circles of goats cheese.
When the middle starts to bubble slightly, remove the pan from the heat and place it under the grill. Leave it there for four to six minutes, or until the cheese has melted and the top is lightly browned.
Serve immediately, either alone or with bread and salad.