Courgette pasta
Oh excuse me! Could you slow that bandwagon down please, I want to jump on.
OK, so we all know a little about 'clean eating' by now, right? And that balance is probably a little better than cutting a whole load of stuff out of your diet over night. Well, in the interest of said balance – that and getting a few more vegetables in my life – I thought I'd try making courgette pasta.
Have you encountered this new fad? It usual goes by the name of 'zoodles' (Americans – because let's be honest, this trend could have only started across the pond – calling courgettes 'zucchini', hence the z), and whilst it has nothing to do with noodles we don't have a more appealing name for it yet (courasta, anyone?). Zoodles it is.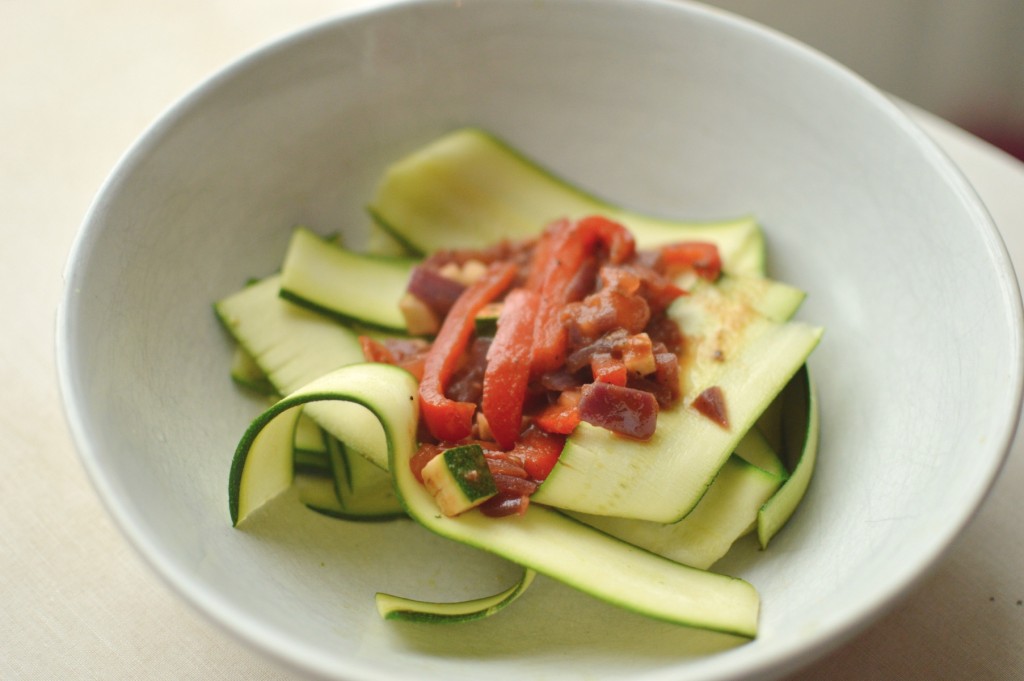 I've seen courgette pasta happening quite a lot in the foodie world, and it appears to have raised many emotions in me, but let's smile and forget about the rants I want to go on. There are magazine and blog articles about it all over the internet, and whilst I feel it's being propagated by people that think that running in bin bags is a good way to lose weight, I thought I would see what all the fuss was about.
Not having a 'spiraliz[s]er' – because who does? – I opted for having something that more resembled wide tagliatelle than spaghetti; using a common everyday vegetable peeler to get it really thin.
The result? Well, if I'm perfectly honest I bottled out of the full health experience. I am not about to lie on a sun-drenched beach and I was hungry. I covered mine in Parmesan and had a hunk of garlic bread on the side. I was very hungry and a boatload of vegetables wasn't going to satisfy me (well, it might have done nutritionally, but not so mentally). I also semi-caramelised my onions for the sauce in red wine. So perhaps the 'healthy' aspects of this dish are somewhat drowned out in my version, but such is life in my kitchen.
I'm not 100% sold by the idea – I might well return to normal pasta next time. The taste was fine, but as it mainly came from the sauce the rest was just an uninspiring bowl of thinly cut courgette. If you're someone who subscribes to fads or use the phrase 'no carbs before Marbs' then this is likely up your street, but if you're more like me it's possibly worth seeing what the fuss is about and then returning back to the warm, carb-y embrace of our old friend pasta and apologise for the fling.
Have you jumped on this particular bandwagon yet? What did you think?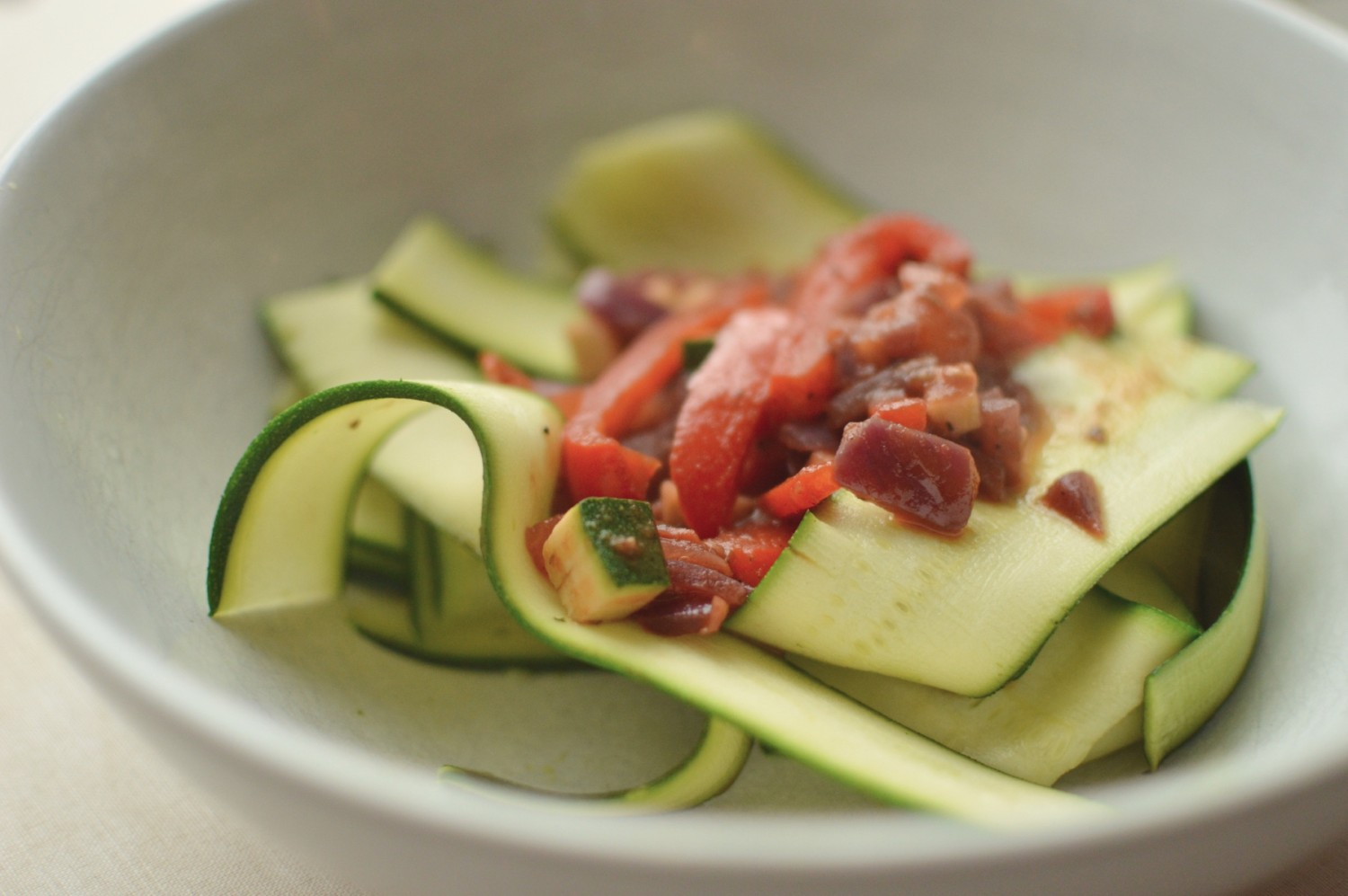 Print
Courgette pasta
---
Author:

Prep Time:

10 minutes

Cook Time:

10 minutes

Total Time:

20 minutes

Yield:

Serves 2

Category:

Dinner
Description
This recipe was inspired by the trend that's going around just now for using courgette instead of pasta – the recipe itself though is an original to The Usual Saucepans. It makes enough for two. And you can totally cheat by adding garlic bread or lots of cheese to make it more filling.
---
Ingredients
2 large courgettes
½ onion
1 clove of garlic
1 red pepper
1 tomato
75ml red wine
1 ½ tbsp rapeseed oil
2 tsp tomato pureé
---
Instructions
Start by sorting your courgette strips, as it's the most fiddly part. You can do them however you like, but I used a normal vegetable peeler and simply turned the courgettes into strips. You can only use about three-quarters of the courgette as the middle is too soft (I diced the middles up and chucked them in the sauce). Leave your strips in bowl to one side.
To make the sauce simply dice your onion and crush the garlic. Place these in a pan with 1 tbsp of oil and soften over a medium heat. As the onion starts to go  transluecent pour in the wine and let it sizzle a little. Turn the heat down and let it reduce and caramelise for about 5 minutes. Once the wine is in, start to thinly slice your pepper – I did half of mine in strips, half in cubes. Add these into the pan about 3  minutes after the wine.
Dice your tomato as finely as you can, and do the same to your courgette cores (if you haven't done so already). Add these into the pot along with the tomato puree and stir it all together. These should only take about a minute or two of cooking.
To cook the courgette 'pasta', simply take a large pan and add the remaining ½ teaspoon of oil and a tablespoon or so of water. Put on a high heat with the lid on. Once hot, quickly chuck the courgette strips in and sauté for a minute or two, until they soften to something similar to al dente cooked pasta. Throw it all into a large bowl and serve immediately.