Is there anything that screams 'Wimbledon' more than strawberries and cream?
I'm utterly biased when it comes to tennis – I absolutely love it – but I think Wimbledon is up there with the best sporting events in the world, and certainly sees off all other tennis championships in straight sets with a pile of aces. Sure, there's a fair bit of pomp, ridiculous traditions and rules down at SW19, but it's all part of it – it wouldn't be the same without them.
I digress. Beyond all the purple and the pomp – not forgetting a fortnight of nail-biting and unpredictable (as demonstrated yesterday) competition – Britain gets gripped by Wimbledon fever ever year, fitting beautifully with our various types of strawberries being in peak season. It's time to go strawberries and cream mad.
I mean, seriously, have you ever met someone that doesn't like strawberries and cream? (lactose intolerant people aside, obviously.) It's a match made in heaven. Perfect for sitting out in the sun – when it makes its cameo appearance – watching the tennis or relaxing with friends. Now, obviously since there's something to eat at this imaginary tennis-watching picnic set up (an indoor picnic, obviously, it's probably raining) – which means we need a liquid refreshment. A good bottle of champagne would do wonders – 25,000 of them were drank at Wimbledon last year – but since that's a little unrealistic for most of us, then Pimm's will do just as nicely.
But what if I told you that there was something better: mix the two together and you have the dish of champion – strawberries with Pimm's infused whipped cream. Bliss.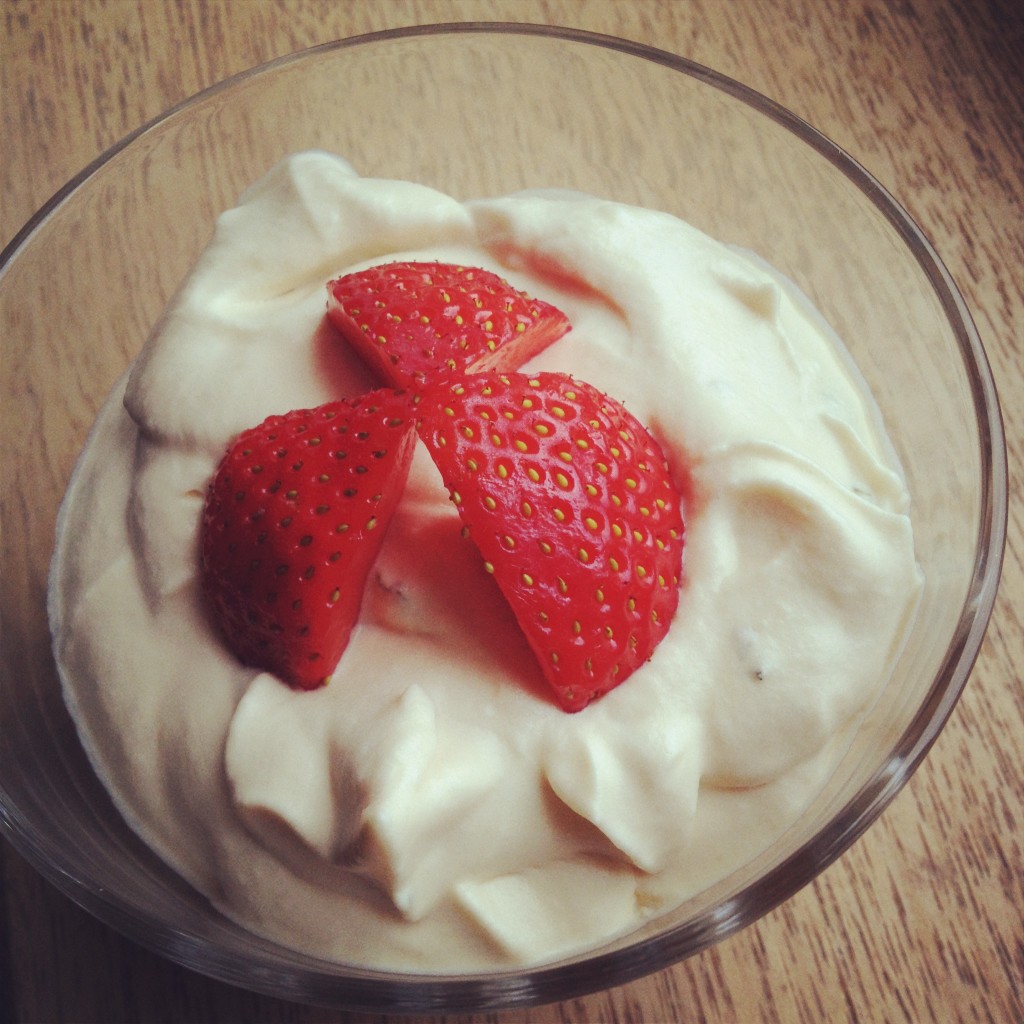 Oh yes – it doesn't matter whether you're watching the tennis or are just in need of a summery treat, this is the dish for you. Cream for strawberries may not be whipped by tradition, but I think it's a tradition that can be put out to pasture on court no. 2 and allow the new star its time on Centre.
What do you think – likely to go the same way as Federer's orange-soled shoes or an idea worthy of lifting the trophy?
Strawberries & Pimm's Cream
This is barely a recipe, but it's pretty original. Enjoy with friends and another glass of Pimm's!
Ingredients
200g strawberries
150 ml double cream
50 ml Pimm's No. 1
2 tbsp icing sugar
Directions
Chop and hull your strawberries, then put them in a bowl.
In a separate bowl, pour the cream and whip until it forms stiff peaks. Gently fold in the Pimm's and half of the icing sugar. Taste it to see how sweet it is and if it doesn't taste too bitter lavish it on top of your strawberries (or keep aside for dipping). If it's not quite sweet enough for you add the remaining sugar (or more, if you desire) and gentle fold again. Take care not to knock the air out of the cream when you're folding in the Pimm's, otherwise you'll end up with a watery mess!
Enjoy with another glass of Pimm's, preferably on a red and white chequered picnic rug.