In the immortal words of Ice Cube, "Came out the substation to the hip hop nation".
You may be wondering the significance of that particular quote – and I don't blame you – so let me explain: it was pretty much the only lyric that he says that wasn't swearing, n-word containing, derogatory or plain weird; so I was a bit limited in my options for starting this with a bad pun on the fact that this entire post is about ice cubes.
Ice cubes, you say? I know, not really what The Usual Saucepans is known for, but today is World Gin Day, and what would a G&T be if it was served warm? Not cool, that's what. (see what I did there?)
Now in its sixth year, World Gin Day (it's today – the 14th June) celebrates our favourite spirit, bringing gin-drinkers around the world together in a cacophony of joyous, gin-celebrating song. I for one will be at a gin festival this evening – how else could you celebrate? – and I'm super-excited.
Regular readers will know that I'm very much a fan of gin, but if you're new round these parts, pull up a bar stool and grab yourself a glass, because we're getting creative with gin today.
The idea for this gin-swigging extravaganza has come from a variety of places. I heard people talking about grown-up Jell-O shots on a podcast, I was chatting to a couple of friends about gin (standard level of conversation), and I was absent-mindedly doodling during an immensely dull meeting last week.
The end result? Well, I wanted to reinvent the G&T using the usual ingredients and a bit of imagination; this is what I came up with – J,G&T.
Jelly, Gin and Tonic. It's like we're kids again and can think eating jelly is fun, we can pretend we're students again where it's normal to have jello shots, but most importantly we can be 'grown-up' and enjoy eating boozy jelly that actually tastes good! I think it's my new favourite concept.
As I've taken the regular concept and turned it round a bit, I'm also going to put this forward as a dessert entry for Baking with Spirit, Janine from Cake of the Week's challenge that I'm guest hosting this month. It's not quite baking, but I think it's worth it.
However you are celebrating World Gin Day this year, I raise a glass to you and hope you enjoy it. Cheers!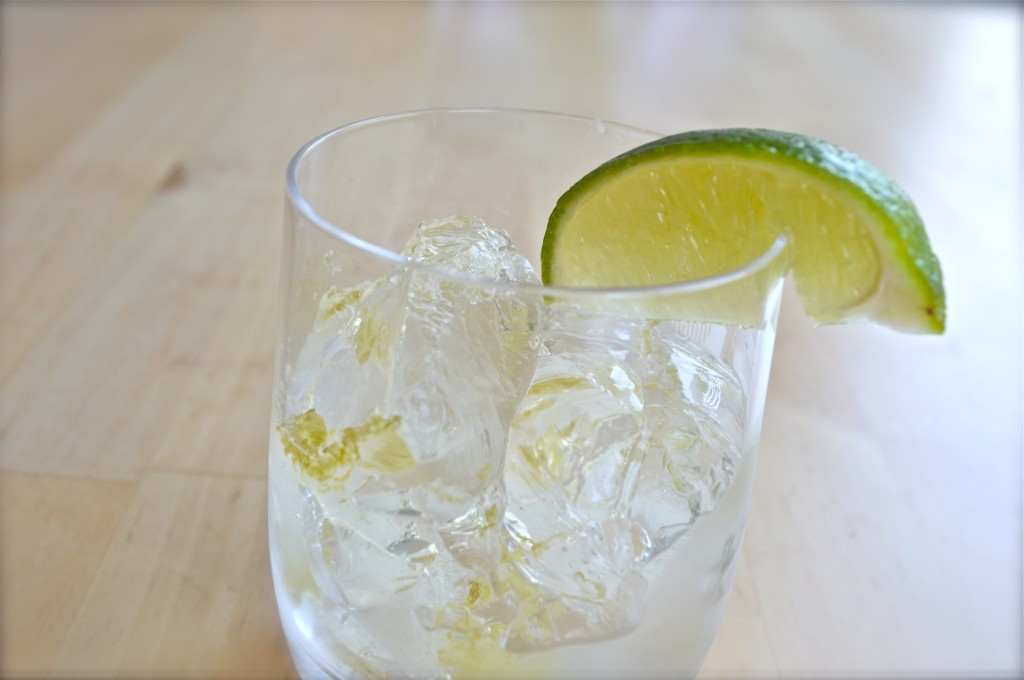 Gin and Tonic Jelly
This recipe is a bit of a composite of three different lemon jelly recipes I found online, it makes enough to fill a regular ice cube tray – that'll be enough for four (since you won't want that much). Silicon moulds work best, but if you use a solid one remember to line it with cling film or something to make it easy to get out.
Ingredients
3 sheets of gelatine zest of 1 lime 100ml gin 200ml water 120ml tonic 2 tbsp caster sugar
Directions
Take a bowl of cold water and put the gelatine sheets in the water and leave them to soften for about fifteen minutes.
Whilst the gelatine's softening, put the sugar and water in a small pan and put over a medium heat. Heat until the sugar dissolves, then boil for about five minutes until it becomes a syrup. Take it off the heat and let it cool a little.
Take the gelatine out of the bowl and squeeze out the excess water, add it into the syrup and let it dissolve. Stir the mixture and add in the gin, tonic and lime zest. Mix everything through and then transfer into your ice cube moulds. Put in the fridge to set for at least 4 hours (preferably over night).