There are people in this world who are organised to an almost ludicrous degree. Maybe you're one of them? Me, I'm a little more slap-dash. Great at making plans, not always so good at keeping them if it's just me involved… Why's this relevant? Well, because when these were made there had been great plans for exercise, but instead order and a life more organised was sacrificed in the pursuit of lemon curd crêpes. No regrets.
Lemon curd crêpes represent something very special. They're a rare sort of thing dish. You can get lots of people round to share or the kind of recipe you can make for yourself of an evening for a little treat. They can be for celebration or for a rainy Tuesday in February.
And we haven't even got to tossing yet [steady there, you filthy scoundrels].
Who doesn't love the nerves, tension and hilarity that comes with tossing? I can think of very few other things more ridiculous you can do in the kitchen with your clothes on than toss crêpes. Who thought it would ever be a good idea to take something off the heat and throw it in the air to turn it over? Whoever they are, let's thank them for the laughs we've all had doing it. And perhaps mutter a few words under our breath for the failures along the way.
Most of us will have eggs in our kitchens. Milk and flour are also usually somewhere there too, so these are perfect when you need a quick, but satisfying dessert. These things are usually best shared, but sometimes the reason for pancakes is that you got through Tuesday unscathed – no one should judge anyone for making crêpes, especially lemon curd crêpes.
You can of course use the crêpe recipe below as a base for a whole range of toppings. There's the traditional lemon and sugar, the gooey pleasures of semi-melted Nutella, maybe even slices of banana and golden syrup (pro tip, should you have a blow torch kicking about – some people do! – scatter a brown sugar over the banana and caramelise for sheer joy). But if you are looking for something a little bit left-field, something not too sweet, and something with zest to it, then go for lemon curd. I've made these with homemade lemon curd and with some stuff from a jar (which had gin in it, which is as amazing as it sounds), the results are always good.
Other crêpes and pancakes: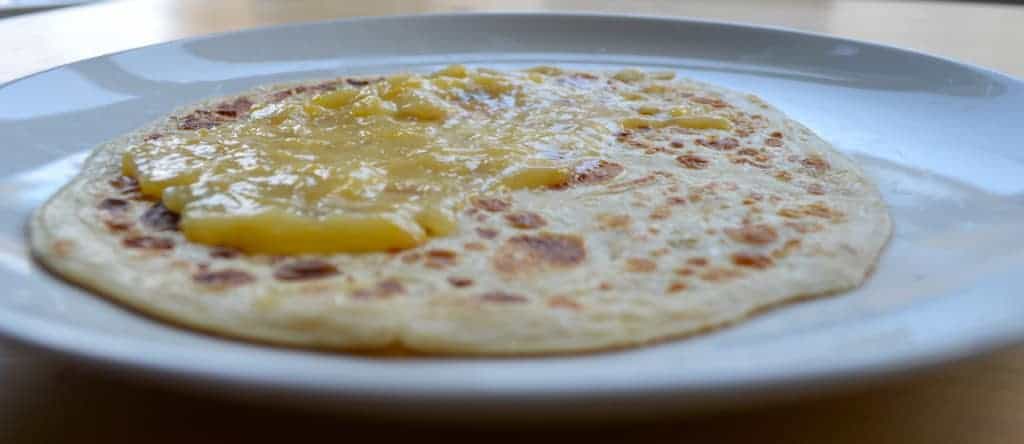 Print
Lemon curd crêpes
---
Author:

Prep Time:

5 minutes

Cook Time:

10 minutes

Total Time:

15 minutes

Yield:

Serves

2

1

x
Description
This is a great quick and easy dessert that lovers of lemon curd will devour. I make mine as thinner crêpes, but to make thicker pancakes just don't add as much liquid. Serves two, but just scale it up as you require.
---
Scale
Ingredients
50

g plain flour

1

small pinch of salt

1

egg

100

ml milk

50

ml water

2 tbsp

lemon curd
---
Instructions
Sift the flour into a bowl of large jug and add in the salt. Combine the two, gently, with a whisk. Make a hollow in the middle and crack the egg in. Whisk the egg in this dip until the egg yolk breaks, then bring in all the flour from around it. The egg should bind in all the flour, leaving none on the sides (most will be stuck in the whisk though). Knock the mix back into the jug. Mix the water and milk together in a separate just.
Pour half of the liquid into the flour and whisk again until there are no lumps. At this stage, add the rest of the liquid in for crêpes or leave most of it out for thicker pancakes.
Put a non-stick pan over a high heat to warm (then turn the heat down to medium) with about half the butter in it. Once the butter heats up, swirl it around the pan. Pour about a quarter of your mixture into the pan and roll the pan around a little to spread it out to the desired size. Put back on the heat and don't touch it again until it starts to bubble in the middle. At this point use a fish slice to make sure it's not stuck to the pan (it shouldn't be!). Then grasp the handle firmly, take a step back and toss it a few times.
Put it back on the heat for another 30 seconds to a minute (depending on thickness) to cook the other side. Transfer to a slightly warmed plate. Repeat the process – remember it's all in the tossing, so don't chicken out – until you have all your crêpes, using a layer of grease-proof paper to make sure your pancakes in the stack don't stick together.
When they're all done, move to the table and dollop on your lemon curd (or topping of choice) then spread over three-quarters of the crêpe. Roll from the curd side towards the plain side. Eat to your heart's content – remember there's no such thing as 'too many' crêpes!
---
If this has made you hungry for more, like The Usual Saucepans on Facebook for more food photos and culinary chat.