OK people, I think it's time someone came out and said it: have you noticed how warm it's been lately?
Yup, here at the height of the media's hugely-desirable 'silly season' they've been treating us all to pictures of crammed beaches, told us how much hotter Brighton has been than Barbados, discovered that children like ice lollies (I personally prefer my limoncello ones), thought up pun-filled headlines that even I would describe as 'too much', and alerted us to the mind-blowing fact that in Egypt – you know that country that is 80-odd% desert – is even hotter than Britain! Who would have thought it…
It's also the time of year for one of my serious pet peeves: people moaning about it being too hot. Yup, these are the people that will no doubt soon be complaining about it being 'too cold for summer'. Seriously people: get. a. grip. Buy a fan, go sit in the shade, do whatever you want, but for the love of cake, please stop sitting in the sun and telling us all that you're too hot.
Rant over. (sort of)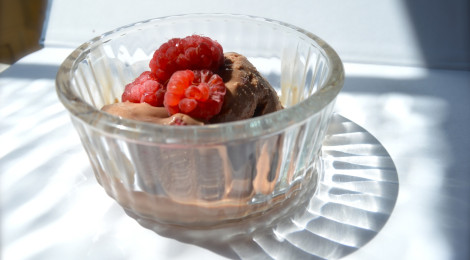 I am not saying that you, dear reader, are guilty of such whining, but I bet you know someone who is. Fear not though – I have a plan…
Clearly what everyone needs in this weather is that other 'British classic' (i.e. something we've 'acquired' from another culture and like to pass off as our own [see also: the Elgin Marbles, Tea and Christopher Columbus – yup, I recently heard someone claim he was British…]). I am of course talking about ice cream.
I've a bit of a soft (scoop) spot for ice cream, I always have, so I don't really need much of an excuse to eat it, but since summer is here and the sun is currently shining, it would seem foolish not to jump on the cooling bandwagon and grab a spoon. It's now been made even easier since I discovered a dead-simple recipe that doesn't involve an ice cream machine a couple of months back and went on to make my first chocolate and mango ice cream.
Clearly I'm not alone in this feeling though as Chocolette (of Chocologblog fame) has set 'ice cream' as this month's challenge for We Should Cocoa (co-created by Chele of the Chocolate Teapot). There may have been a little 'YES!' semi-under-my-breath when I first read about this month's challenge. As I said, I don't need much of an excuse when ice cream's involved.
I decided to go with raspberry as my flavour, since it's really the best time of year for raspberries and I'm somewhat obsessed. I'm having raspberries with everything. So when it came to making the ice cream on Saturday, the fridge offered a couple of punnets – there really was not other flavour it could be. I'm sorely tempted to make an entire dinner themed entirely on raspberries, what do you think?
Follow The Usual Saucepans on Facebook for more food-related chat, you know you want to…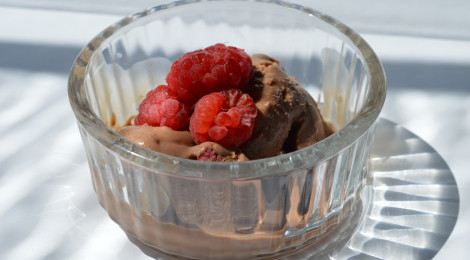 Raspberry & Chocolate Ice Cream
This recipe is based on The Usual Saucepans' recipe for dead-easy and gob-smackingly tasty chocolate and mango ice cream. I used 75% cocoa solids dark chocolate; the raspberries are from Tayside, they're fairly local-ish and (more importantly) mouth-wateringly delicious. It will make about 1 litre.
Ingredients
1 small tin of condensed milk (397 g)
275 ml double cream
125 ml crème fraîche
75 g dark chocolate
100 g fresh raspberries (1/2 punnet)
1 tsp vanilla extract
Directions
Pour your raspberries into a bowl and mush them into a pulp with the aid of a fork.
Break up your chocolate and put it in a large pyrex dish alongside about 75 ml of the cream. Place on top of a pan of simmering water and stir gently until it all melts. Take it off the heat and allow to cool for a few minutes.
Whisk in the remaining cream and then add in the vanilla extract, crème fraîche and condensed milk. Whisk again until fully combined. Lastly, fold in the raspberry 'mush'.
Using a spatula, transfer the mixture into a freezer-proof container and sit in the freezer. Take it out after two hours and whisk out any lumps. Leave to set for a further 3-4 hours (or overnight, if you can).
Serve in a bowl, cone or however you like it and add some more fresh raspberries on top.