We all love Rocky Road, it's got that level of sugary, chocolatey goodness that few can resist. And rightfully so – it's a great treat, even if it's hard to not eat far too much. Sounds like something indulgent that should be made extra special for Christmas, doesn't it? Well, how about some Christmas rocky road?
I've loved Rocky Road for years – there was a corner shop down the road from us growing up that did ridiculously large slices pretty cheaply and it was a regular favourite stop of on the way home from high school (they also did massive cans of Virgin Cola – anyone else remember those?) – but inevitably there is never enough cherries in it. From an economics point of view I can understand this (they are clearly the most expensive part), but from a taste perspective I think they really add something. That's why when I came across 'French flavour morello glacé cherries' (I've decided it's better just to accept it's total flavouring nonsense and not read the label to investigate further) whilst shopping a few weeks ago I knew they'd be perfect to make a special festive version.
How do you make Rocky Road festive you ask – and it's a perfectly reasonable question. Well, in truth I'm possibly stretching the whole festive theme here, but with my festive-sounding cherries, a large volume of cinnamon, and dusted in snow-like icing sugar (just to make it even more tenuous) I'm going to call it Christmasy. What do you think?
A tip to the wise – and one I'll use next time I make it – don't get regular chocolate, go for buttons or chocolate drops. It saves so much effort chopping things up! Just ensure you're still getting reasonable quality chocolate.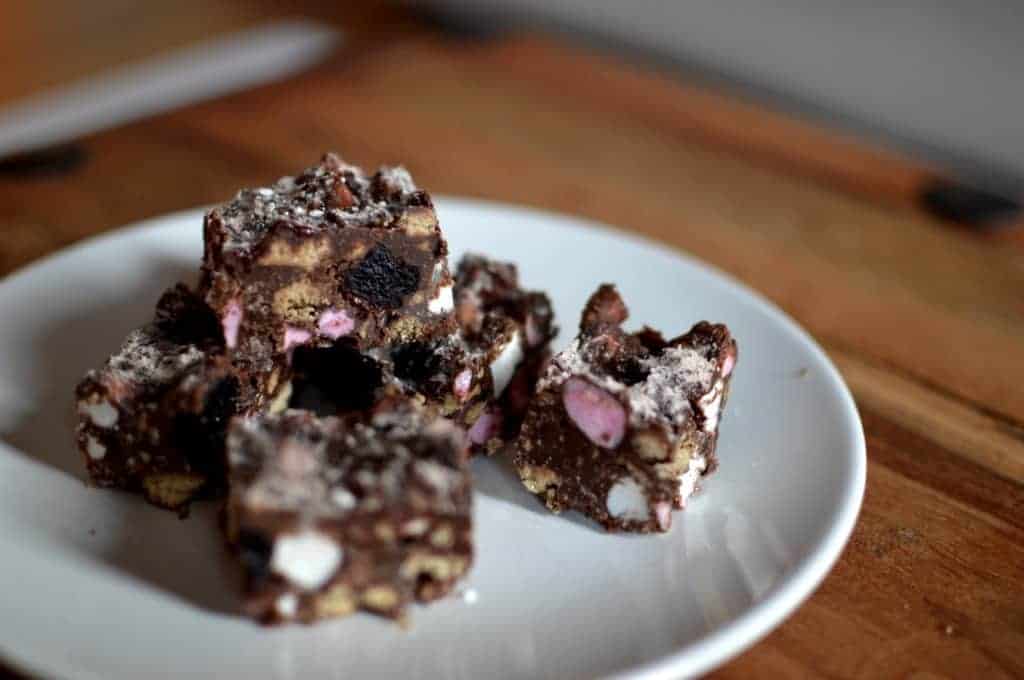 Print
Christmas rocky road
---
Author:

Prep Time:

15 minutes

Cook Time:

1.5 hours (chilling)

Total Time:

22 minute

Yield:

24

squares

1

x
Description
This Christmas rocky road recipe is based on one found in the wonderful Nigella Christmas, where she is as tenuous in her connections to Christmas as I am, I've adapted to remove the nuts because I didn't really want them involved. It makes about 24 squares. If you want to make it even more festive substitute 50g of the digestives for amaretti biscuits.
---
Scale
Ingredients
250

g dark chocolate

150

g milk chocolate

175

g butter

60

ml golden syrup (

4 tbsp

)

200

g glacé cherries

175

g mini marshmallows

2 tbsp

icing sugar

4 tsp

ground cinnamon
---
Instructions
Chop the chocolate up into little pieces – perhaps half or so of a standard square and put it into a heavy-based saucepan, add to this the butter (preferably cubed so it melts faster) and the golden syrup. Heat gently so everything melts slowly.
Take your biscuits (and the amaretti, if you are using them) and about two-thirds of the cinnamon and put them into a sandwich bag. Get the rolling pin and beat the crap out of them – definitely the best part of this recipe, very therapeutic – until most of it is powder, but there are still quite a few chunks for texture.
Once the chocolate mix is melted, remove from the heat and pour the biscuit crumble in, then add in the cherries and the marshmallows. Turn the mixture using a large metal spoon (or silicon, if you used a non-stick pan), ensuring everything is evenly distributed and covered in the chocolate mix.
Line a deep baking tray (24x30cm, roughly) with baking parchment, then spoon in the mix and spread it as equally as you can – a bit of roughness on the top just makes it 'rockier road'. Put in the fridge to set, it should take 1-1.5 hours.
When it's fully set remove it from the tray and dust with a mixture of cinnamon and icing sugar (I mixed mine together first to ensure it was evenly spread), then cut into 24 pieces – four long slices and six on the thinner sides.
Try (unsuccessfully in my case) not to eat it all very quickly.
---