Rich, dark and delicious. Indulgent, some would say naughty. A rare treat, and somewhat surprisingly smothered in Nutella. But Ultimately heavenly.
It's not exactly a confession to make – it's probably quite obvious – but I quite like the odd bit of chocolate. I also quite like baked goods and desserts, so a dessert which combines all three – and even adds in a little glug of amaretto – is not one that's going to stay untouched for long. Well, that's not exactly true, because I've had this recipe for individual chocolate melting pots for over a year without noticing. Shocking an admission as this may seem (and undoubtably unforgivable in many people's eyes) I'm not entirely sure how I missed it last year. I mean, sure I was busy (aren't we all?) but it's in my copy of Nigel Slater's Kitchen Diaries, which until recently I would have said I've read cover to cover. Apparently not. Anyway all rectified now.
This gooey chocolatey dessert made its grand entrance into my life a couple of weekends ago, and I think I may have fallen for it. I want to make it again. And again. And AGAIN! It is so simple and yet so satisfying it's almost too good to be true. It's one of those desserts that looks like it's quite hard to make, but is actually a breeze. The original may not have had amaretto in it, but I think it's a great addition – boozy, melting, chocolatey, and delicious: go try it out, you won't be disappointed!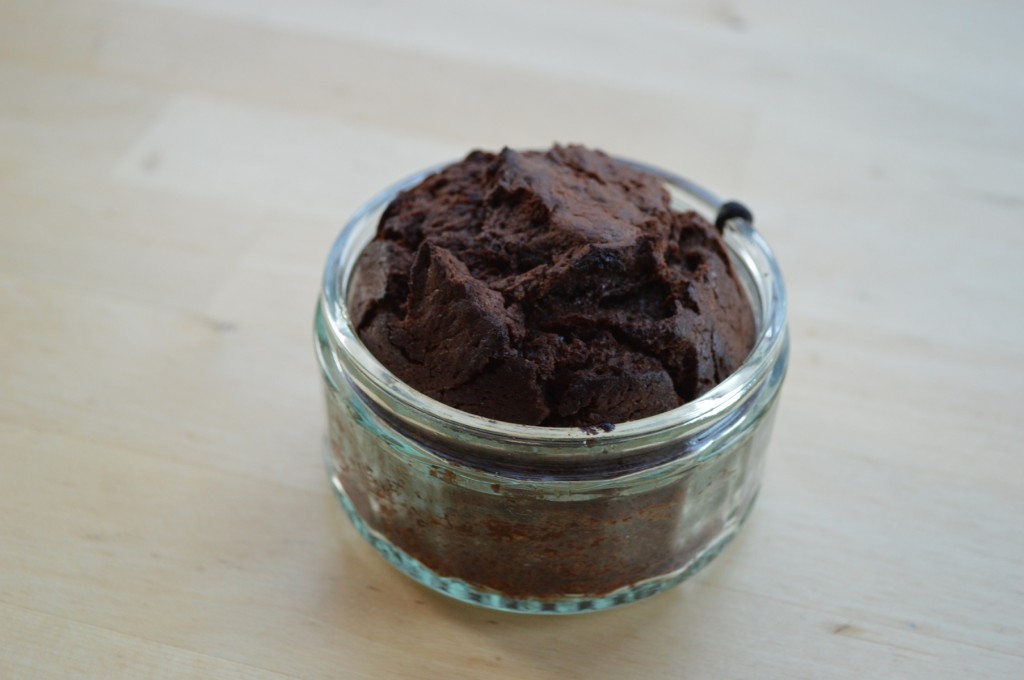 Helpfully enough, this randomly selected chocolatey recipe fits the brief for not one, but two excellent blogging challenges. This month – ostensibly for Valentine's Day, but also I'd say for the good of the chocolate-loving world – We Should Cocoa and Random Recipes have teamed up to bring super-duper-bumper-random-chocolatey goodness to the world. My entry is cutting the deadline pretty fine, but it should just about be there!
Chocolate Melting Pots
This recipe is based on one found in Nigel Slater's wonderful book, The Kitchen Diaries. The amaretto was added in on a whim, but worked out rather well. Here the recipe will make two.
Ingredients
2 eggs
100g dark chocolate
50g caster sugar
30g butter
1 heaped tbsp Nutella
30ml Amaretto
Directions
Turn the oven on to 190 and put a baking sheet in the centre to heat up. On the hob, place a pan of gently simmering water (or heat one up to that stage) on a medium heat and put a Pyrex/similar bowl on top. Into this bowl break the chocolate and leave to melt – there's no need to stir, just prod any stray bits that aren't melting further in.
Into separate bowls, break and split the eggs. To the yolks, add the sugar and beat into a creamy paste; whisk the egg whites until they form 'stiff peaks'.
To the melted chocolate add the butter and allow it to melt, then add in the Nutella (if you want the alcohol to burn off, add it in now too). Stir the Nutella into the chocolate.  When it is all melted, remove from the heat and stir in the amaretto. Using a metal spoon, carefully mix in the egg yolk/sugar mix. Finally fold the egg white mixture in carefully, so as not to knock all the air out.
Once all the egg white is folded in, stop folding. Gently spoon the mixture in to the buttered ramekins and place on the pre-heated baking sheet and bake in the oven for 12-14 minutes. They should have a crust on the outside, but be gooey on the inside (use a skewer on one, if you're unsure).
Serve immediately and decide whether to disclose just how easy (but impressive looking) these are.