Is it just me, or some mornings do you just wake up and realise that you need pancakes?
I'd like to say it's some primal reaction, something explained by thousands of years of human learning; however I suspect it's probably more to do with a little bit of greed on my part. The fact that there are multiple crêpe/pancake recipes on the blog – Banana and oat? Lemon curd? – seems to suggest it might be the greed…
I woke up a couple of weekends ago and realised that not only did I have an urge for pancakes, but for peanut butter as well. Obviously the peanut butter could have been spread on the pancakes, but that was too sensible for my sleep-addled brain and before I had thought it through I decided that my peanut butter pancakes would have peanut butter IN the batter. And that I wanted crêpe-like pancakes and not the thicker American kind. Why these stipulations? Your guess is as good as mine, I was still half asleep.
So with a handful of raspberries, a dollop of yoghurt to act as a dip, and a large cup of coffee it was off out to the garden with a plate of pancakes for brunch. Magically a couple of people showed up to try the experiment and it was unanimously approved.
If you are looking for something brunchable this weekend, these are a great option to be wholesome, sustaining and just a little bit different.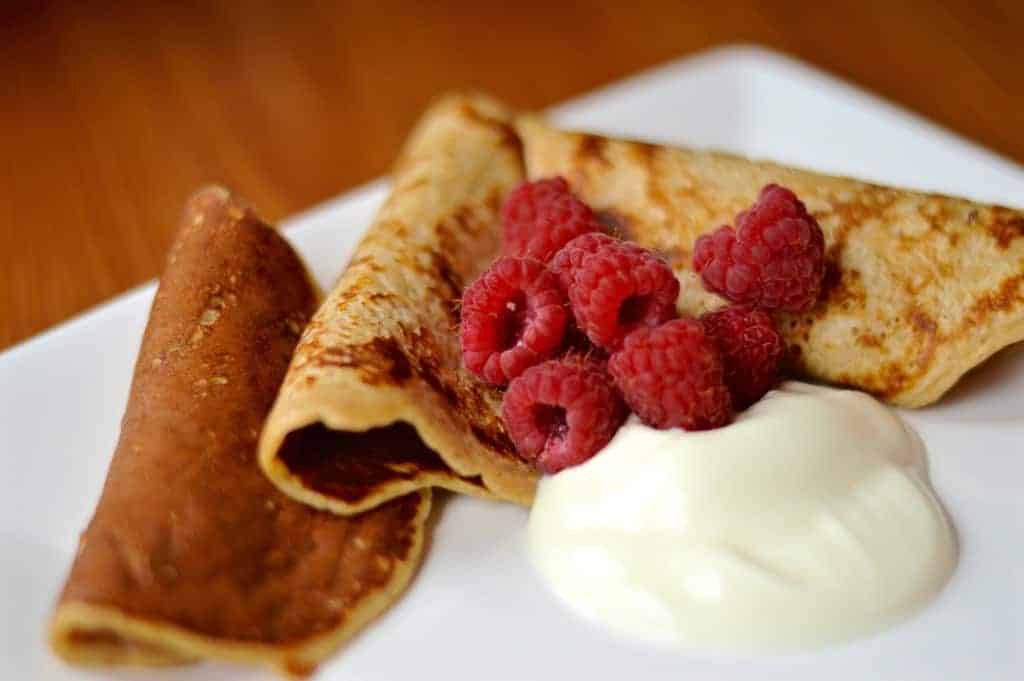 Print
Peanut Butter Pancakes
---
Author:

Prep Time:

20 minutes

Cook Time:

10 minutes

Total Time:

30 minutes

Yield:

Serves

2

1

x
Description
This recipe was concocted whilst I was somewhat dozy one Sunday morning (although it's been subsequently checked and is right, don't worry), so it definitely counts as an original recipe for The Usual Saucepans. It takes under 30 minutes to make (including resting time) and will feed two. Serving suggestion: raspberries, yoghurt and coffee. Lots of coffee.
---
Scale
Ingredients
50

g plain flour

1

small pinch of salt

1

egg

110

ml milk

2 tbsp

peanut butter
---
Instructions
Whisk together the milk and the egg, then slowly whisk in the salt and flour. Once there are no lumps of flour, mix in the peanut butter until the mixture is smooth. It will be quite runny. Set aside to rest for 15-20 minutes.
Put a non-stick crêpe pan on the hob (or a flat frying pan/skillet) on a medium heat and let it get hot. Stir your batter a little to ensure nothing's settled. Get a spoon and make a mini test crêpe – the first one is never 'quite right' – which you can then eat whilst cooking the rest.
You probably want the equivalent of 2 tablespoons worth of batter for each little pancake. Pour on and rotate the pan a little to spread it out evenly. Cook until the little air bubbles on the top start to appear and burst, then flip and cook on the other side for 20-30 seconds (depending on pan heat) before checking to see if it's cooked. These are thin, so will cook quickly.
Lay to one side (I had mine on a clean dish towel on a cooling rack) and move on to the next one. If your pan is big enough you can do two at once, just use the back of the spoon to spread the mixture out in the pan.
Serve as soon as the last one is cooked.
---