Cookies – who doesn't like a cookie? And by 'a cookie' obviously I mean five.
With cookies we often just get into a pattern with what we eat. It's either chocolate, double chocolate, or triple chocolate. Occasionally a white chocolate and raspberry, if you're feeling rebellious. But I'm here to tell you that it doesn't have to be this way.
Naturally I like the aforementioned flavours, but sometimes being a little different is a wonderful thing. That's why these cookies are different in both texture and flavour. Texture comes from the addition of porridge oats, instead of half the flour, to give them a different feel; the chocolate flavour is augmented by cardamom, so that these little beauties taste of sunshine, regardless what the weather outside is like. Much more exciting already, don't you agree?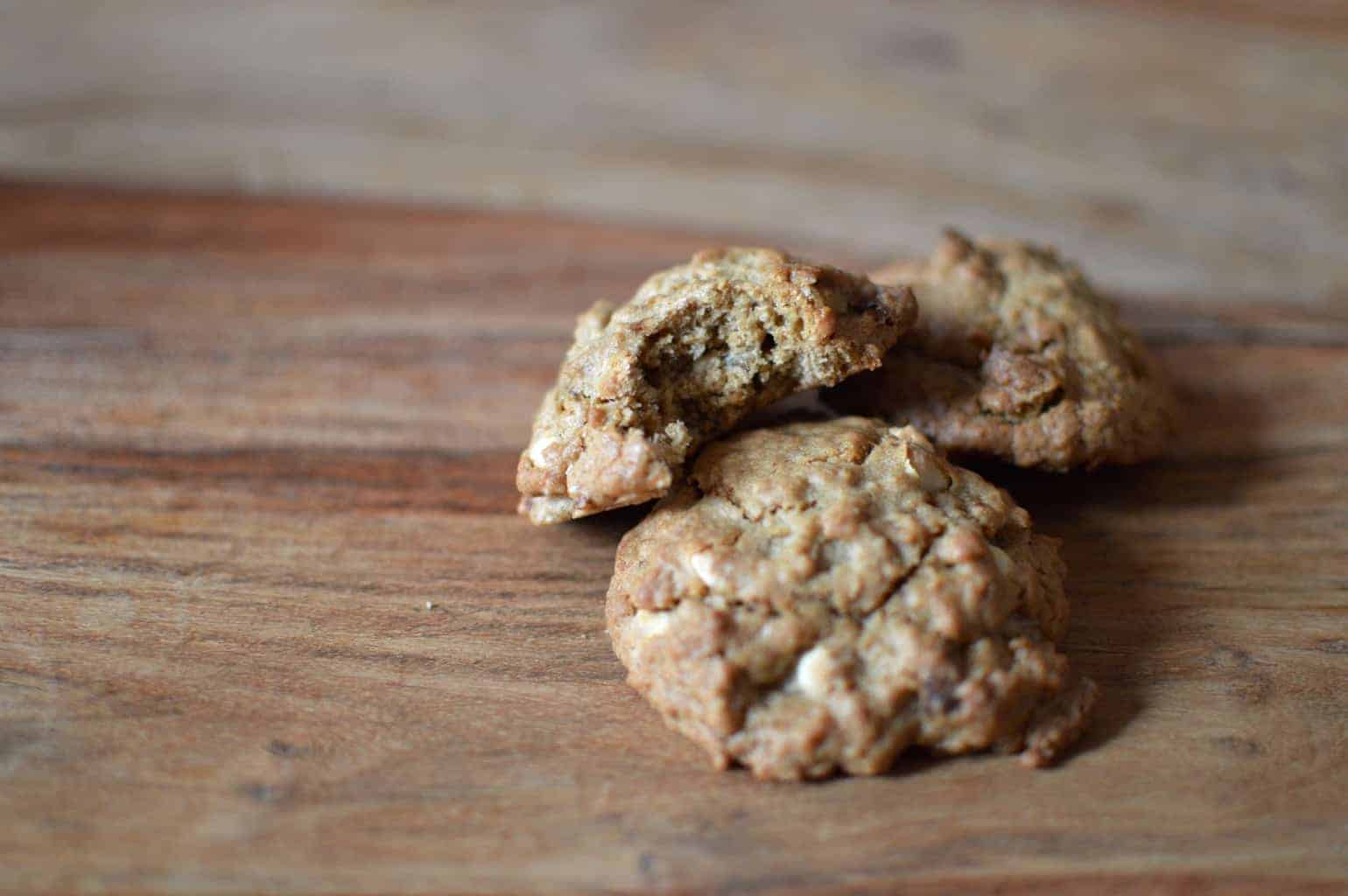 I think I enjoy these kinds of cookie because they're just a bit different from the norm. Biscuits I can't help but just wolf down, cookies are taken more leisurely (although the pack or batch will still be finished far too quickly) – they're great for dunking, or eating with ice cream [side note: these cookies are fab with a good quality vanilla ice cream].
Because these cookies (like all cookies) have egg in them I'm going to put them in to the brand new Simply Eggcellent challenge from Dom at Belleau Kitchen. Not only am I entering because there's a pun in the title (although let's be honest, it's certainly part of the appeal) but also because Dom calls people who don't like eggs fools. And I'm one of those fools unless the things are scrambled or baked with – I need to learn!

White Chocolate, Cardamom and Oat Cookies
This is one of those recipes that I got the idea for and then thought about for a while. It's great with the oats as it makes it a little bit lighter, but you could easily just use flour instead of half-and-half. The original inspiration for this comes from the great Sunshine on a Plate by Shelina Permalloo, it makes about 15 cookies.
Ingredients 
125g butter
100g golden caster sugar
60g dark muscovado sugar
1 egg
125g plain flour
125g porridge oats
1 Pinch of salt
1/2 tsp baking powder
80g white chocolate chips
8 cardamom pods
Directions
Preheat your oven to 180ºC and line a baking sheet with baking parchment.
Cream together the two sugars and the butter, beating it until smooth and fluffy. Beat in the egg then add the salt, baking powder, flour and porridge oats, mixing it through thoroughly. Crush the cardamom pods and remove the black seeds, put the seeds into the bowl and discard the shells. Pour in the chocolate chips and then fold into the mix.
Using two spoons, put little dollops of the mixture onto the pre-lined tray. It should be about a heaped teaspoon per cookie. Make sure there is a few centimetres in between the cookies, as they will expand as they bake.
Bake in the centre of the oven for 13-16 minutes, or until golden. They should still seem a little soft when you take them from the oven, they'll harden as they cool. Leave to cool on a wire rack and eat within a few days.