Let's start with a question: Do you sometimes get an idea in your head that you just can't shake until you do something about it? I certainly do and, more often than not, these are food or flavour related. This probably isn't surprising for someone who's constantly thinking about food, but it does lead to some random and unexpected dishes making an appearance.
Towards the end of last week one of these ideas got lodged, and I was completely taken in by it. It was to have smoked salmon on freshly baked soda bread. Simple, yes, but also very satisfying. Also 'salmon and soda' trips off the tongue quite nicely, which is just a pleasant addition to the whole thing.
Only, when it came to it I realised that I had absolutely no idea how to make soda bread. It's something my mum's made countless times over the years, so I know what it should look like and how it should taste, but not where to begin. Thankfully a combination of the internet, the BBC and Nigel Slater was very quickly at hand and after I'd worked out a butter milk replacement – 1 tbsp of lemon juice into 250ml of milk, stirred and then left for five minutes, if you're interested – we were good to go.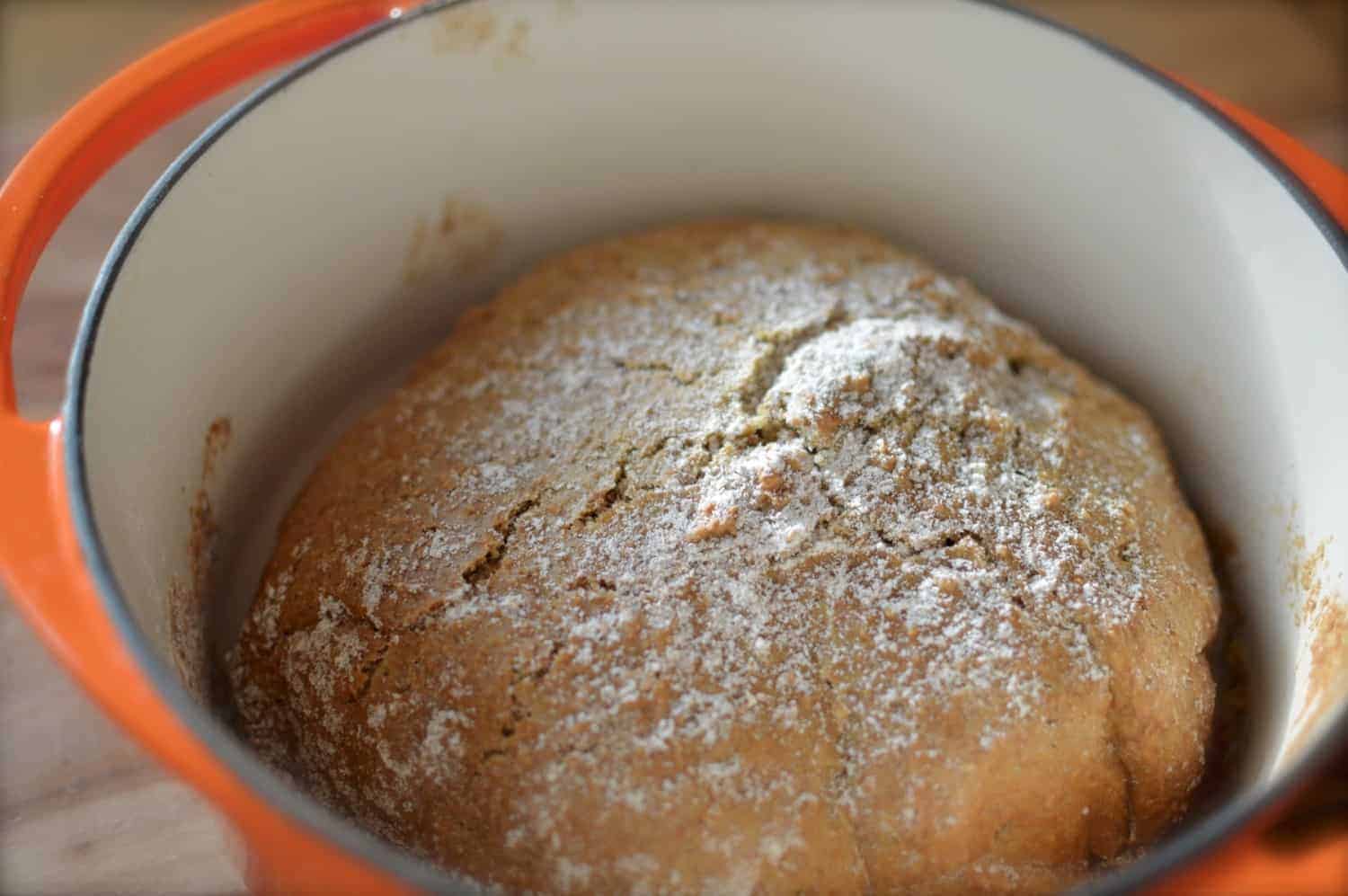 I really liked the idea of making it in a big casserole dish as it looked fantastic coming out of the pot, but I guess it's not the only way to do it, so that bit I leave up to you. It's also the simplest of all the bread recipes out there (as it doesn't involve either yeast or proving), so if you need a loaf in a hurry then this could be exactly what you require.
This version has equal quantities of wholemeal and white flour (which it seems is quite unusual), but it worked beautifully with the salmon. Next time I might play around with the ratios a bit and perhaps include some herbs or spices, but those are ideas to permeate my brain's foodie obsession with another day.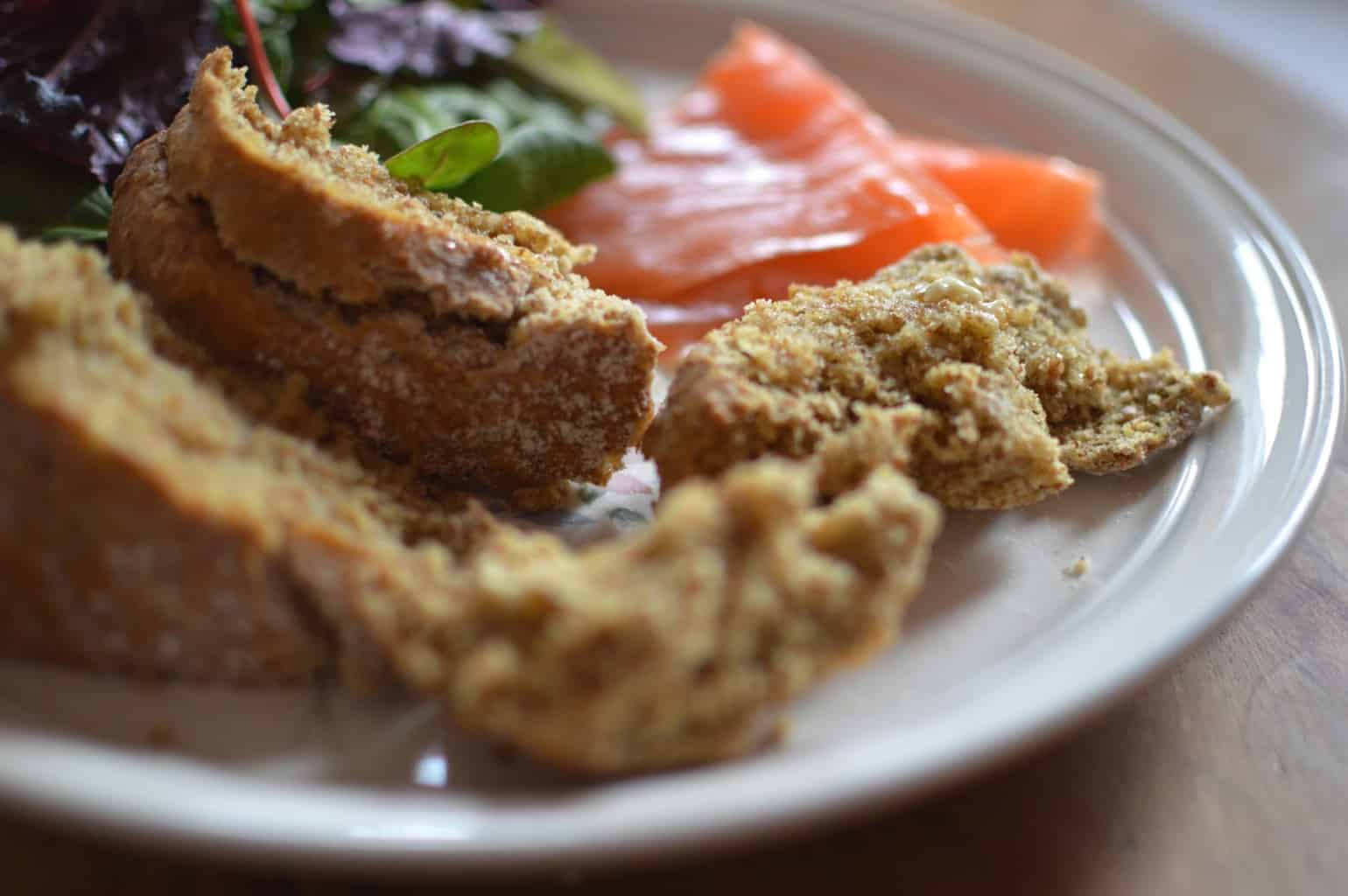 Soda bread
---
Author:

Prep Time:

10 minutes

Cook Time:

25 minutes

Total Time:

35 minutes

Yield:

1

Loaf

1

x
Description
This recipe is a composite of several different recipes, but takes most of its cues from this Nigel Slater BBC recipe. It makes a medium sized loaf that could feed four at lunch time. The ratios of each flour it alterable, but it helps the flavour to have a bit of both in there.
---
Scale
Ingredients
160

g wholemeal flour

160

g plain white flour

250

ml milk

1 tbsp

lemon juice

1/2 tsp

salt

1 tsp

caster sugar

1 tsp

bicarbonate of soda
---
Instructions
Take a large casserole dish/pan and put it in the oven, preheating it to 180ºC. Pour the milk into a jug and add in the lemon juice; stir and leave for five minutes.
Into a large bowl pour both your flours, the slat, sugar and bicarbonate of soda, then using your hands mix this all together so that it is thoroughly combined. Make a well in the middle and pour in a third of the milk. Mix this into the flour mix (either your hands or a mixer) and then slowly add the rest of the milk whilst continually mixing. It should come together as a soft-ish dough pretty quickly.
Take the dish from the oven and flour it, so that the dough won't totally stick. Then add in the ball of dough, replace the lid and put back into the oven. It will take about 25 minutes to bake, then remove the lid from your dish and bake for five minutes more. Once baked remove from the oven and leave in the dish for five minutes before turning out on to a cooling rack.
The soda bread is best served whilst still warm.
---