A summer peach tart
In the summertime, when the weather is fine, you can reach right up and touch the sky.
Yes, there have been glimpses of this mythical beast they call summer lately and whilst Mungo Jerry plays out lazily over the speakers the desire to drink Pimm's (or indeed eat Pimm's Granita) is much higher than the thought of being in my window-less kitchen.
With every excuse to be outside being jumped on, time in the kitchen can often be quite limited at this time of year. But whilst you don't want to spend time near your oven when you're hot enough already, this is a great dessert that takes a little effort, but not too much. Also, because it is a peach tart, everyone will love you – nothing says summer as a dessert like a peach tart. This one though is special though as it contains a hidden layer of Nutella – other hazelnut/chocolate spreads are available.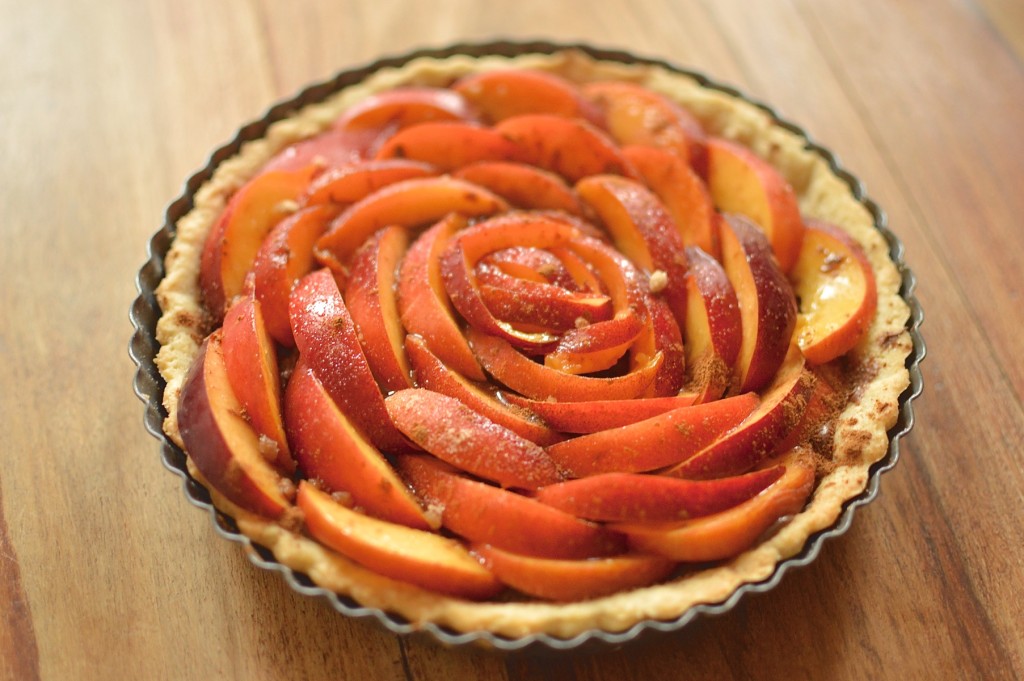 For me, this dessert came about because I had a lazy Sunday afternoon and evening on my hands. I also had a punnet of peaches ripening away nicely, it seemed like too good an opportunity to miss. Cue some food porn surfing online, gazing at peach tarts to decide what to do. No particular recipe took my fancy, but the idea of slicing the peaches and making them into a rose on the top looked mouth-watering enough to start licking the screen of my laptop (I didn't, in case you're wondering. I resisted. Just.).
Peaches happen to go quite well with both chocolate and cinnamon, so whilst I didn't have a recipe I knew I wanted either chocolate or cinnamon to appear as well – it was Sunday evening after all, and who doesn't deserve a treat on a Sunday? But why limit yourself to one when you can have both?
So a surprise layer of Nutella went between the pastry and peaches. It's definitely optional but comes highly recommended. Although I'm sure we can all agree that the cinnamon on top is totally necessary.
Other recipes like this
Print
Peach tart
---
Author:

Prep Time:

20 minutes

Cook Time:

35 minutes

Total Time:

55 minutes

Yield:

Serves

4

1

x
Description
This recipe is an original to The Usual Saucepans, inspired by pictures I've seen in various places online. It serves 4-6 depending on how big a slice you like (could also serve 2 if you're as greedy as me). It is easiest – and looks best – when you make this in a loose-bottomed, fluted tart tin, as it will be easier to get out of the tin.
---
Scale
Ingredients
for the pastry:
150g plain flour
75g unsalted butter
50g caster sugar
1 large egg
for the filling:
3 peaches
2 tbsp Nutella
1 tbsp light brown sugar
1 tsp cinnamon
---
Instructions
Start by making the shortcrust pastry. Sift the flour into a large bowl, cube the butter and add it in on top. Get your hands into the bowl and push the mixture through your fingertips until it forms a breadcrumb-like texture. Tip the sugar into the bowl and work through. Whisk the egg separately then add into the bowl. Using a round bladed knife work the egg into the mixture and bring it together into a dough. Wrap in clingfilm and put in the fridge for at least half an hour.
Preheat your oven to 200ºC. Take the pastry from the fridge and roll it out on a lightly floured work surface until it is a good 4 cm wider than your 21cm loose-bottomed, fluted tin. Grease the tin lightly with butter then lay the pastry gently over the top and push into the edging. Spike with a fork all over and then bake blindly in the centre of the oven for 10 minutes using baking beans, then 8 minutes without.
Whilst the pastry is blind baking, slice your peaches really finely. Take the pastry from the oven, spread liberally with Nutella, then layer your peach slices all over the top. Sprinkle with cinnamon and light brown sugar then return to the oven (turned down to 180ºC ) for a further 14-18 minutes until cooked through.
---
Used in this recipe:
Pin this recipe