Panettone – the Italian festive favourite
There are many things that make Christmas and it's different for each and every one of us, but one of the things I look forward to – somewhat unsurprisingly – is the food. All the delicious flavours and seasonal spices bringing everyone together in their warm embrace. Before this sounds a little too mushy, let's get to the point. Apart from the usual seasonal flavours, like cinnamon (I love cinnamon) and nutmeg, some of my favourites are the more citrusy notes. This year I got a recipe through my work for panettone, the Italian sweetbread that has enjoyed a lot of success on the global stage in recent years. So I thought I would share with you how to make a panettone of your very own.
I have a slight fear of baking with yeast, but after the success of my cinnamon buns a couple of months ago I was itching to beat the fear once and for all. And I think I may have now done just that.
The panettone isn't actually that difficult to make, it just takes time. A lot of time. About 5 hours to be precise.
Thankfully it's not actually that intensive, so you can do lots of other little jobs during the times it's rising. For example, I made this one last weekend and whilst it was having its first rise I marzipaned the Christmas cake. During the second, I did all the washing up that was scattered around the kitchen and wrapped a few presents.
Mine didn't rise as much as a traditional panettone, however, I am guessing that that's down to the tin that I used. You do get proper panettone tins, but as it's not something I make that often I can't really justify the expense; I just had a slightly wider and lower loaf, made in an ordinary loose-bottomed cake tin.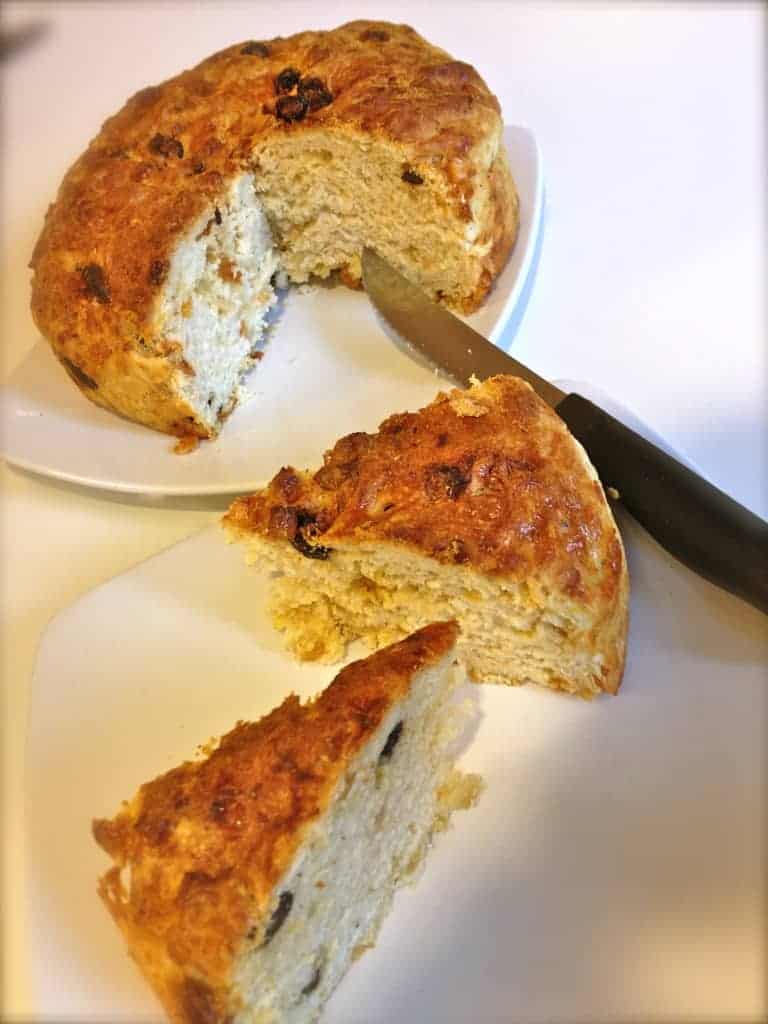 Print
How to make a panettone
---
Author:

Prep Time:

2 hours

Cook Time:

45 minutes

Total Time:

2 hours 45 minutes

Yield:

1

1

x
Description
This recipe came from my work, so I am not entirely sure of its origins. It will make a panettone that is about 20cm in diameter and ten in height. If you don't like raisins, don't put them or the citrus peels in – then it becomes a pandoro!
---
Scale
Ingredients
For the dough
350

g plain flour

150

g caster sugar

2 ½ tsp

dry yeast

230

ml lukewarm milk

½ teaspoon

salt

115

g unsalted butter

2

egg yolks

3 tablespoon

s candied citrus peel

70

g mixed raisins

1

pinch grated nutmeg

1

orange

1

lemon

1 teaspoon

vanilla
For the glaze
---
Instructions
Put the milk in a bowl and warm slightly before adding the yeast. Let it sit for five minutes, stirring gently to dissolve the yeast.
Sift the flour and salt into a large bowl, then make a well in the middle. Add the milk and yeast mixture into the well and pull in some of the flour to make a soft paste (you won't use all the flour). Cover with a clean tea towel and leave it to stand for 20 minutes, it should have become slightly frothy. Mix in the rest of the flour to make a dough.
Turn the dough out onto a floured work surface and knead until it is smooth and elastic – it should take about ten minutes (you can also use dough hooks on a mixer, but it's more fun to do it by hand). Put the dough back in the bowl, cover in clingfilm and put in a warm place (like an airing cupboard) for about an hour, when it has roughly doubled in size.
Whilst it is rising line a 20cm loose-bottomed cake tin (or panettone tin, if you have one) with baking paper, making sure that there are no gaps and that it extends about 10cm above the rim of the tin. In a jug whisk the egg yolks, nutmeg, orange and lemon zest, and the vanilla.
Once the dough has risen, punch it back and let it rest for 5-10 minutes. Once it is rested turn it out onto a lightly floured work surface and knead in the butter (it makes it easier if you have softened it a little), citrus peels, raisins and the egg-mix from the jug. It will look like a complete and utter mess but don't be alarmed, it's meant to.
Once the mixture is fully combined, make it into a round loaf and place it in the centre of your lined tin. Mark a cross on the surface with a sharp knife and then cover. Let this rise in your warm space for about 2 hours, when it will have roughly doubled in size.
Preheat your oven to 170°C (for a fan oven, 180 for an ordinary one). Mix together your egg glaze and spread it liberally on the top and sides of the loaf. Bake in the centre of the oven for 40-45 or until golden brown and a skewer comes out clean.
If you have a few burnt sultanas on the top, you can dust it liberally with icing sugar before serving.
Slice a few wedges out and eat with large mugs of coffee.
---
Category:

Baking

Cuisine:

Italian
Keywords: how to make a panettone
Used in this recipe:
Pin how to make a panettone
This post contains affiliate links – you can find out more about this in my privacy policy.