There are days when you brain works. And then there are those when it doesn't.
I had one of the latter the other day whilst making this Dobos torte. Somehow I didn't think that the boiling hot caramel that was a liquid when pouring onto the work surface would set solid. But you know what, for this bake, I am totally willing to spend half an hour melting it off afterwards with my flatmate's hair dryer. Alternatively, you could not be an idiot and enjoy both the cake and the rest of your day!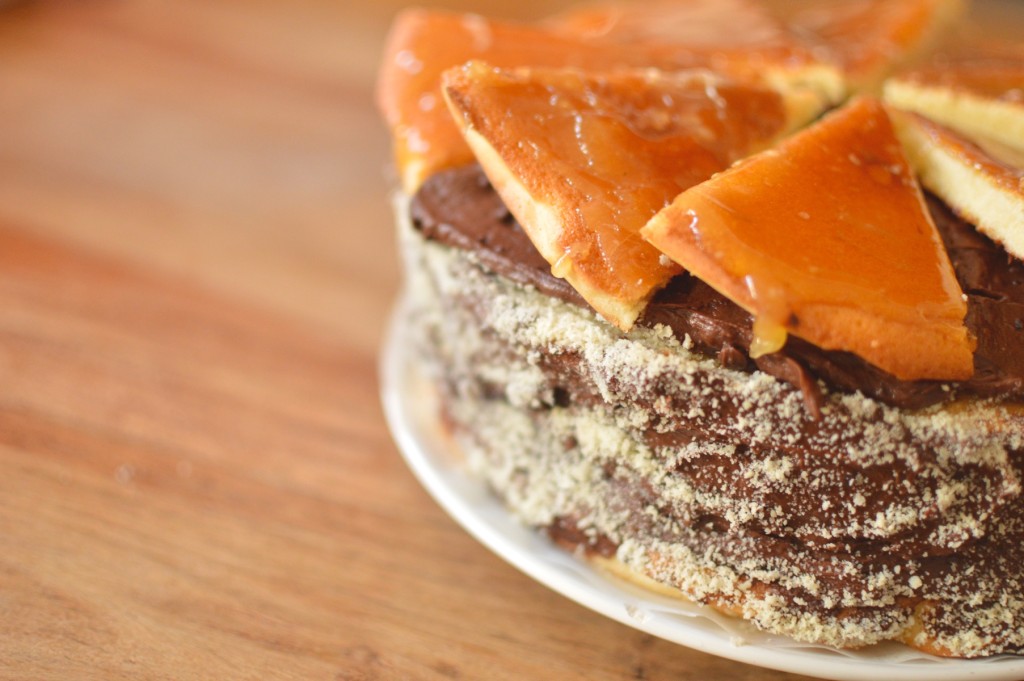 Why so much effort for a cake? Well, it's Hungarian and thus part of a challenge. And I'm a sucker for a challenge. A good friend is turning 30 next year and instead of setting herself a bucket list of things to do she enlisted 30 friends and family to set them for her. After much thought I realised we both enjoy eating and so I opted for a foodie travel challenge. Pick 12 countries she has either always wanted to visit or wants to return to. We then cook a meal or a dish from each place, six each.
So far this has included dishes from Australia (ANZAC Biscuits, crocodile and kangaroo), Bali (not technically a country, but we made exceptions for here; the curry was amazing), Hawaii (we tried Spam sushi so you don't have to), and potjie from Namibia, amongst others.
And now it was time to take on Hungary. The rich, chocolate-y lure of the Dobos Torte was just too delicious to much to resist.
The Dobos Torte is named after its creator – József C Dobos – a Hungarian baker and confectioner who was looking for something that would last slightly longer than traditional pastry and cakes. With the outside covered in buttercream and ground nuts the cake takes longer to dry out, giving it an increased shelf life. But far from being common place, the ingredients demanded and time taken to make this cake tends to leave it more as the preserve of hotels and high-end patisseries – not that this means anyone should be put off giving it a try. Genoise sponges are not nearly as hard as the Bake Off may make out.

Print
Dobos Torte
---
Author:

Prep Time:

40 minutes

Cook Time:

40 minutes

Total Time:

1 hour 20 minutes

Yield:

1

cake

1

x
Description
This recipe is based on one I found on an Italian food blog, Juls' Kitchen – you can find it here. This torte is very, very rich and filling, so large slices are not required. I used a 21cm tin for my sponged, and opted for 4 layers as opposed to 6 or more (yes, because I am lazy and impatient). Bear in mind also that it takes quite a while to make, so set aside several hours, plus time for cooling. The original recipe calls for rum, I changed it to amaretto.
---
Scale
Ingredients
for the sponges:
9 eggs
220g caster sugar
30ml lemon juice
240g plain flour
1 tsp lemon zest
for the buttercream:
240g icing sugar
300g butter (yeah, 300…)
80g cocoa powder
2tsp vanilla extract
2 tbsp amaretto
60g ground almonds (for decorating)
for the caramel:
150g caster sugar
1 tsp lemon juice
---
Instructions
Start by preheating the oven to 180ºC and line a 21cm loose-bottomed cake tin.
Separate the whites and yolks of the eggs into two bowls and then whisk the egg yolks and sugar with the vanilla lemon zest until smooth and fluffy. Add in the flour and the lemon juice, whisking until entirely combined.
In a separate bowl whisk the egg whites until then form stiff peaks. Fold the whites into the yolk mixture (it's best to do a spoonful to loosen the yolk mixture and then fold the rest in – less air is lost that way), the resulting mixture will be white a soft.
You need to bake (in theory) 6 sponges from this mixture. Pour a sixth of the mixture into the tin and place in the centre of the oven for 7-8 minutes or until golden. Once cooked, immediately remove from the tin and place on a wire wrack to cool. Repeat until you've got all the sponge layers. This is where you decide how many layers you wish, and bake accordingly (remembering that thicker sponges will take longer to cook).
Set the layers aside to cool and make the buttercream. Put the buttercream ingredients in a bowl and mix together.
To make the caramel, put the sugar into a small pan with the lemon juice. Stir constantly over a medium heat, until melted and turned the colour of – well – caramel (it's a rich dark golden colour). Pick the best looking, most even sponge and place it in the centre of the wire wrack and cover the work surface underneath with baking paper or similar (this stops caramel gluing itself to the work surface).
From here you need to work quickly. Drizzle this sponge liberally in caramel and spread it so there is a translucent, golden covering across all of the sponge. Before the caramel sets you need to cut the caramel-coated sponge into 8 pieces (or more if you wish a more delicate look) – use a really sharp knife and slice across the layer, then separate to let the caramel roll down the sides.
Assemble the torte by putting one layer on a plate and covering in a layer of buttercream (the layer should be as thick as your sponge). Repeat this process, stacking up the layers, until you have used all but your caramel-coated sponge wedges. Make the top layer of buttercream a little thicker. Then cover the outsides of the cake in the buttercream (making sure to leave about 2 tablespoons worth) and then sprinkle the ground almond around the outside of the cake.
Finally, add each of the caramel wedges on to the top, using a little blob of buttercream under each one to give them the slanted look. To get the most even finish alternate sides so as to ensure it is symmetrical. Leave in a cool place to set for at least two hours, then slice and enjoy.
---