After watching his set at Glastonbury a few weeks ago I've found myself singing Lionel Ritchie songs at random intervals. All of which, of course, makes the idea of spending a Sunday morning lazing on the sofa with a large mug of coffee and something freshly baked all the more appealing. Today, that treat being chocolate and blueberry breakfast buns.
Yes, I'm still wearing pyjamas in this photo, and of course I was humming Easy Like a Sunday Morning as I took the photos. Judge all you like, I know you're secretly jealous.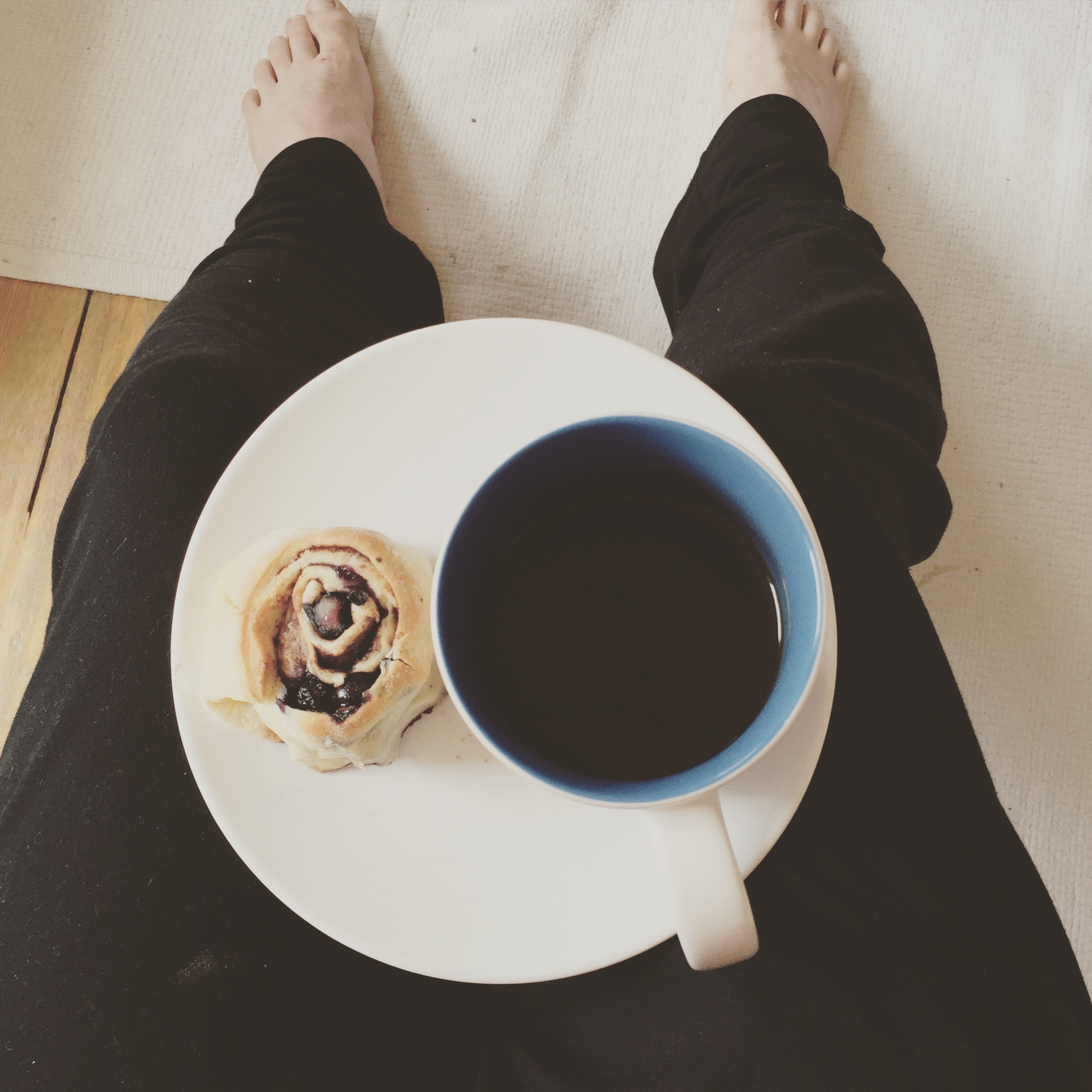 On this particular occasion I'm also pondering why I thought agreeing to playing tennis at a time that would necessitate leaving the house before noon (my life is tough, alright? And if you want more lightly filtered ridiculousness in your life, I'm on Instagram over here) and wondering about the backstory of my breakfast.
I'd altered the cinnamon bun in a sacrilegious manner, treated it to a most unholy makeover for a Sunday: there was no cinnamon. I had picked up a load of blueberries at the market the day before, and although I love cinnamon buns, I was going to make the change to blueberries. They also contain more of the flour I got from Wright's a few weeks ago, as talked about in my basil and sun dried tomato bread.
Cinnamon buns today come in two forms – there's the Northern European version and the American. The European ones not being as sweet as those from across the pond; the US also adding in a glaze, but both with the intention of being served in friendship with coffee. Being in possession of a sweet tooth, I think both have their place, but despite using an American recipe as my basis, for breakfast I go for the European version.
By way of a short history lesson, the northern European version is thought to originate in Sweden. The sweetness matching perfectly with the Swedish sweet tooth and their love of coffee. Served at coffee parties and other gatherings they are often seen as being synonymous with friendship. Today they even have a national day for cinnamon buns – the 4th of October, if you're interested.
Now, I don't know if this is properly celebrated or just another of those 'national days' that seem to keep popping up, but I'm up for an adventure to Sweden to find out. Who's joining me?
My Chocolate and blueberry breakfast buns are clearly not in any way traditional, but none the less they do make for a delicious start to the day – especially if you were out dancing on the ceiling the night before (you didn't think you were getting away without at least one Lionel Ritchie themed pun, did you? I mean, Hello…). Traditional or not, they're great for sharing or sitting and eating far too many whilst finding out more about them.
Chocolate and Blueberry Breakfast Buns
This recipe is based on one I came across recently on Joy The Baker's website, but adapted to use the blueberries I bought. I wasn't sold on the blueberry-cinnamon combination, but you can try it if you like… I would recommend using a combination of dark chocolate and cocoa powder. This recipe makes 6 buns. 
Ingredients 
for the dough:
200g strong white flour
50g caster sugar
125ml full fat milk
1 tsp yeast
2 tbsp butter
1 large egg
1 pinch of salt
for the filling:
4 tbsp butter
4 tbsp caster sugar
25g dark chocolate
1 tsbp cocoa powder
1 handful of blueberries
Directions
Start by putting the butter, milk and sugar into a medium sized saucepan and put over a medium heat. Stir gently until all the butter and sugar melt. Take off the heat, and set aside to cool until just warm. Pour into a large bowl and sprinkle the yeast over the top – if the milk is too hot it will kill the yeast (it's alive after all) – and stir it through. Leave for five to ten minutes, it'll start to bubble across the top.
Add the remaining ingredients (leaving about 3 tablespoons of flour out) and use a wooden spoon/dough hooks on a hand mixer to just bring the ingredients together. Add a couple more spoons of flour to form a ball of dough. Cover and let it sit for 15 minutes.
Once rested roll out on a lightly floured work surface – it should be about 30 by 22cm (that's 12×9 inches, if that's how your brain works).
Melt the butter for the filling and then spread all over the dough. Mix together the sugar and cocoa powder, then shake over the butter. Scatter the blueberries out evenly across the surface then gently press them into the dough (it will make it easier to roll, then grate your dark chocolate across the whole surface. Tightly roll lengthwise (i.e. the end roll should still be 30cm) – if it helps, start by folding about 2cm in, then roll from there.
Using a sharp knife cut the dough into 6 pieces – it's easiest to cut down the middle and then cutting each side into three, rather than trying to get six equal pieces – and then place in a lined backing tray (or a buttered pyrex dish).
Cover for at least thirty minutes – or in the fridge overnight – and then bake in a pre-heated oven at 190ºC for 18-20 minutes or until golden brown. Leave to cool a bit then stuff them into your mouth – be careful though because you'd think those blueberries were baked in a volcano.