With all the beautiful summer fruits we get in this part of the world – especially raspberries and strawberry – the summer is absolutely my favourite time of year, and they are absolutely delicious when you get them in baked goods. This summer sponge cake is a great example of this – perfect for covering in strawberries and raspberries, great for slicing up for a group of friends or pleasing a crowd at a party.
There are a few reasons to really love this summer sponge cake, but it's simplicity and the ease with which it can be made to handle a group is its main strength. This one I made in a roasting tin and used it to more than happily handle about 20 people. If you really want to impress at the village fair (or whichever suburbanite quest you are on), make it double layered with jam and butter cream in the middle, but for most of us one layer will be enough – and a little less risky to transport to boot.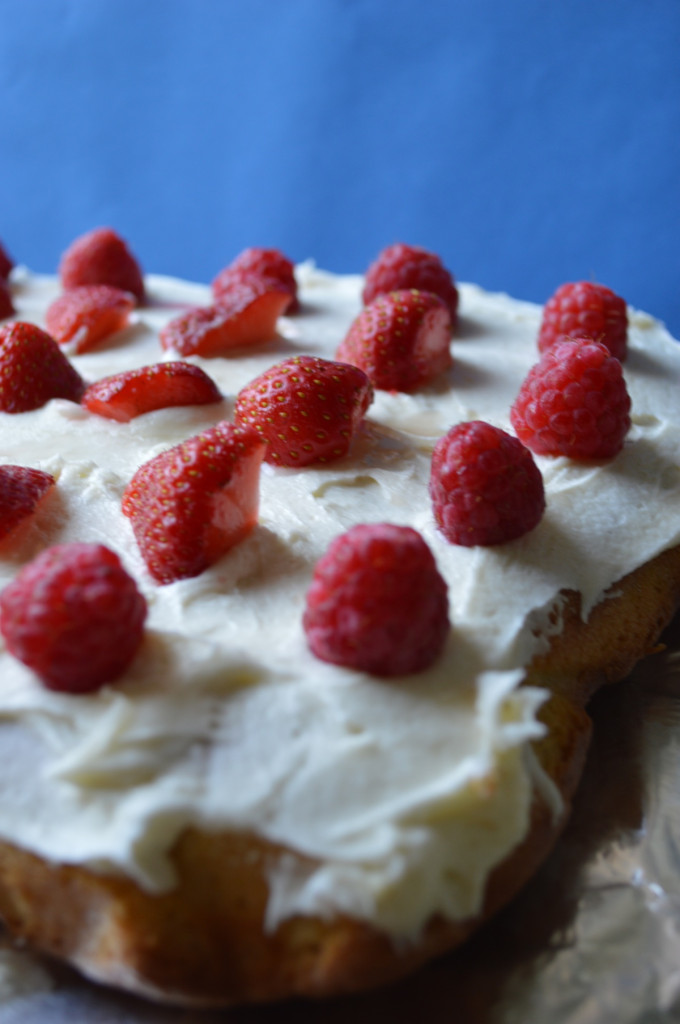 If you are looking to up the game a bit more then I suggest you go down either the full-blown Victoria route (making your own strawberry or raspberry jam, of course), or get out a trusty bottle of Pimm's. Once you've made yourself a glass, get to it and add a few splashes into the cake batter, like I did with the Pimm's drizzle cake. Not only does it make the finished cake that little bit more delicious, but also becomes a beautiful colour when you slice it.
When it comes to decorating, there's a pretty simple rule – raspberries are whole and strawberries should be in quarters (and for the love of all things good, don't join the trend I keep seeing on Instagram for keeping the leaves and stalks on the top!). If your cake is rectangular or square, then you want even lines – either one fruit round the outside and another in the centre (like here) or laid out in interchanging lines (with each row starting with a different fruit). For circular versions, think of it as a clock and start from there (or be really bold and do a spiral from the centre).
Before you know it you'll have a summer sponge cake that everyone will want a piece of.
Follow The Usual Saucepans on  Facebook to see more summer creations.