Chocolate brownies are one of those things that are universally adored, but are actually quite simple to make. But what would happen if you added three more elements to the lucrative mix to make luxury chocolate brownies? Some might say sacrilege, but I think that Nutella, Salted Caramel and a touch of alcohol is only going to improve this winner. And judging by the speed they disappeared at, I would say I'm on to something.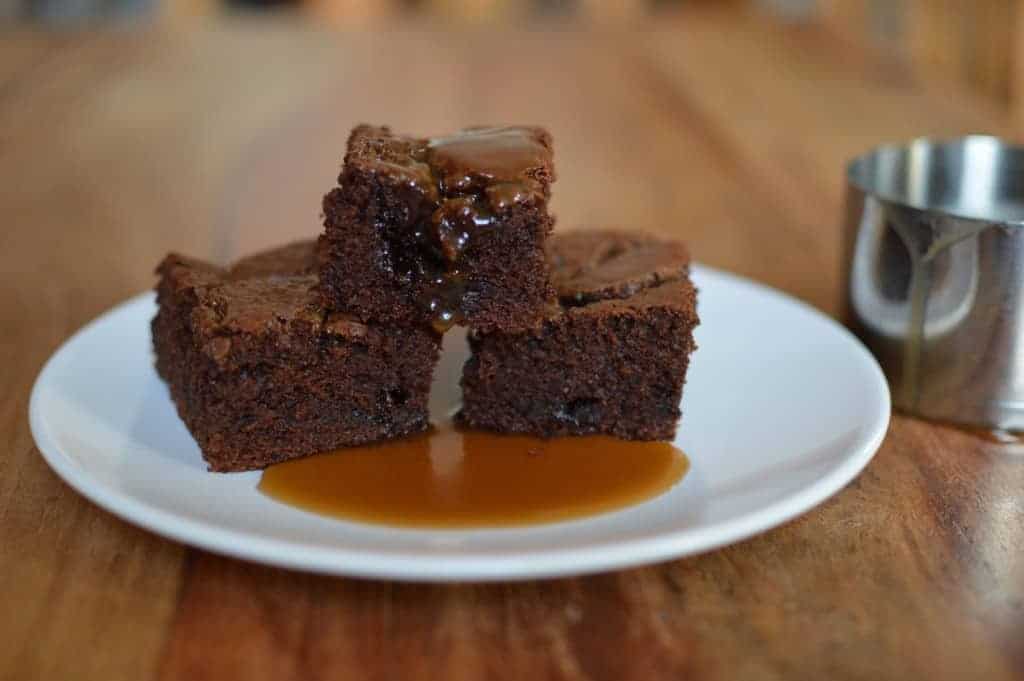 After a brilliant pancake day I realised there were quite a few leftovers in the kitchen. Excess eggs and a second jar of Nutella could mean lots more delicious pancakes, but never one to sit still for long I thought I'd go somewhere a little different. That's how I ended up sitting in bed on Sunday morning scouring the internet for some inspiration. Nutella brownies were already a high potential (because, well… Nutella), but the idea of caramel, salted caramel, amaretto caramel, anything with Kahlua, and many others kept cropping up. The idea of Kahlua in salted caramel was just too delicious to miss out on, and combined with Nutella brownies it just had to happen.
I've never been particularly good with caramel. There have been several failed attempts over the years, and considering I kind of made this up from the general knowledge I had and watched it like a hawk, I'm pleasantly surprised it worked as well as it did. And after taking a couple of photos I just couldn't resist the idea of a GIF. Because, well… pouring caramel and brownies. I want more. Now.
Hungry yet?
Does it all work together? You bet it does. We all know that salted caramel is just amazing, and here it beautifully balances its own sweetness. The coffee-like flavours of the Kahlua is a natural bedfellow of the chocolate, and using milk chocolate, Nutella and cocoa powder ensures that whilst it's sweet it's not clawingly so.
I think these luxury chocolate brownies might be my new favourite kind of brownie, but I think it's going to be a great base for more variations. What do we think of Amaretto caramel? Perhaps Kirsch caramel with cherries in the brownie? So many options… If you make some, put them on social media and tag The Usual Saucepans.
Print
Luxury chocolate brownies
---
Author:

Prep Time:

10 minutes

Cook Time:

20 minutes

Total Time:

30 minutes

Yield:

20

1

x
Description
Yes, I know. It's quite a mouthful, but what a mouthful… This recipe is one of those that came out of nowhere, the sort that comes from so many places that you can't really say where it's truly inspired by. In this case there are lots of options, but a major one was the ever wonderful Kitchen by Nigella Lawson which contributed the base for the brownie recipe. I use a tray approx. 20×27 cm.
---
Scale
Ingredients
for the caramel:
75

g light brown caster sugar

100

ml water

100

ml double cream

50

g butter

25

ml Kahlua

1

pinch of sea salt
for the brownies:
150

g light brown sugar

150

g plain flour

150

g butter

4

eggs

1 tbsp

cocoa

1/2 tsp

sea salt

1 tsp

vanilla extract

2 tbsp

nutella
---
Instructions
Start by making the caramel. In a medium sized pan put the water and the sugar, stirring over a high heat. Bring it to the boil and let it simmer until it reaches about a third of its original volume. At this point take it off the heat and add the butter (in cubes, as this will melt quicker), stir until the butter melts than add the cream. Put back on a medium heat and bring back to the boil. Let it boil, stirring every 30 seconds or so until the colour darkens and it thickens. It should coat the back of a metal spoon. Take off the heat and stir in the Kahlua. Set to one side.
Preheat the oven to 190ºC and line a 30 x 15 cm dish with tinfoil (or use a tinfoil dish, but be sure to recycle it).
Put a medium-sized pan on the hob and into it put your butter. Melt it over a medium heat and as it melts add in the sugar and stir together. Sift in the flour and cocoa powder, then drop in the salt. Beat with a wooden spoon until it comes together into a dough – it will be very dry and won't necessary come together completely.
Beat your eggs and vanilla together and then beat into the mixture. Continue stirring until it's completely mixed in. Pour the mixture into your lined dish and tilt from side to side to make sure it's evenly distributed. Get your jar of Nutella (or similar, but let's be honest this isn't the BBC, Nutella is the best) and use a teaspoon to liberally dollop blobs of the chocolatey goodness. Drizzle two-thirds of your caramel over the top then place in the centre of the oven for 20-25 minutes.
Once out of the oven it will feel like the centre is still slightly squishy, this is what you want.
Allow to cool on a wrack then slice into about 25-30 squares and drizzle the remaining caramel over the top. They're great warm or cold. But watch out, they really won't last long.
Used in this recipe: