I've completed the set. My shiny new phone has been christened by my kitchen. It seems to be technology that I own has to, at least once, be engulfed in an unnecessary amount of flour. I really need to be more careful (or at least double check that everything is insured against kitchen mishaps). But it's all in the cause of good food, so it's totally acceptable, right? So glad you agree. Anyway, let's get on with some baking, and today it's all about this basil and sun-dried tomato bread. I'd offer you a slice but a) that's kind of difficult on the internet, and b) I finished it off a little too quickly.
A little while ago I was approached on Twitter by Wright's Baking – they were flattering about my terrible jokes and had (unbeknown to them) perfect timing as I had spent a couple of days looking for some good, but not insanely expensive, flour.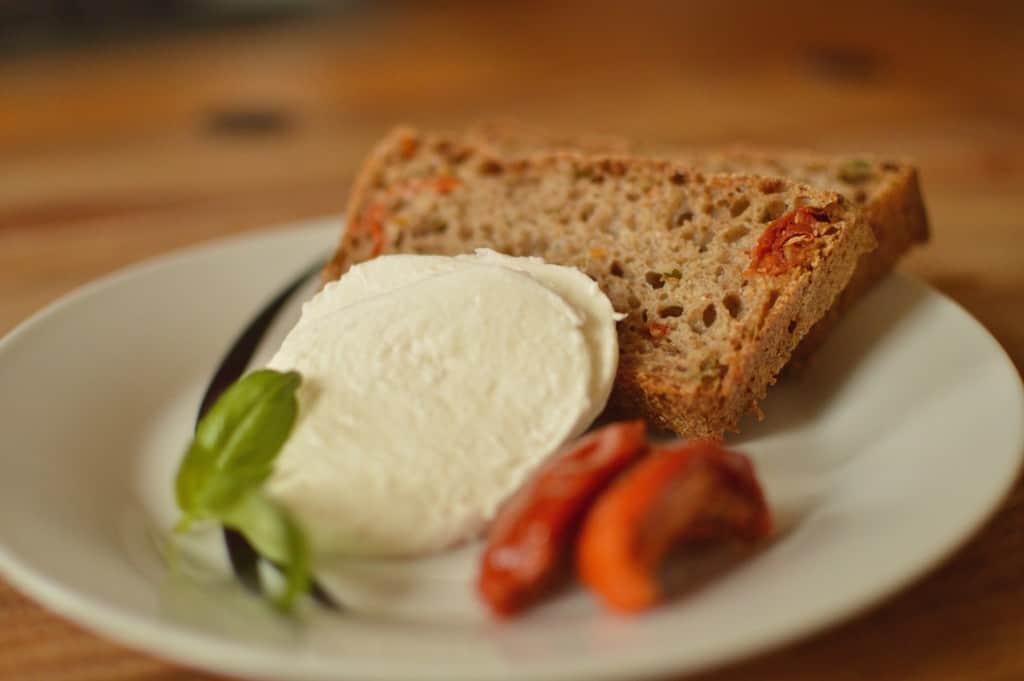 Now, as a keen baker/someone who likes cleaning flour out of every crevice in my kitchen, I was obviously intrigued by a flour company getting in touch. They do lots of mixes for different kinds of breads and cakes, but being the sort that likes to start from scratch, I opted to try some of their flour. With two large boxes arriving at the office a few days later (substantially more than the two packs I was expecting! Thanks, Wrights) I had some explaining to do – my nonchalant 'what this? It's perfectly normal. Just getting some flour delivered' didn't wash. Can you imagine?
Sitting having brunch on Saturday morning a few days later I was wondering what I could do with the basil that was languishing in the kitchen. With lots of great flour and a Sunday to spend eating, bread it needed to be. With basil on the brain, I stopped at the shops on the way home to pick up some sun-dried tomatoes and then a last minute thought lead to some mozzarella to go on the side. It's a lengthy combination of circumstances for a recipe, but when the outcome is something like this I am far from complaining! There will be more posts coming over the next little while with this flour, keep an eye out for them.
Print
Basil and sun-dried tomato bread
---
Author:

Prep Time:

30 Minutes + 1 Hour 45 resting

Cook Time:

35 Minutes

Total Time:

3 hours

Yield:

1

Loaf

1

x
Description
This recipe is an original to The Usual Saucepans, made up using some flour from Wright's. The original base recipe for the wholemeal bread is from James Morton's book – Brilliant Bread – but I've altered it slightly to include some awesome ingredients. 
---
Scale
Ingredients
175

g wholemeal flour

75

g strong white flour

5

g salt

½

 x 7g pack of yeast

175

ml water

1

x handful of basil leaves (

10

–

12

medium sized)

10

sun dried tomato chunks
---
Instructions
Start by combining the flours, salt and yeast in a large bowl – keeping the yeast and salt apart if at all possible, as the salt will inhibit the yeast. Pour the water into the bowl and then either use a dough scraper or your hands, pull it all together into a dough. This is a no-knead recipe, so it's much more straight forward and much less faff.
Cover the dough with clingfilm, a snap on lid, or  – like me – use a shower cap. Rest for half an hour.
Just before the dough is ready, slice your sun dried tomatoes into small chunks (mine were about 3 pieces each). Pick your basil leaves off their stalks and muddle them a little in your hand (basically, punch them a few times…) to start releasing their oils.
Dump the basil and tomatoes into the dough, then knock it back to remove the air. Fold a few times to mix the basil and tomatoes through, then cover and rest for a further 30 minutes.
If you are using a loaf tin, lightly flour it, or similarly flour a baking stone if using that. Tip the dough from the bowl into your chosen baking implement and then rest for another 45 minutes.
Preheat the oven during the last 15 minutes of the final prove to 220ºC. Put it in the centre of the oven and chuck half a cup of water in the bottom of the oven to cause steam. Decrease temperature to 200ºC and bake for about 35 minutes until darkened on top.
Wait for it to cool, and then slice and serve with some cheese!
---