This is the third part of my American adventure – and part II of The Philadelphia Story. You can find tales about New York here and Philadelphia part I here. Washington DC will be coming some time next week. Let's kick of with some of Philly's sights:
Sightseeing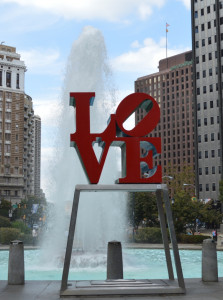 Aside from the food, there is A LOT to see in Philly. Whether you are a fan of Bridges, fountains, Rocky, US history, art (in all it's paint-on-canvas glory), science museums, or medical science that will turn many an unnatural shade of green, you will not be disappointed. There are of course countless other attractions, but it was a combination of these that filled the gaps between us eating in Philly. I've never actually seen Rocky the whole way through (I know, I know), but anyone that voluntarily runs up those steps needs their head seeing to. Says he who did an obstacle at the weekend, isn't hypocrisy wonderful? You do get a fantastic view from the top though. The Philadelphia Museum of Art is one of those 'must do' things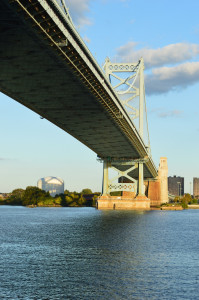 in life, and that was the attitude we took into it – we're not art people. I actually enjoyed sections of it (especially the 'medieval era' Asian art) but seriously, in 500 years people will look at a lot of our contemporary art and burst out laughing. I'm going to take this as a sign that we're forward thinking, because that's pretty much what we did when we saw some of it. Aside from getting glared at in art galleries, a visit to a fantastic spy exhibition at the Franklin Institute – made up from 60 years worth of CIA archives – was definitely a highlight, as – bizarrely – was a visit to the Mutter Museum. Housed in the city's College of Surgeons it's a medical museum. One of the friends I was with is a doctor and suggested it and I clearly haven't lost my biologist's curiosity of how things work and capacity for gore, so off we went. From civil war medicine to the physical abnormalities that inspired many villains in Grimms Fairy Tales via an astounding collection of human medical specimens, it is a truly fascinating and educational place. It's most certainly not the faint hearted though. And apparently it's 'a bit weird' to most people.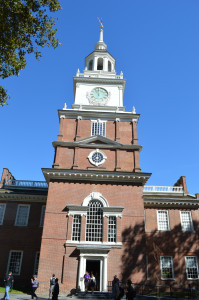 Something everyone should do whilst there though is visit Independence Hall and take a tour. We had a fantastic guide who gave the most balanced version of the events that led up to the war of independence I've ever heard. It was actually very interesting, exposing an embarrassing void in my knowledge of the world. The Liberty Bell, on the other hand, is not nearly what it's built up to be. You are funnelled through an exhibition before seeing it, claiming the bell to be a symbol of peace and freedom for the entire world. I, personally, disagree that it has much significance outwith the US, but such is my freedom to form my own opinion. Also, it's just a bell with a crack in the side, just saying.
It's probably worth noting that Philly seems to be quite quiet in the evenings earlier in the week. Most bars are dead mid-evening, which is not necessarily great if you're looking for a post dinner drink. The liveliest place we came across was needlessly dark. It did however have an excellently dressed stag in a bow tie above the bar (sorry for the dodgy photo, it really was stupidly dark) and a delicious 60 Minute IPA – called the Catfish, I think. Clearly this is a sign that I need to go back over a weekend.
Pancakes & Reading terminal market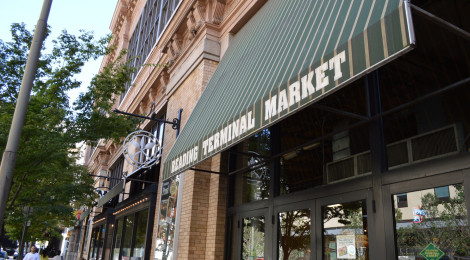 If there was a recurring theme across almost every destination of my trip it would be pancakes. I absolutely love pancakes, and I'm a complete sucker for them at breakfast time. Sure, it's not exactly a bowl of fruit, but it certainly gives you something to last through the day. Or at least until lunchtime. The best pancakes in Philly come from Reading Terminal Market. Nestled under the old train station (and above the more modern one) it is packed in under the vaulted roof much like Borough Market in London (and probably as touristy if you're there at the wrong time of day). There are so many sights, colours and smells under one roof that I really shouldn't be allowed in unaccompanied/restrained. There were butchers, bakers and an ice cream makers; places for breakfast, lunch and dinner; fruits and veg of all shapes and sizes; chocolate noses and false teeth; and of course pancakes. There was no need for them to be half the size they were, but I'm glad they were. Similarly there are levels of maple syrup that you just should just not have with breakfast, but what the hell, I was on holiday. Saying that though, I'm very glad I opted for the smallest option on the menu – and yes, nearing dinner plate sized pancakes really was the smallest option.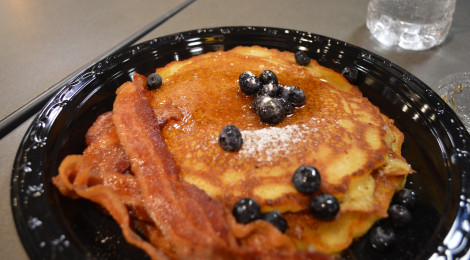 I was only in Philadelphia for about three days, but it's left a lasting impression on me. Perhaps it was an unseasonal upturn in the weather, time spend with friends I don't see very often, the food or even the ridiculous number of fountains; whatever it was, I think I've found a new addition to my favourite cities in the world. If you get the chance, go to Philadelphia. Eat there, drink there and spend the time in between 'refueling stops' wandering around its fascinating streets. Don't get too caught up in the tourist attractions and don't forget to look up – if you stare at your feet you will miss about half of it.
This slideshow requires JavaScript.