This is part II of my recent London foodie weekend, the first instalment can be found here.

Saturday was a definitely a day for the taste buds. With the sun shining brightly we decided to grab some iced coffees and wander off down Regents Canal, from Angel down to Limehouse Basin – stopping off for 'much needed' refreshments along the way. We held out until lunch (well, we might have only started at half 11…) when we took our first trip away from the Canal to go to Street Feast – a street food festival. Sadly it was the last day of this yard street food extravaganza (literally in a builders yard, just off the canal), so it won't be there if you go looking, but if you do get to experience Yum Jungle, I suggest you don't hesitate – we took a box each and shared our way through the mouth wateringly delicious Vietnamese sweet & spicy Chicken, and the Vietnamese-style deep-fried prawns. They were simply amazing. Neither needed to be served in buns with such large volumes of 'Asian-style slaw', but I'm glad they were. This was easily a place that the pair of us could have lost the afternoon in – and had we visited the bar, I've a sneaky suspicion we might have – but we ploughed onwards.
Clearly one market is not enough for a foodie weekend, so we took another detour from the canal half an hour later to the East End to stop off at Broadway market. Far from the organised and 'heritage' style of Borough, Broadway was very much back to the pop-up, striped awning affairs we all know and love. Once again, my nose was working overtime and (despite our recent indulgent street food lunch) I was hungry again. With more cheese, cake and artisan bread than you can shake a stick at, and all wrapped up in one slightly winding street, if you're hungry and in the area, I'd suggest you go to Broadway on a Saturday. And if you're not hungry go anyway, you will be within five minutes.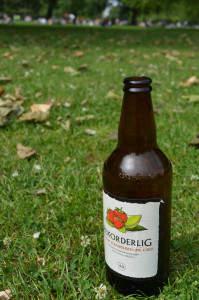 After the excitement of the market it was time for another rest, so we popped into a shop and found some of my favourite Swedish export – Rekoderling cidre (I'm very close to being obsessed with their – **incredibly unmanly klaxon** – lime and strawberry flavour). After we'd soaked up a little sun in London Fields, we got back to the canal and strolled the remainder of the way down to Limehouse Basin.
By the time we'd wandered that last couple of miles we were once again more than happy to make another completely unnecessary break before heading up to the Southbank to meet another friend for dinner. This time though, we decided to go to an impossibly tiny pub with an even smaller decking area (sticking out over the Thames, with the water lapping below it). But The Grapes is no small fish – owned by Sir Ian McKellen and (reportedly) a hangout of Dickens, this is a place with more of a story than it's exterior suggests. If you're a beer drinker, ask for a recommendation and the staff will let you taste a few to find out which you're after – then sit out on the deck to get a view over the Thames.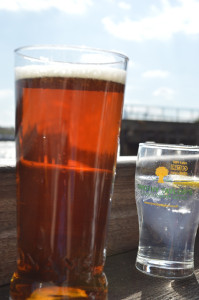 By this time running late for dinner, we upped and left for Wahaca on the Southbank. Part of the Mexican Streetfood serving Wahaca Group (co-founded by Thomasina Miers, the Masterchef winner of a few years ago), the Southbank edition is home to experimental Mexican street food, all wrapped up in an experiment assemblage of old (now neon painted) shipping containers. I adore Mexican food, and this place has made me want even more. Their tapas-style sharing menu was stuffed with options and I couldn't even tell you which one to try as they were all amazing. Pulled pork tacos, 'cactus' tacos, spicy chicken quesadillas, you name it, we had it. Wahaca also do a range of different margaritas, which we naturally had to sample. I can't repeat the conversations that were had after a few of these, but whilst the chat might be unsuitable for repetition I can thoroughly recommend the Wahaca Mule, made up with ginger beer. Naturally the perfect way to end our evening was a pitcher of Pimm's so it would have been rude not to.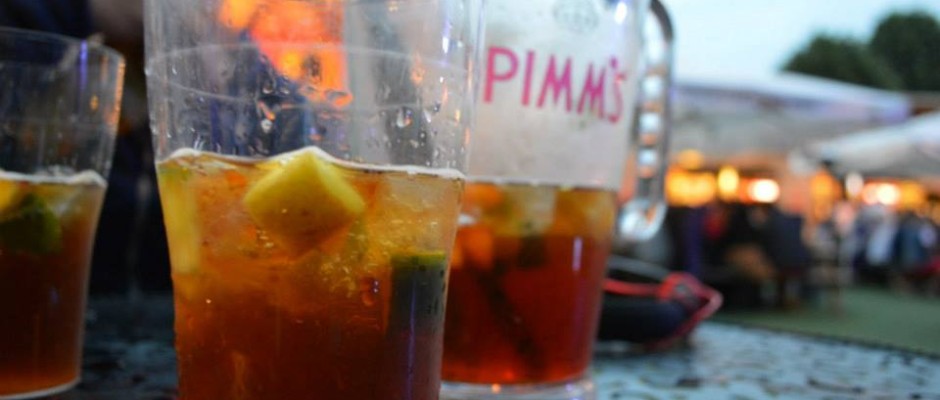 Needless to say, we all slept very well after the day's excursions and endeavours. And woke up a little… erm… dehydrated on Sunday morning.
Sunday's day had a slightly different tone that involved me spending much of it out in the sun of central London (who can resist a bit of relaxation in St James' Park when it's hot and sunny?) and on a train back north to Edinburgh, but I still managed a delicious salami and mozzarella sandwich from an Italian deli, and caught up with an old university flatmate and make the most of the Häagen-Daz shop in Leicester Square.
If you're heading to London any time soon, I'd recommend you stop by Borough Market, and you could certainly do a lot worse than exploring the foodie side of East London. Wherever you are in London though, go to Wahaca. I think I'm hooked already.
If you've enjoyed this post, why not follow me on Twitter? There'll you'll get adventures as they happen!