Doubtful Sound may not be as famous or accessible as its more well known sibling, Milford, but at ten times the size and way fewer tourists, it offers some of the most breathtaking views around.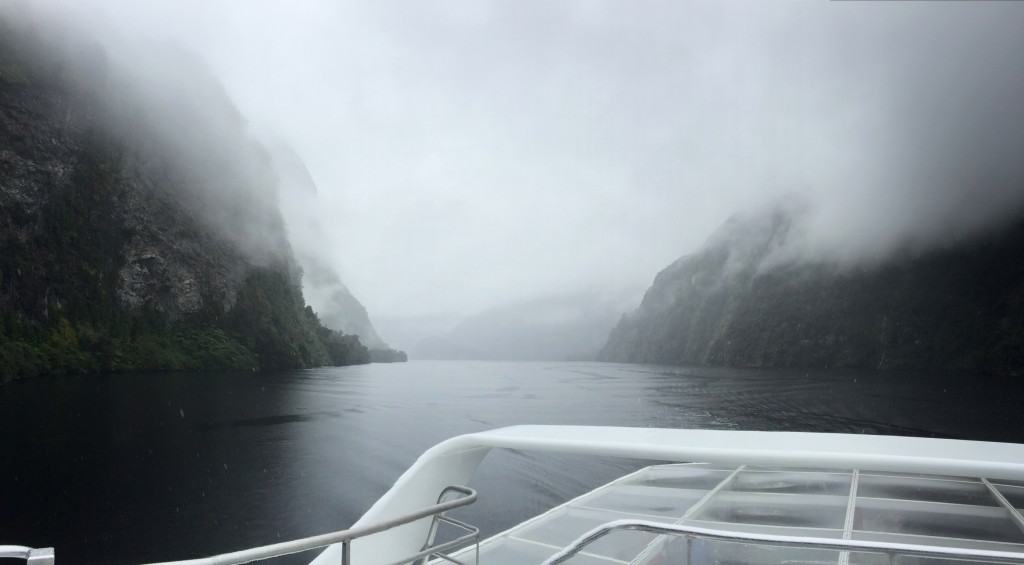 First named by Captain James Cook (who called it Doubtful Harbour – doubting that if he sailed his ship in there would be enough wind to get them out), Doubtful is utterly enormous. It's 40km long, over 400m deep (in places) and has multiple arms leading off it. Had he gone passed the initial pass (which to be fair to Cook has islands in the middle blocking off the view of the huge waters beyond) then Cook would have discovered a place that the local Iwi people call 'The Silent Place'.
Home to New Zealand Fur Seals, two types of penguin and bottle nose Dolphins, along with countless bird species, including the illusive albatross, Doubtful on a good day is one jaw dropper of a place. But it rains two days out of three and although my trip towards the sound was in sunshine it is a micro climate and was a little damp to say the least.
But I was there to make the best of it and there's nothing like a bit of rain to test your waterproofs (I grew up in Scotland, of course I have a waterproof with me). The added rainwater makes for some pretty epic waterfalls (which none of my photos come even close to capturing), most of which don't exist when it's dry, and the low hanging cloud make for moody and mysterious scenery. I mean, put like that who wouldn't want it to be raining…
We need to talk about New Zealand's naming strategy though, because I don't think they tried very hard round here. First of Doubtful Sound is not a sound. It's a Fjord (both are back filled by the sea, but a sound is carved out by a river, a fjord by a glacier). And whilst we're at it, those fur seals are actually much more closely related to sea lions than seals. I'm also going to be slightly smug about working this out before our 'wildlife spotter' told everyone this (again, it seems that biology degree wasn't a waste after all). I guess we can't be perfect all the time though – well, apart from me, of course…
So I'm sad we didn't see any penguins, but that was always going to be a long shot at this time of year, and likewise the bottlenose dolphins (although I did see some playing in the bay up at my friend's place in Leigh, so guess I can't be too greedy), but the fur seals were pretty amazing and I'd never seen an albatross in 'real life' before, which was pretty extraordinary. The weather made spotting anything else unlikely, but the scenery is so spectacular it doesn't matter. Standing at the stern of our boat streaming along (the back was covered, sheltering me from both the rain and wind, I'm not entirely dim) staring out into this massive fjord makes you feel very small indeed. It would be beyond human endeavour to create a place like this, yet it was done by ice. It's almost mind bending to think about.
Not far from the end of our trip the engines and generators were turned off. People were asked not to move or take pictures.
The silence was utterly deafening.
Nothing but rain on the water, trees dripping from the last shower, and distant waterfalls.
If I wasn't awestruck already I now truly was. The Iwi were definitely on to something when they named this place.
Spending the day at Doubtful Sound from Queenstown was a bit of a mission, but it was totally worth the slightly greater expense than going to Milford Sound and the alarm going off at 6am. There aren't many places in the world that are this stunning to see, so I will count myself lucky to have experienced it. If you ever get the chance, don't think twice, visit Doubtful Sound.